The Americans are known for their intense patriotism – especially when it comes to golf as the Ryder Cup has demonstrated – but it seems one fan got a little carried away when she decided to bare-all as Tiger Woods attempted to wrap up the Presidents Cup victory for Team USA.
Approaching the final hole at Muirfield in Ohio, the woman appeared in a red thong red,white and blue stickers to cover her nipples, before proceeding to sprint across the 18th green trailing the American flag, not that many were paying attention to it.
But the story doesn't end there. Having made her presence felt, despite not actually approaching Woods, the streaker then managed to evade the course security, and she reportedly managed to escape the course without being stopped at all.
It's not the first time Woods has found himself with women troubles… on the course, that is. At the 2000 British Open, another female streaker managed to make off with the flag as the world No One approached the 18th yet again.
Having watched on as the flag was eventually returned, Woods sunk his putt to card a record 19-under-par and claim the Claret Jug. And just a year earlier at Carnoustie, a bikini-clad blonde ran onto – you guessed it – the 18th green to land a big kiss on Woods' cheek.
CLICK HERE OR 'VIEW GALLERY' TO SEE MORE PICTURES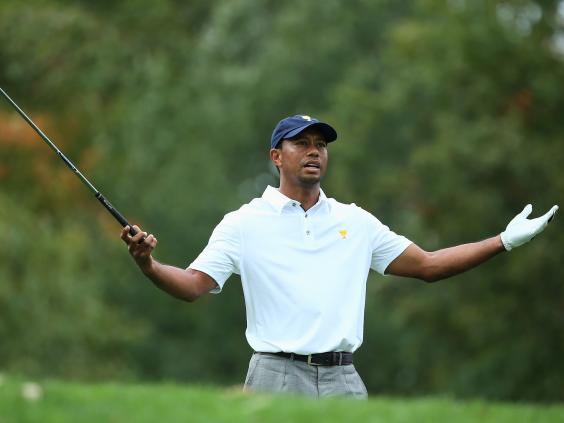 Reuse content