One thing we can all be sure of Tiger Woods will be back. The question is to what?
The sentiment behind the statement on his website was almost immediately contradicted by his manager Mark Steinberg, who said he was "chomping at the bit".
Woods is more concerned with form than fitness. The spasms that forced him off the course last week in California are not related to the surgery that forced him to miss the majority of last year, and are easily remedied with physiotherapy and rehab.
The real problem is a game that has shown a remarkable decline. Two last place finishes in successive events followed by a retirement after 11 holes, through which he was all over the place around the greens, forced a radical revision of his plans.
Though he had not confirmed his attendance at the Honda Classic, around the corner from his Jupiter home at the PGA National, at the end of this month it was understood he would play. He might yet do so, but only if his game is ready.
His relationship with new swing coach Chris Como is in its early stages. Woods loves the tech-laden jargon of the swing guru and explains his current troubles in terms of patterns, reps and release points.
At 39 there is a new dimension; age, and with it the shift in attitude and commitment. Woods is ever more taken up with the demands of fatherhood, he has shared custody of his two children, and his relationship with skier Lyndsey Vonn, which has taken him to ski races in Europe as well as America in recent weeks.
He clearly does not have the time to devote to golf that he used to give in his youth. And given the physical vulnerability associated with a fragile lumber region, he cannot go at it on the range with the same gusto.
His last great flourishing in 2013 followed a similarly dire downturn in his game when he began working with previous coach Sean Foley. Then, as now, he slipped out of the world's top 50 only to return to no.1.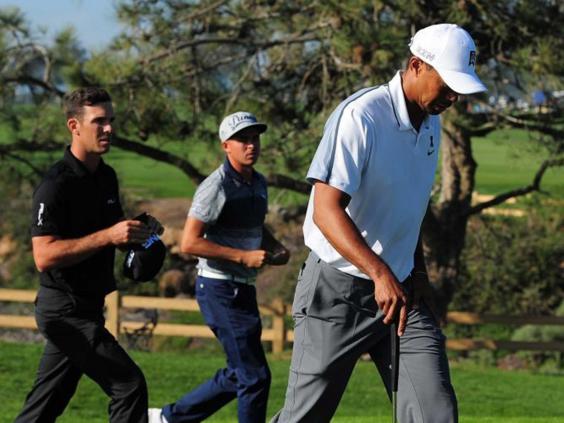 He has earned the right to our trust when he says he is determined to work through his difficulties. Equally he must accept our scepticism about what he might achieve when he does return to action.
Talk of a 15th major is a long way off. The game is not standing still. If he does play the Honda he will have to contend with world no.1 Rory McIlroy, who makes his first PGA Tour appearance of the year on the back of seven finishes that read like this 1,1,1,2,2,2,1.
The ultimate target for Woods is the Masters in April. His schedule will be framed around that. The website statement has bought time and control.
He has been here before but not on the cusp of middle age, and not with a short game of an 18-handicapper. As ever with Woods, if for all the wrong reasons, this phase of his career will be no less fascinating.
Reuse content