A dam has burst at Chambers Bay, and through the breach a torrent of righteous disdain flows across the vast acres of sand and scrub that are host to the 115th US Open. OK, Gary Player might have been overstating the case when he described the punishing expanse of golfing architecture in America's Pacific North West as a "tragedy" but his passionate deconstruction of this event fell on sympathetic ears.
Henrik Stenson saw Thursday's overnight lead disintegrate on greens he likened to "broccoli". Patrick Reed classified his experience on the 18th green as "Mickey Mouse golf" and Jordan Spieth labelled the last "a dumb hole" in its par-4 configuration.
Sour grapes? Hardly. Spieth and Reed went out in the final pairing yesterday as joint leaders of the season's second major on five under par. Stenson was hardly ailing four shots back in a tie for 12th. Reed played the last on Friday as convention demands but, having reached the green in regulation, was denied a shot at birdie by a hole that could not be reached.
Player, the venerable old soul who won this great championship 50 years ago, one of nine majors claimed, has no vested interest, other than to promote the game. His complaints embraced social, ecological and professional concerns. The thrust of his ire was directed at the degree of difficulty presented by the length of a course that rolls out at 7,900 yards with chest expanded, it's mountainous elevations and the random nature of greens that mock good shots.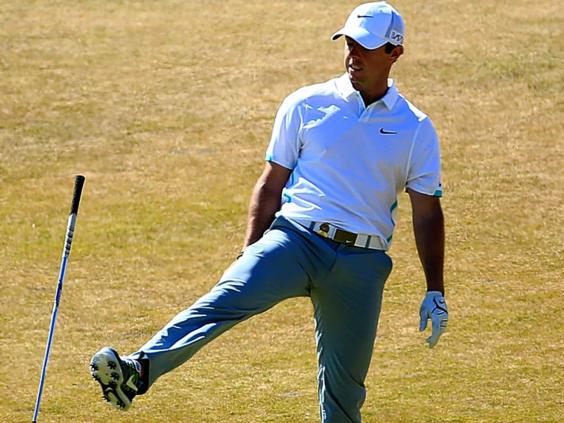 This, he argues, is not what the game is about. It is bad enough for the pros, but to lay out a public facility like this in an era when amateurs are deserting the game in droves is, he claims, a "devastating" blow to golf. "This has been the most unpleasant tournament I have seen in my life. The man who designed this golf course had to have one leg shorter than the other.
"It is hard to believe that a player can miss the green by one yard and the ball ends 50 up yards down in the rough. They are having a putt form 20 feet and aiming 20 feet right and 20 feet left. It's actually a tragedy. The world is suffering shortage of water. Can you imagine how much water this course takes?
"An average golfer playing this course with a 15, 16 handicap is going to shoot 110 and not go home a happy man. A public course must be built with flat greens, wide fairways and less bunkers. We need more people getting interested in this wonderful game. Don't let's chase people away. There have never been so many people missed the cut so happy to go home. This is devastating: caddies falling, players falling. It's impossible to play golf, pros three-putting one after the other."
Stenson is a reasonable man by any measure. He played as well on Friday afternoon, as he did on Thursday morning. The trouble is he was playing a different course. While players accept conditions will change, Chambers Bay is emerging as a grotesque caricature akin to crazy golf, where the random variable is a design feature not a naturally occurring element.  "It's borderline laughable," Stenson said.
"At some greens we're actually almost better off plugged in a bunker than being on the top of a ridge, like on the 4th. And it's pretty much like putting on broccoli, as well. Obviously the way you play is going to affect the scoring, but I'm sure many of my colleagues would fall in on a few of those remarks.
"I enjoyed part of the challenge because the major championships are about a mental test and how well you can keep yourself in balance. I hit a lovely shot into 9 and was putting down on something that looked like the surface of the moon and three-putted. Half of the shots you are not even trying to play in the direction of the pin. You kind of wing it 20 yards, 30 yards right and left and hope it brings back in from the banks. After a couple of days of that you feel it would be nice to aim for the pin once."
Reuse content