Call me LeBron. Win or lose with the Cleveland Cavaliers, LeBron James has indubitably been the man again in the NBA Finals that have gripped America. Similarly unassailable as golf's No 1 player, Rory McIlroy happily accepted the association with basketball's most valuable player, targeting a slam dunk of a fifth major at the US Open this week.
We can ignore the two missed cuts of recent experience, McIlroy said. He is rested and raring for a crack at a Chambers Bay course that so many of his contemporaries love to hate. The negativity surrounding this links layout in the Pacific North-west was drowned in a torrent of optimism in which McIlroy embraced the challenge presented by its monster length and undulating greens.
"I really like the golf course. I think it sets up well for my game," he said. "You've got to be aggressive off the tee. I think it's a course where you're going to see a lot of guys hit fairways and hit greens. But when you hit greens, you can still be 50, 60 feet away from the pin. So if you can drive the ball well and your long putting is sharp, they are two key things to doing well."
McIlroy delayed his arrival here until last Saturday, preferring to head to the streets of London for sightseeing with his new beau rather than belt back across the Atlantic immediately after his early demise at the Irish Open, which in turn followed a missed cut at Wentworth. After early-morning practice rounds on Sunday and Monday, McIlroy went out for a third look at the course on Tuesday when the sun was at its height to simulate the late start he anticipates this weekend. How's that for confidence?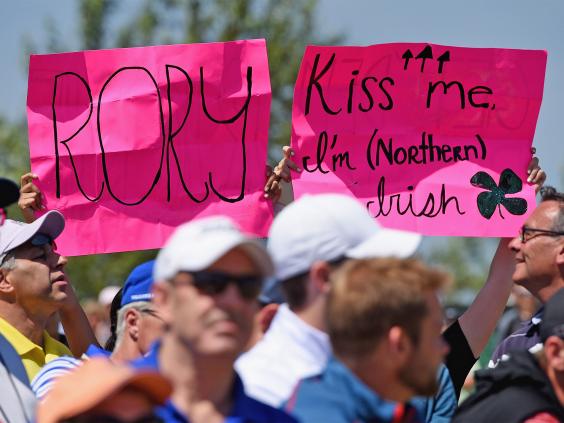 "I don't feel like I need to pick up any sort of momentum after the last couple of weeks," he said. "I played well for my last three tournaments in the States and then I went over to Europe and obviously wasn't quite as good as it was for the weeks previous to that. But my game feels in really good shape and I'm hitting the ball well and I'm confident, so I think it really is just about getting the right game-plan."
McIlroy is effectively beating his chest and inviting his rivals to do their worst. Just like LeBron, in fact.
"I think when LeBron talks about that [being No 1], that's not confidence, that's a fact, I guess, when you look at how he's carried his team in these finals," added McIlroy. "So if you look at the numbers, you can really see he is the best player in the world.
"And I guess for me I feel the same way when I look at the world rankings and I see my name up at the top. If you look back at the last four or five years, I guess I've won more majors than anyone else in that time period. So do I feel like the best player in the world? Yes – and obviously I want to go out every week and try to back that up."
This was once the domain of Tiger Woods, of course. Despite evidence to the contrary, Woods insists his game is shaping up and that he can contend after yet more revisions under new swing coach Chris Como. "I wouldn't have made the changes if I wasn't devoted to the game of golf and winning golf tournaments," he said. "I want to be out here. I want to play. I want to  compete, and I want to win."
Reuse content