Sergio Garcia led the criticism of the state of the greens at Chambers Bay on Thursday, despite ending his run of 12 consecutive over-par rounds in the US Open.
Garcia, Rory McIlroy and Colin Montgomerie were among those to voice their displeasure at the condition of the putting surfaces, although Henrik Stenson and Dustin Johnson both managed rounds of 65 to set the clubhouse target.
Garcia wrote on Twitter after an opening level-par 70: "Happy with my even par round today although it could've been a bit better by the way I played but greens are as bad as they look on TV.
"I think a championship of the calibre of usopengolf deserves better quality green surfaces that we have this week but maybe I'm wrong! If my problem is saying what everyone thinks but they don't have the guts to say it, then I'm guilty of that for sure."
Montgomerie went one better than Garcia with a 69 but added: "The green surfaces are very poor, some poorer than others. But no one is going to putt consistently well on these greens."
World number one McIlroy looked particularly bemused by the greens as he struggled to an opening 72.
"They are not the best I have putted on but I should be used to it as the last two tournaments I've played have been just as bad," said McIlroy, who missed the cut in both the BMW PGA Championship at Wentworth and Irish Open at Royal County Down.
"I felt like I played well tee to green and gave myself a lot of looks but did not take advantage of the good shots I was hitting. There were a couple of misreads and a couple of bad strokes in there as well.
"It's hard to pick the line and trust it and then you start making tentative strokes and you are not getting a true roll on the ball. I need to work on that before tomorrow's round and see if I can figure something out."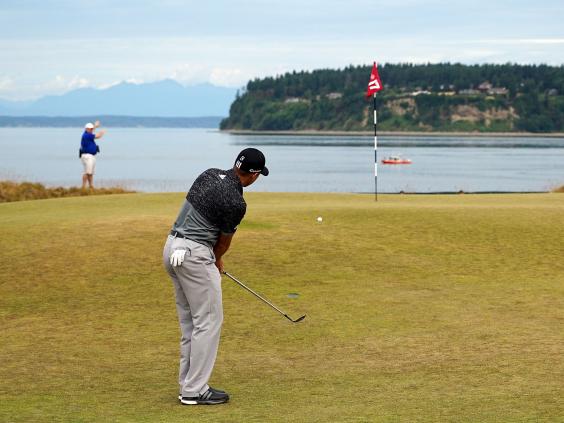 Poor greens were not the only issue at Chambers Bay, with many spectators frustrated at not being able to see much action due to the course layout.
"I feel for the spectators," Montgomerie added. "There are five holes out there where you just cannot spectate, which is bizarre for a course that was supposedly designed for a major championship.
"There are five holes where you can't see anything. The eighth hole is out of bounds for spectators. It's a helluva walk. You wouldn't walk your dog that far."
PA