He couldn't, could he? Not nine years after his painful capitulation at Winged Foot, 18 years after blowing a six-shot lead over Ernie Els at Congressional? Colin Montgomerie was five times a runner-up in majors, posted four top-three finishes at the US Open, yet never popped a champagne cork. Could this week at Chambers Bay be his moment of deliverance at a quasi-links course untested by the game's elite?
Arguably the greatest player never to win a major can hardly miss in the senior ranks: his second consecutive victory at the Senior PGA Championship in Indiana last month was his third major trophy since joining the senior ranks in 2013. His caddie, Alastair McLean, reckons his performance at the oddly named French Lick Resort was surpassed only once, in 1997, when he lost to Els by a stroke. 
"I like to think if I play as well as I did at French Lick I have a chance of doing reasonably well," says Mongomerie,  52 next week. "What 'reasonably well' means, I've no idea.  But I have a chance of doing OK if I play that way. I really feel that. Alastair said that to me on the way home from Indiana. We drove up to Chicago and he said, 'That's as good as you have done, playing-wise'. He thought Congressional was the best I'd ever played for four days, but that [Indiana] was right behind it. 
"So to think that's 18 years ago, coming from a caddie who understands, and, I like to think, would give a fair appraisal, that's very encouraging. I work on confidence. If I'm confident of doing something I usually do it and I think that for him to say that gives me confidence for the rest of the year as well."
Montgomerie is aided no end by his uncomplicated approach to practice. He doesn't bother with it. This allows him to rock up at a tournament, walk from the car park to the first tee, complete 18 holes and, at Chambers Bay at least, wander into the Sky TV commentary box to pass judgement on his rivals. Clearly, there will be a negotiation to be had should he be otherwise engaged over the closing holes on the final day.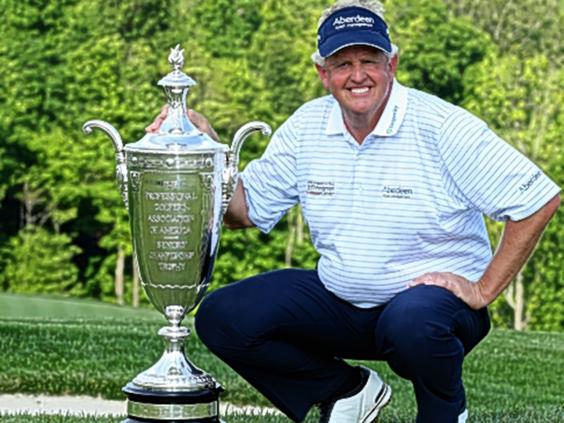 "I've always done that really, though, haven't I? I've always just gone and played. I haven't thought about it too much. I haven't practised errors on the range, as a lot of them have. I haven't beaten myself up over stuff. I've just got on with it. I think that's been a positive for me over the years. I've managed to just be able to come up, swing the club and go for it. Some of the guys need weeks of preparation. I've been fortunate in that I haven't really had to do that."
Though Congressional represented a technical peak, save for the 76 on the second day, it was at Winged Foot that Montgomerie had the game on a string. A par at the last was all he required, and after hitting the tee-shot of his life it should have been a formality. What happened next haunts him to this day.
"In '94 I did OK to get to the play-off. I was still very young and inexperienced and I let the play-off slip. OK, fine, these things happen. 
"In '97 I did play very well but I just didn't hole the putts, unfortunately, over the weekend. That was that. You have to play all aspects of the game to win a major and I didn't do that. But 2006 was the one, obviously. A four would have won it and it was almost too easy. The pin was located on the right-hand side of the green. I just let it go. It was almost easier to have birdied the hole than it was to double-bogey it, to be honest. From where I was off the tee I think I won cannon shot of the month. I didn't win anything for the second. Oh dear."
It was very much a case of "oh dear" the last time Monty went up against the young Leviathans at the PGA Championship at Valhalla last year, won of course by Rory McIlroy. The sight of Montgomerie trudging up the sodden fairway adjacent to the media tent, silhouetted against the brooding skies, brought out the mother in us all. It was too much for him, too long and too hard, he said afterwards.
But Chambers Bay, carved out of the sandy wastes bordering Puget Sound in the Pacific North-west, sets up differently to the standard US Open template of narrow fairways and penal rough. This, plus the fact no one has played it in competition mode, might just level the playing field sufficiently to bring Montgomerie's clean hitting into the piece.
"The way it's set up, links-like, it gives me more of an opportunity than it would if it were a wet, damp 7,500-yard course. So is it a possibility?  Of course it is. Realistic? Possibly not. But if I'm a couple under, or something like that, and I get the bit between my teeth and am playing as Alastair says, as well as I was, well... why not?"