American Woody Austin admitted he instantly thought of Ian Woosnam after being penalised for having too many clubs in his bag during the second round of the US PGA Championship at Oak Hill.
Players are allowed a maximum of 14 clubs but Austin discovered he had 15 while playing the third hole and reported it to a rules official.
In the final round of the 2001 Open at Lytham, Woosnam was challenging for the lead after a birdie at the par-three first, only to discover an extra driver in his bag on the second tee.
Rule 4-4 states: "The player must not start a stipulated round with more than 14 clubs." The penalty is two strokes for each hole at which any breach occurred, with a maximum penalty of four strokes.
Austin added two strokes to his score for the first and second holes, turning a par and a bogey into a double-bogey six and triple-bogey seven respectively.
The 49-year-old had started the day just four off the lead after an opening 69 but eventually carded a 75 to finish four over par and set to miss the halfway cut.
"I knew it was four shots immediately," said Austin, who had been trying out the offending hybrid club on the range.
"I remember Ian's deal at the British (Open), so I remembered that it was no more than four shots. I grinded all day but I'm down the road, so that's kind of harsh.
"I can't say I was angry, it was more of a shock, so you're kind of like pretty bummed. I think after 20 years you do one stupid thing of each, and that's the first time I've ever done something like that."
Woosnam's caddie Miles Byrne was widely blamed for what happened at Lytham, but Austin was quick to shoulder his share of the blame.
"It's my fault as much as my caddie's fault. It's both our jobs," he added. "It's just one of those things, if it wasn't raining, we would have caught it."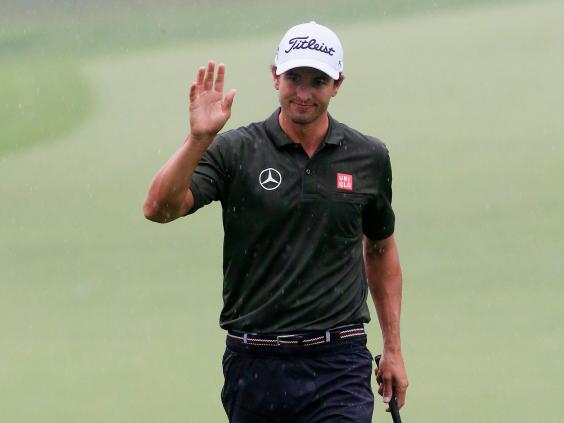 Scott was initially overtaken by Robert Garrigus, who birdied five of his first eight holes to reach eight under, and when Garrigus dropped back with consecutive bogeys it was fellow American Jason Dufner who moved into the lead.
Dufner went to the turn in 31 and added birdies at the 11th and 13th to be six under for his round and eight under for the tournament.
Dufner also birdied the 16th to move seven under for his round and needing to play the final two holes in one under to shoot the first sub-63 round in major history.
The par-four 17th, which was out of reach with a driver and three wood for most players in the morning rain, did not look like providing a good chance but Dufner was agonisingly close to holing from 20ft after a superb approach.
PA Reuse content