Oh the dizzy heights of leaderboard residency at a major. It was not so much his opening 65 at the US PGA Championship that left Lee Westwood's head spinning but the post-round media whirl. It has been a while since broadcasters at a golf tournament have asked him to account for his round, at least in a positive sense.
Ian Poulter was much in demand too after a deeply respectable 68 at Valhalla. Both rounds were as refreshing as they were unexpected. Westwood missed four cuts heading into last week's WGC-Bridgestone Invitational, where only the shortened field and the absence  of a halfway cull spared him the possibility of further embarrassment.
Poulter has spent much of the summer under repair, his body breaking down at the shoulder, back and wrist, not to mention a horsefly bite after The Open at Royal Liverpool that required a hospital visit before he departed our shores for America.
And here they were giving Ryder Cup skipper Paul McGinley reason to believe, Westwood sharing the clubhouse lead with Kevin Chappell on six under par, and Poulter nicely placed three shots back. It is only one round, McGinley trumpeted after Westwood stormed out of left field with a final round 63 at Akron. Well now it's two.    
Westwood started quickly and finished with four successive birdies. The only real blemish was a double bogey at the first, his 10th, after finding a divot off the tee. The four-foot bogey putt he missed seemed a fitting end to a poor hole.
That apart, this was Westwood back to his tee-to-green best. And the 30-footer he buried for birdie at the last, sliding across the slope before diving into the hole, demonstrated his potency when the putter falls into line with the best of his game.  
"I played well, hit a lot fairways, putted nicely, which you need to do if you are going to shoot a low score," Westwood said. "Last week was a big week for me. Going into last week, I felt like I turned the corner. I was starting to swing it a lot better. That's no good unless you start converting it into low rounds. 
"Obviously I got it going the final day and shot 63. After that I tried to keep it low-key in the practice rounds here, carry that momentum through to the first round, which I've managed to do, making nine birdies."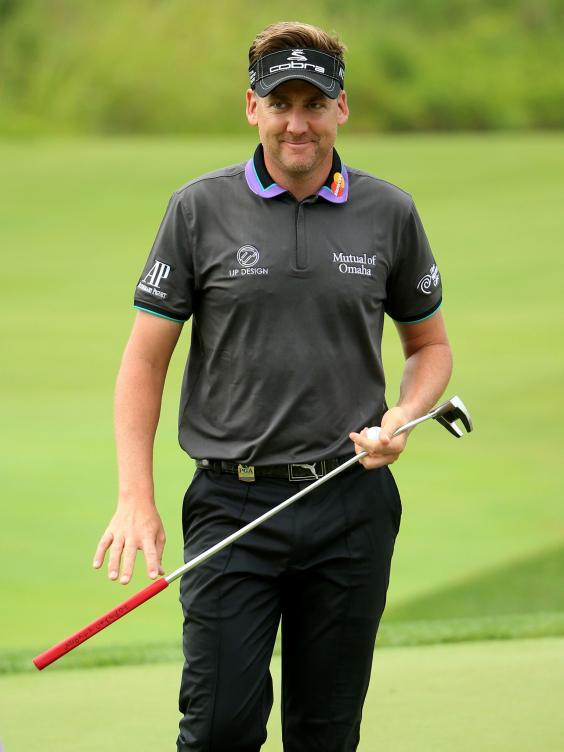 Starting at the 10th, Poulter was three under at the turn, and were it not for sloppy mistakes at the second and fifth holes he would have been right on Westwood's shoulder. This is what you get when your body allows you to prepare properly on the practice range, was the thrust of his explanation. 
"I am happy with the overall state of my game because it hasn't been there for a little while. After the work I put in Monday, Tuesday and Wednesday it was rewarding to go out there and play well. That was the most balls I had hit in any session and the body is allowing me to hit those balls, which is a good thing because we are coming into the right time of year," Poulter said with a knowing nod towards McGinley.
Poulter and Westwood were in the two groups immediately ahead of Tiger Woods. Theirs were lonely walks compared with the fanfare going on behind. The tee-box at the 10th, the hole from which Woods began his campaign, resembled The Mall on the day of a royal wedding, a throng of excitable well-wishers shoe-horned into place to witness the event of the day.
Padraig Harrington, the third wheel in a marquee group that also included Phil Mickelson, was presented first and struck a beauty down the middle. Mickelson went next, evincing the standard patriotic cheer that accompanies him everywhere. His tee shot was equally typical, wild and left, his ball crashing into fencing behind a cluster of trees.
And then the moment for which all of golf had been waiting, the opening tee shot of Woods. He would have had to hole it to live up to the hype, and this is a par-five. Somewhere in the heightened madness of the preceding 24 hours it was forgotten that Woods had completed only nine competitive rounds since April. He has no sort of form or rhythm. But it's Tiger we are talking about so the rose-tinted blinkers come down revealing not a man of 38 with a bad back but the lithe superhero of a decade or so ago.
Woods soon cured us of that, pulling his tee shot into the left rough. He still had a putt for birdie, but the big dogs this week will be chasing eagles on this hole. All three made pars, which was astonishing in Mickelson's case and disappointing for Harrington, who was closest to the pin in regulation.
Mickelson was even further out of position at the par-three 11th, carving his tee shot left again but this time down a steep bank. The response conjured had magic in it, sending his ball high into the air before coming to rest four feet from the hole.
Woods leaked his tee shot right into the dense stuff. His attempted escape spewed sharply to the left. Though it held on the putting surface he was too far away to save par. The tenor of his day was set. The one shaft of light on the outward nine came at the 16th, and even then he was profiting from an error after he tugged his approach left of the green.
Cheers elsewhere spoke of ready plunder. Chappell, Westwood, Eduardo Molinari and Poulter to name a few were holing out all over the place. The Woods gallery had been starved of incident, save for Mickelson's tributes to Houdini, so when his chip found the cup at 16 and his arms went up, something akin to Saturday night fever erupted briefly around the green.
Successive bogeys to start the back nine took Woods to three over par, leaving the dance floor free for Mickelson, who finished two under par after three birdies in his closing six holes.
Reuse content