The early-morning calm was broken by an excitable shriek on a distant part of the Valhalla property. "Yes, finally won a hole. Only four down." There were 20 smackers riding on the outcome and Darren Clarke had just nicked one back against the One and Only. It wouldn't last, of course, Clarke was up against the man who cannot stop winning, Rory McIlroy.
It is little more than a decade since McIlroy was doing the running about and the screaming, so excited was he to have acquired the mobile number of the great Clarke. The deference has come full circle. As he putted out at the last, Clarke made repeated attempts to find the cup while McIlroy looked on. When he finally got the ball to drop the arms went up again in mock wonderment and he turned towards McIlroy as if to ask, "How does that work?"
McIlroy simply smiled and pocketed the cash. An omen? This was a reprise of their pre-tournament craic three years ago at Royal St George's, where Clarke prevailed in the impromptu matchplay and went on to win the Open, and last month at Royal Liverpool, where McIlroy took the cash and the Claret Jug. Well, he's 20 quid better off this morning and the short-odds favourite to lift the Wanamaker Trophy on Sunday. Not that this  fellow needs an omen to help him on his way.
Afterwards, on the range, McIlroy's action with the driver drew awed gasps, and not just from the galleries. In the next bay along Edoardo Molinari stopped what he was doing briefly to observe at close quarters how to smash a ball more than 300 yards without it bouncing.
The US PGA Championship is the last opportunity of the year to put your name to a major championship. The men ranged immediately behind McIlroy in the world rankings are in serious form of their own, No 2 Adam Scott coming off five top tens on the spin, including a win at Colonial to start that sequence. Sergio Garcia is fuelled by three successive runners-up spots and Justin Rose has two wins in four. Yet, despite the arsenal ranged against him, McIlroy has Valhalla under his spell.
Gunning for Rory: the men to take on McIlroy
Gunning for Rory: the men to take on McIlroy
1/5 Adam Scott

Not finished outside the top 10 since his victory at the Crowne Plaza Invitational in May. Odds: 11-1

Getty Images

2/5 Phil Mickelson

Shot a 62 at the Bridgestone on Sunday from nowhere to give him renewed hope. Odds: 25-1

Getty Images

3/5 Sergio Garcia

Three successive seconds in his last three events and two top-threes in the previous four. Odds: 18-1

Getty Images

4/5 Justin Rose

Two victories in his last four events and desperate to add to last year's US Open success. Odds: 18-1

Getty Images

5/5 Rickie Fowler

The only player to post topfives in all three majors so far this season and runner-up to McIlroy at Royal Liverpool. Odds: 22-1

Getty Images
A string of the world's best players wheeled into the media suite become less a candidate in themselves and more a prism through which to get an angle on McIlroy. In this he has assumed the mantle of Tiger Woods, who finally made an appearance this afternoon for the litmus-test practice session after withdrawing midway through his round at the WGC-Bridgestone on Sunday with a recurrence of back trouble.
On Tuesday Scott was invited to give his view, and today it was the turn of the men who chased after him at the Open, Garcia and Rickie Fowler, to eulogise the phenomenon that is McIlroy. "He's a wonderful player," Garcia said. "We're quite friendly with each other. We get along well. Obviously, he's got a lot of talent. The only thing I can do is keep improving, keep getting better and when we're both up there again, make it even tougher or impossible for him to beat me."
Fowler has plenty about him and is a reconstituted golfer under the tutelage of the man who built Woods, Butch Harmon. Like Garcia, Fowler sees McIlroy as a challenge to cherish rather than fear and wants more of the back nine Sunday experience he shared on the final day at Hoylake.
"I look forward to going head to head with him quite a bit more," Fowler said. "This week is definitely a possibility. He's obviously on top of his game. I feel like he's driving it some of the best I've ever seen, not just for him, of anyone, and that becomes a definite advantage. If he keeps doing that, he'll be tough to beat, but it would be fun to go up against him on Sunday."
The rather desperate late appearance of Woods put a temporary brake on the hyperbole consuming McIlroy. Another player seeking to survive injury problems is the defending champion Jason Dufner. The American had an epidural last week to ease the pain caused by two bulging discs in his neck but still needs points to secure a Ryder Cup place. "I'm probably not going to be healthy until I can take six to eight weeks off," Dufner said. "I'm not sure when that's going to be but I'll get through it."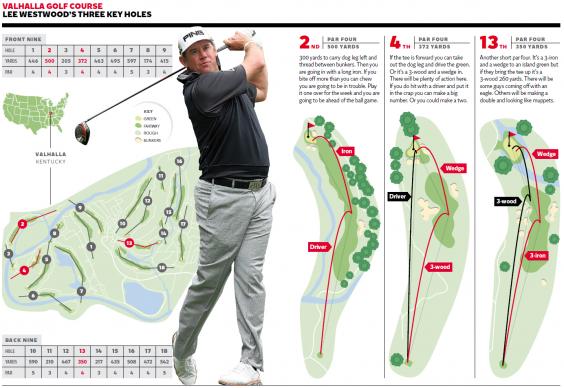 Click HERE for full-size version of graphic
Given the undulating profile of this course, a monster 7,458-yard par-71 etched into the bluffs and hollows of prime Kentucky real estate, it is hardly ideal terrain for golfers seeking to protect delicate areas. It also reminds us of the folly of investing all in one man.
As Scott was keen to point out, McIlroy is not yet the Woods of lore, he does not inspire fear in the same way. To be fair to McIlroy, he does not claim to be anyone other than himself, and demurs when commentators seek to label him so. But talk makes the world go around, and the he is undoubtedly the man of the hour.
The man they are all chasing, he of the 18 major wins, Jack Nicklaus, was cracking the McIlroy whip good and proper on the eve of this championship. Indeed, after this kind of tribute McIlroy might feel duty bound to win if only to save the old sage from looking the fool.
"I think Rory is an unbelievable talent. I love his swing, I love his rhythm, I love his moxie. He's got a little swagger there, it's a little bit cocky but not offensive," Nicklaus said, before loading up the myth machine with this. "I think Rory has an opportunity to win 15 or 20 majors or whatever he wants to do if he wants to keep playing. But you just don't know what the guy's priorities are going to be in life 10 years from now."
No wonder McIlroy turns a deaf ear to this stuff. Rather, he lets his golf do the talking.
Three to watch: Who's in form for Valhalla
Rickie Fowler
Fifth, second, second. You would take a win, but after that Fowler's major trail is the best in the business, as the only golfer to finish in the top five at each major this season. Those swing changes with Butch Harmon are paying off. Maybe this week he will reap the ultimate dividend.
Keegan Bradley
Three top fives in his last six events, including a tie for fourth at the WGC-Bridgestone last week. Bradley won his only major at this event three years ago. He likes the set-up here and is looking for a big finish to jump back into the Ryder Cup reckoning.
Charl Schwartzel
His tied fourth alongside Bradley in Akron last week was his third top 10 in five starts. One of the purest swings in golf has found an end product to match, with the return of confidence on the greens. He won the 2011 Masters with four consecutive birdies.
Kevin Garside
Reuse content