Your leader in the clubhouse, Rory McIlroy, has become the refrain of summer.
McIlory added a 67 to his opening 66 in challenging conditions to set the pace at the PGA Championship.
The overnight leaders, including Lee Westwood, were just making their way when McIlory entered the scorer's hut with a two-shot lead on nine under par. The early starters had the worst of it, heavy rain forcing an early suspension and making much of the morning a trial, yet McIlory coped like the champion he is.
An eagle at 18, his ninth, and a birdie at the last were the highlights of a grinding rather than mercurial round. "It wasn't quite as pretty as it was yesterday at times, but neither was the weather," he said.
"My patience was tested because I didn't play quite as well. I had to get up and down quite a few times, missed a few greens. It wasn't as stress-free as Thursday, but the conditions you can't do anything about. I took advantage of some holes whenever we got a break in the weather to keep the momentum going, so really happy with that."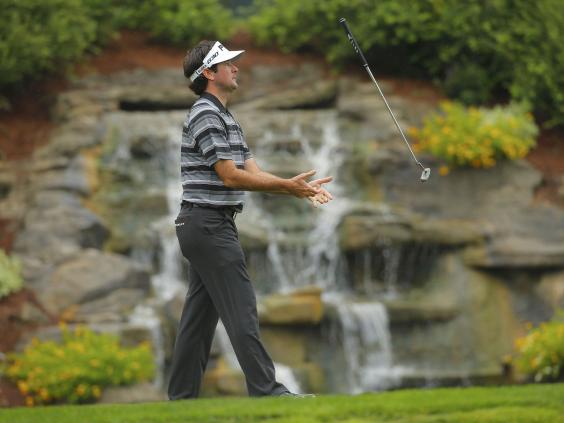 McIlory is a staggering 41 under par for his last ten rounds, form that has proved irresistible in all conditions. Ryan Palmer was in the clubhouse on seven under and a cluster of players had a drying afternoon to have a run at his score, but they will have to keep that going over four days to compete.
McIlory has become adept at front running, and at managing his emotions in a fight. "Mentally I'm in a really solid place in terms of not getting ahead of myself, staying in the present. I have little trigger words that I'm still using and that seems to be getting me through.
"I'm better equipped mentally and physically to handle a stretch like this where you are in the lead at a lot of tournaments. I'm more experienced. Obviously my swing is technically in a good place at the minute. I'm confident and just on a good run."
With the weather forecast to relent across the weekend the scene is set for a second major coronation of the year in the house of McIlory on the back of a third straight win, a staggering achievement by any measure. 
Though the evidence points to that regal denouement, and the neutral demands it, McIlory is the last to embrace the idea of inevitability. "Do I expect to win? No. I expect to stick to my game plan. I expect to execute my shots. I expect to do the things I can control.
"I can't control the outcome. I can't control what other people do. But if I do the things well that I know I can do then there is a good chance I can win. I'm really happy with my day's work and to go into the weekend with another great chance to win a major championship."
Masters champion Bubba Watson, who played alongside McIlroy, endured a difficult morning and spent much of it moaning about the conditions. His three-over-par 74 took featured a raft of poor shots, many of which ended with a chorus of abuse. With the projected cut mark matching his level par total, Watson was left to negotiate a nervous few hours if he were to make the weekend.
"Everyone out here moans about something," McIlroy said in defence of his stressed rival. "I've been guilty of it before and a lot of other players on tour have done the same thing. I could see how it might affect some people but it didn't affect me, no."
Reuse content