Rory McIlroy, who if he believed the hype would only need to turn up here this week to win the US PGA Championship, has revealed that in the past eight weeks alone he has packed on half a stone of muscle that has helped make him the talk of the golfing world.
"I'm definitely hitting it longer over the past couple of years," he said. "I've started to work harder in the gym and got stronger in certain areas of my body, which I needed to. I've always had the speed and the power but not the strength or stability to hold on to it my whole way through the swing. I'm the heaviest I've ever been. I don't feel I need to put on any more distance. I can hit it over 300 yards. That gives me plenty of opportunities to hit it close to the flags and try to make birdies. It's the best I've ever driven the ball."
The stats support his testimony. McIlroy led the driving statistics in Akron last week where he won the Bridgestone Invitational with an average wallop of 317 yards. Plenty of those hits were 330-plus. Any more than that you start to run out of fairway. While the technical side of his game is impressive it is the management of the attendant hoopla that is making the difference.
Evidence of McIlroy's growing status as the game's poster boy could be seen today when his media conference was hijacked by the PGA to announce an extended sponsorship deal with a Swiss watch maker.
McIlroy, positioned betwixt the head of PGA and the chief executive of Omega, looked more than comfortable in the seat once occupied by golf's outgoing USP Tiger Woods. Well, McIlroy is shooting for his fourth major at the age of 25, and his third victory on the spin after adding Bridgestone last Sunday to the Open crown claimed last month.
Gunning for Rory: the men to take on McIlroy
Gunning for Rory: the men to take on McIlroy
1/5 Adam Scott

Not finished outside the top 10 since his victory at the Crowne Plaza Invitational in May. Odds: 11-1

Getty Images

2/5 Phil Mickelson

Shot a 62 at the Bridgestone on Sunday from nowhere to give him renewed hope. Odds: 25-1

Getty Images

3/5 Sergio Garcia

Three successive seconds in his last three events and two top-threes in the previous four. Odds: 18-1

Getty Images

4/5 Justin Rose

Two victories in his last four events and desperate to add to last year's US Open success. Odds: 18-1

Getty Images

5/5 Rickie Fowler

The only player to post topfives in all three majors so far this season and runner-up to McIlroy at Royal Liverpool. Odds: 22-1

Getty Images
Golf's powerbrokers cannot get enough of the next big thing, which notionally at least, ups the ante ahead of the final major of the season. Not that you would know it judging by McIlroy's sanguine demeanour.
Locked into this virtuous cycle of near perfect golf, where every ball he hits does as he bids, and flies a long way with it, McIlroy simply sits back and lets the tributes wash over him. He lets others do the talking while he concentrates on nothing more than the next shot, and how that formula is working.
McIlroy has always had plenty of game. Now he has the mind to manage the expectation, leading some to suggest we are entering the era of Rory. His return to the top of the world rankings this week supports the claims but wisely he stands back from that, or rather, resists the temptation to fan that flame.
"I've had a great run of golf and played well over the past few months. I said at the start of the year that golf was looking for someone to put their hand up and sort of become one of the dominant players in the game. I felt like I had the ability to do that, and it's just nice to be able to win a few tournaments and get back to where I feel like I should be, which is near the top of the world rankings, competing in majors and winning golf tournaments.
"I'm not necessarily sure you can call that an era or the start of an era, but I'm just really happy with where my golf game is at the minute and I just want to try and continue that for as long as possible. People can say what they want to say, that's fine.  But I can't read too much into it. I just need to continue to practise hard and play well and try not to read too much of the stuff that's being written, because if you read everything that was being written, I'd turn up at the first tee on Thursday thinking I'd already won the tournament."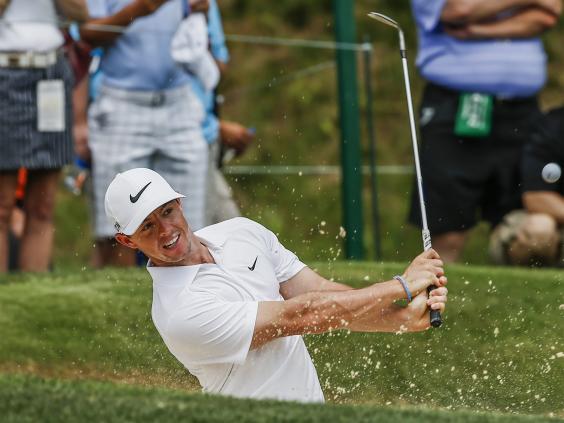 The whispers around Valhalla say he's a shoo-in, which is reflected by the parsimonious odds of just 5-1 with the bookies in a 156-horse race.
McIlroy is so confident he took the day off earlier in the week rather than familiarise himself with a course he has never played. It's long, green and in America. That's all he needs to know. "I don't know much about the course but from the people that have spoken to me and guys in the locker room it will suit my game pretty well," McIlroy said.
"I know it's going to be a long drive course. I feel like I've driven the ball very well the last few weeks. If I do that, hopefully I'll have a good chance." Ten out of 10 for understatement, Rory.
Reuse content