Finally, it seems, Sergio Garcia has caught the bouquet of flowers. His big day might just be around the corner. How about Sunday in Louisville?
Golf's chief bridesmaid was runner-up to Rory McIlroy at the Open last month and again to the Northern Irishman last week at the Bridgestone Invitational. But he has been in such chipper mood since suffering defeat at Hoylake that maybe coming second again in Ohio was a final dress rehearsal.
At 34, perhaps the Spaniard is at long last about to walk down the aisle and find true love at a major championship after years of heartbreak. He has certainly had long enough to write his speech. Garcia is 0 for 63 in the majors. Only Lee Westwood, at 0 for 65, has been left standing forlorn at the altar more times.
It was at this championship in 1999 that Garcia thrust himself forward as a precocious 19-year-old to be a rival to Tiger Woods. He finished second. He finished second in the 2008 PGA Championship, too, outputted by Padraig Harrington, who also beat him in a play-off at the 2007 Open.
"Obviously, finishing second is not the greatest but the only guy that loses is the one that has a chance of winning," Garcia said at Valhalla Country Club with a glass-half-full philosophy. There have been times in the past where, in defeat, Garcia has been in a glass-fully-smashed state of mind. "I'd rather finish second and lose than be 50th and not have a chance," he said.
Gunning for Rory: the men to take on McIlroy
Gunning for Rory: the men to take on McIlroy
1/5 Adam Scott

Not finished outside the top 10 since his victory at the Crowne Plaza Invitational in May. Odds: 11-1

Getty Images

2/5 Phil Mickelson

Shot a 62 at the Bridgestone on Sunday from nowhere to give him renewed hope. Odds: 25-1

Getty Images

3/5 Sergio Garcia

Three successive seconds in his last three events and two top-threes in the previous four. Odds: 18-1

Getty Images

4/5 Justin Rose

Two victories in his last four events and desperate to add to last year's US Open success. Odds: 18-1

Getty Images

5/5 Rickie Fowler

The only player to post topfives in all three majors so far this season and runner-up to McIlroy at Royal Liverpool. Odds: 22-1

Getty Images
His new Mary Poppins outlook is a cheery song and dance away from when he was the Marmite Kid. Of course, it helps one's sunny disposition to be recently engaged to Katharina Boehm, and to be in the form of his life, having settled on a claw grip with his once-temperamental putter that looks like he is trying to uncork a stubborn bottle of champagne – which is pretty much what his major campaigns have felt like.
Finally, perhaps, Garcia will get to spray the fizzy stuff. "I've always wanted to win at least one, but I would never say I felt urgency about it," Garcia said. "If I get to 45 and I haven't won one I'll probably start worrying a bit more."
It is a wonder Garcia never threw in the towel (he thought of quitting in 2003) or sought comfort on the psychiatrist's couch. "I did see a friend of mine that, I wouldn't say was a psychiatrist but probably something similar at the end of 2009," Garcia said. "But I've never really believed in it, and when you don't believe in something, it's difficult to pay attention to it."
What has not gone unnoticed is that no sooner has Woods been carted off to A&E, along comes McIlroy. How is that for bad timing? Jack Nicklaus mentioned it, too. "No, I wouldn't say bad timing," Garcia said. "I can see what Jack is referring to in a way, but all I can do is try to play the best I can. If somebody else plays better, the only thing I can do is congratulate him and move on."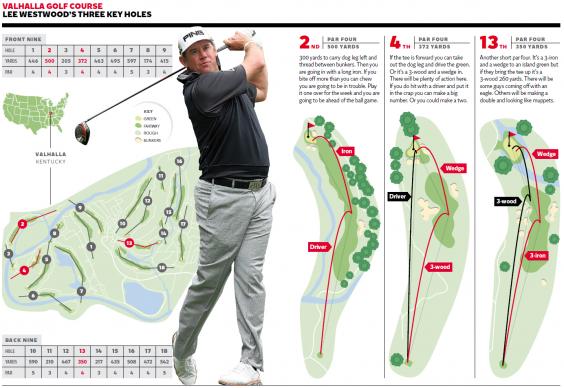 Click HERE for full-size version of graphic
The way McIlroy is playing, shaking hands as runner-up again may be the recurring nightmare keeping Garcia awake as this championship unfolds. This is what he is up against.
"I haven't played with Tiger for a while. Obviously, they are both great players," Garcia said. "But when they are both at their best, to me it seems like Rory is less afraid of hitting [with a] driver, and when he's hitting it as well as he's hitting it now, he's hitting it very far and quite straight. So obviously it makes a lot of holes easier," he said. "Where most of the guys are hitting 7-iron [into greens], he's hitting wedge."
Here is another thing to play on Garcia's mind. Three of his four runner-up finishes in the majors have been to Irishmen. "That's interesting," he said. "I wish I could blame it only on the Irish guys. No, I think it's just coincidence. I've been close two or three times with Tiger and he's come out on top, and obviously, yeah, with Padraig and then Rory lately. But no, it's just the way it is. So it's just funny, I guess. Good point, though," he said to much laughter.
It's too late to be superstitious. The wedding invitations have been sent out, the cake iced, and Garcia's dress is hanging in his locker. He shall go to the ball.
Selected first-round tee-off times
US unless stated; all times BST
Starting at hole one
6.25pm S Garcia (Sp), S Stricker, T Watson
6.35pm R Moore, H Stenson (Swe), K Perry
6.45pm B Watson, M Kaymer (Ger), R McIlroy (Nl)
7.05pm J B Holmes, F Molinari (It), L Donald (Eng)
7.15pm Z Johnson, D Clarke (Nl), R Sterne (SA)
7.25pm T Clark (SA), K Na, P Casey (Eng)
Starting at hole 10
1.05pm V Dubuisson (Fr), E Els (SA), R Fowler
1.15pm J Spieth, A Scott (Aus), L Westwood (Eng)
1.25pm I Poulter (Eng), J Day (Aus), J Walker
1.35pm P Harrington (Ire), P Mickelson, T Woods
1.45pm G McDowell (Nl), B Snedeker, B Koepka
2.05pm M Kuchar, L Oosthuizen (SA), J Rose (Eng)
Weather Staying mainly cloudy with a small chance of showers. Maximum temperature: 27C.
Television Sky Sports 4, 6pm-midnight.
Reuse content