He had been expected to come back with a bang, to make an outspoken and possibly controversial return to the F1 arena that was once his personal fiefdom. But when Bernie Ecclestone toured the paddock at Bahrain's Sakhir Circuit on Friday he was harder on himself than he was on the men who supplanted him as F1's ringmaster.
"No, I was an idiot," he retorted when asked whether it was a compliment that it had taken three men – Chase Carey, Ross Brawn and Sean Bratches – to replace him.
"Never met Sean, I met Ross for 10 minutes this year and I knew him from the past obviously, and I feel sorry for Chase being thrown in the deep end."
The 2017 Formula 1 grid
The 2017 Formula 1 grid
1/20 Sebastian Vettel, Ferrari

Vettel finished fourth last season and will hope improvements to the team's 1.6-litre V6 will help him back onto the podium.

Getty

2/20 Kimi Raikkonen, Ferrari

The experienced Finn largely underperformed last season. At 37, could be his final season racing for a top team.

Getty

3/20 Sergio Perez, Force India

Perez retains the drive he has held since 2014. Force India again use the Mercedes-AMG engine.

Getty

4/20 Esteban Ocon, Force India

The talented 20-year-old raced in 9 Grand Prix for Manor last season and earns a call-up to a much more competitive team.

Getty

5/20 Romain Grosjean, Haas

Haas had a very good season last year, finishing 8th with their Ferrari engine. Grosjean will look to improve on his 13th place finish.

AFP/Getty

6/20 Kevin Magnussen, Haas

The Dane moves from Renault to Haas. Struggled last season.

Getty

7/20 Stoffel Vandoorne, McLaren

The talented Belgian, who scored a world championship point in the unfamiliar MP4-31 last year, replaces Jenson Button at McLaren.

Getty

8/20 Fernando Alonso, McLaren

The youngest double champion of all-time remains at McLaren for the 2017 season, despite a well publicised approach from Mercedes.

Getty

9/20 Lewis Hamilton, Mercedes

The team - and driver - to beat since the infamous V6 rule changes came into place in 2014.

Getty

10/20 Valtteri Bottas, Mercedes

Bottas replaces world champion Nico Rosberg at Mercedes, Will push Hamilton all the way this campaign.

Getty

11/20 Daniel Ricciardo, Red Bull

Adrian Newey has completely redesigned the RB13 for the 2017 season and Ricciardo will be hopeful of bettering last year's 3rd place finish.

Getty

12/20 Max Verstappen, Red Bull

There will be plenty of attention on Verstappen as he completes his first full season at Red Bull.

Getty

13/20 Nico Hulkenberg, Renault

Hulkenberg moves to the team from Force India, replacing Kevin Magnussen.

Getty

14/20 Jolyon Palmer, Renault

The Brit came under pressure last year for a disappointing 18th-place finish. Will be hopeful of improvement.

Getty

15/20 Marcus Ericsson, Sauber

Sauber were poor last season and were plagued by retirements. Ericsson nevertheless remains with the team for a third campaign.

AFP/Getty

16/20 Pascal Wehrlein, Sauber

The 22-year-old wins a drive at Sauber, moving from Manor Racing.

Getty

17/20 Daniil Kvyat, Toro Rosso

Resigned to Toro Rosso after plenty of speculation; will be desperate to show he shouldn't have been replaced by Verstappen at Red Bull.

Getty

18/20 Carlos Sainz Jr, Toro Rosso

Now in his third season with the team. Toro Rosso this year return to a Renault engine.

Getty

19/20 Lance Stroll, Williams

18-year-old rookie. Stroll's first appearance in the car didn't inspire confidence, he spun the car in testing.

Getty

20/20 Felipe Massa, Williams

Heroically returns to the team after Bottas departed for Mercedes. One of the most experienced drivers on the grid.

Getty
He said he felt envious that Carey has the sort of budget to play with that he, in his later years, did not have access to, that the American has greater wiggle room to do the sort of deals for which he himself had once been legendary, but he added: "I wouldn't want to be having to deliver to a public company today. I feel sorry for Chase having to do that."
Asked what he thought the new owner, Liberty Media, would do with the sport, he replied: "Nothing disrespectful, but there's very little I could have done, or you could do, it's the racing that's been bad. If we have Ferrari going well and Red Bull going well, it will come back again and the public will be interested."
He became almost penitent when asked if he missed his old job.
"Well it's strange, I convinced these people to build this place" - he gestured at the paddock and surrounding circuit - "and all the other places, I charged them too much for what we provided so I feel a bit responsible. So when they ask me things I try and help them. Nothing to do with Liberty, and it went on my watch, we didn't deliver the show that we charged them for. It's probably why so many circuits have dropped away. People can't make it work."
He was, he said of the deals he made, "A used car dealer." But he shied away, he said, from the idea that Liberty have of 25 races in a season.
"I tried hard not to go there," he said. "It would cost a fortune to do that. The teams are going to need another team. Twenty would be plenty."
He doubted, however, that Liberty could make their purchase pay on 20 races.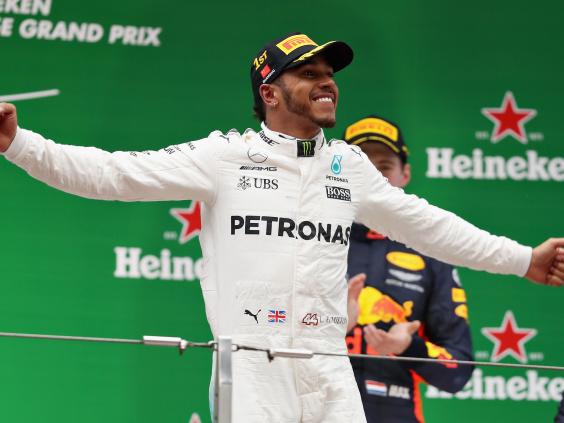 "It doesn't seem to me that they are doing things for money, which is good, whereas I was. I was running the company to try and make money for the shareholders. It doesn't seem that's the thing that's driving them. Chase wants to get more happy spectators I think.
"Yeah, they want a return on investment, but you can tell stories for a few years: it's going to get better next year. It's not short-term, but it's not for a few years when people start thinking you haven't done what you thought you would have."
And who'll win the championship this year?
The reply came crisply and concisely, Ferrari's resurgence notwithstanding.
"Lewis."
And with that he clambered back on his golf cart, and was whisked off to the next bunch of waving microphones and tape recorders.
Gone, but certainly not forgotten.
Reuse content