Lewis Hamilton never put a wheel wrong as he took his 54th career victory in China after defeating Melbourne nemesis Sebastian Vettel by 6.2 seconds. The duo now share the lead of the world championship, after a race in which the pressure was on both throughout as they demonstrated similar performance.
Prior to the event there had been much concern that the inclement weather might create problems with deployment of the medical helicopter in the event of an accident, which was the reason why there had embarrassingly been so little action on Friday. Conditions then had prevented it from landing at the Huashan Hospital 38 kms away in Shanghai, which was the only nominated neurological facility in the locality.
But in a bit of commendable lateral thinking the FIA brought the mountain to Mohammad, to ensure the race could proceed no matter what. Their medical delegates Alain Chantegret and Ian Roberts reviewed the facilities at the Ruijin Hospital only five kms away from Shanghai International Circuit and a 10-minute trip by fast car. It did not have suitable neurological facilities, but via special arrangement a complete neurosurgery team from the Huashan was sent to the Ruijin on Sunday, to ensure the required care was available.
Chinese Grand Prix 2017 in pictures
Chinese Grand Prix 2017 in pictures
1/25 Chinese Grand Prix

Lewis Hamilton celebrates winning the Chinese Grand Prix

Getty

2/25 Chinese Grand Prix

Hamilton crosses the finish line to take victory in the Chinese Grand Prix

Getty

3/25 Chinese Grand Prix

Max Verstappen was able to hold off Daniel Ricciardo in a late intra-Red Bull challenge

Getty

4/25 Chinese Grand Prix

Hamilton controlled the race form the front as he led every lap

Reuters

5/25 Chinese Grand Prix

Kimi Raikkonen struggled as he was passed by Vettel, Verstappen and Ricciardo

Getty

6/25 Chinese Grand Prix

Max Verstappen lit up Shanghai by passing nine cars on the first lap of the Chinese Grand Prix

EPA

7/25 Chinese Grand Prix

Valterri Bottas had to fight back through the field after spinning behind the safety car

Getty

8/25 Chinese Grand Prix

Lewis Hamilton took the 54th Grand Prix victory of his career

Getty

9/25 Chinese Grand Prix

Antonio Giovinazzi lost control of his Sauber on the start-finish straight

Getty

10/25 Chinese Grand Prix

Anonio Giovinazzi climbs out of his Sauber after crashing early on

Getty

11/25 Chinese Grand Prix

Lance Stroll was too overeager on the opening lap and paid the price

Getty

12/25 Chinese Grand Prix

Sebastian Vettel saw his shot at Lewis Hamilton robbed by the safety car

Getty

13/25 Chinese Grand Prix

The start of the Chinese Grand Prix saw the rare sight of a standing grid in wet conditions

Getty

14/25 Saturday qualifying

Hamilton celebrates after putting his Mercedes on pole position

AFP

15/25 Saturday qualifying

Hamilton qualified for the second Grand Prix in succession.

Getty

16/25 Friday second practice

Lewis Hamilton took to the track to sign caps and throw them to fans after practice was cancelled

Getty

17/25 Friday second practice

Lewis Hamilton tweeted his ideas for how Formula One could be improved through a shorter weekend

Getty

18/25 Friday First Practice

Max Verstappen set the fastest time in first practice.

Getty

19/25 Friday First Practice

Lewis Hamilton chose not to set a time despite taking to the track.

Getty

20/25 Friday First Practice

Fernando Alonso ended the session in seventh place for McLaren.

Getty

21/25 Friday First Practice

Felipe Massa navigates his way through the rain.

Getty

22/25 Friday First Practice

Nico Hulkenberg spun out of first practice.

Getty

23/25 Friday First Practice

Max Verstappen was more then 1.5 seconds quicker than any other driver in first practice.

Getty

24/25 Friday First Practice

Stoffel Vandoorne wait to leave the pits.

Getty

25/25 Friday First Practice

Felipe Massa sits and waits on the Williams pit wall as the rain continues to fall.

Getty
For the second race of 2017 the field went to the grid with uncertainty over the identity not just of the winning driver, but also the winning marque. Then there was the uncertainty over the weather, with the track already starting to dry as the rain held off. Cold temperatures which militated against tyre warmth and thus grip. And the first standing start for ages on a damp grid.
Hamilton won the latter as Vettel held off Bottas. The German was investigated for being out of position on the grid, but no action was deemed necessary. Contact between rookie Lance Stroll and Sergio Perez on the first lap saw the Canadian punted out of 10th place and triggered deployment of the virtual safety car, which in turn led to multiple pit stops for slick tyres.
Hamilton, team-mate Valtteri Bottas, Daniel Ricciardo, Kimi Raikkonen and a flying Verstappen – already up from 16th on the grid - all stayed out, and were thrown a lifeline on the fourth lap when rookie Antonio Giovinazzi spun his Sauber exiting the last corner, in a repeat of his qualifying accident. When the real safety car was deployed as the debris was cleaned up, the top five all took the opportunity to switch to slicks too, without losing their places.
That left Vettel down in sixth, but he began a charge as Verstappen overtook Ricciardo for second place, both Red Bulls ran the supersoft Pirelli tyres as others opted for the more durable softs. Further back, Bottas recovered in 12th place after spinning on the seventh lap and condemning himself to an afternoon of clawing his way back to respectability.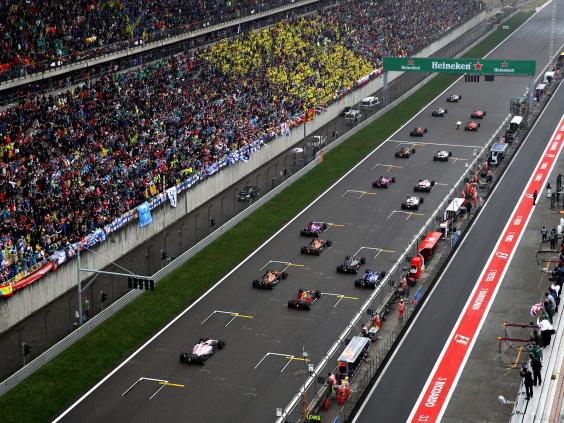 For a while Verstappen kept Hamilton honest, trading fastest laps, but by the 15th lap it was Hammertime as the gap grew from 1.7s to 2.7s, and extended steadily thereafter. Ricciardo, meanwhile, kept the Ferraris at bay as Raikkonen initially refused to let Vettel by.
Having finally passed his team-mate on the 20th lap, Vettel lost little time in dispatching Ricciardo on the 22nd, though the Australian fought back briefly to the point where they touched gently.
"I lost a lot of positions with the safety car, but really enjoyed the race," Vettel said. "I was stuck in the train for a while and was beginning to get angry, but I finally made a move and then tried to close on Lewis. But every time I pushed I had the feeling he was able to respond. It was really good fun!"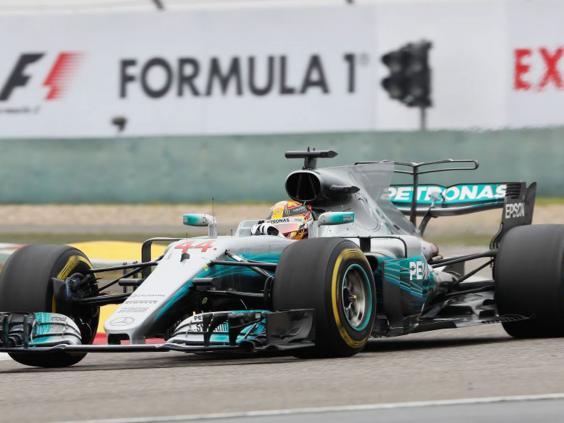 "I got a good run out of Turn 4 and braked really late and went for the outside of Ricciardo in Turn 6. My exit was compromised a bit and I got some wheelspin, but I got my elbows out when he really squeezed me, and I got it done."
Now the German was 10 seconds behind Hamilton, clawing after Verstappen and setting the fastest lap. There were doubts the Dutchman could make his supersoft tyres last to the end, but Hamilton believed his softs could go the distance and so, for a while, did Vettel, setting up the battle between the two main title protagonists.
Vettel cleared Verstappen on the 28th lap when the Red Bull driver had a big lock-up braking for the Turn 14 hairpin, enabling the Ferrari to dive down the inside to take second place. At the end of that lap the gap between the leaders was 10.6 seconds, but Hamilton quickly opened that to 11.7 seconds next time around, as Verstappen surrendered third stopping for fresh tyres. That dropped him to sixth, behind Ricciardo and Raikkonen, and the recovering Bottas.
Then on the 31st lap, Hamilton radioed that his tyres no longer felt right, before immediately opening the gap out to 12.4 seconds. Further back, Verstappen's fresh rubber took him back past Bottas.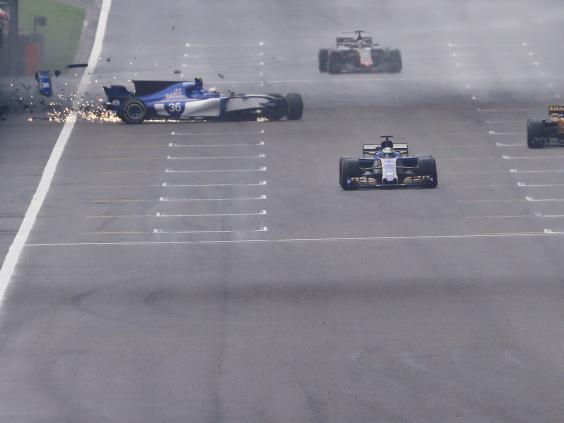 Ferrari blinked first, pitting Vettel for more softs on the 35th lap. "We should probably pit," Hamilton said, and he was told to leave it two laps to avoid problems with the distant Raikkonen who had risen to second as others pitted. But Hamilton came in anyway and was away long before the Ferrari appeared, running ahead of Vettel's.
The Melbourne winner began to close the gap, but Hamilton's pace suggested he was conserving his rubber, and the gap fluctuated as they went through traffic. Eventually, Vettel's challenge faded, though he closed the gap again as Hamilton eased off.
Further back, Ricciardo closed on his team-mate but never really challenged for the final podium place, as Bottas closed to within a second of fellow countryman Raikkonen, who had finally changed tyres after 39 laps.
After two races, Vettel and Hamilton share the title points lead, with 43 apiece as they head to Bahrain for the next grand prix of the season in just one week's time.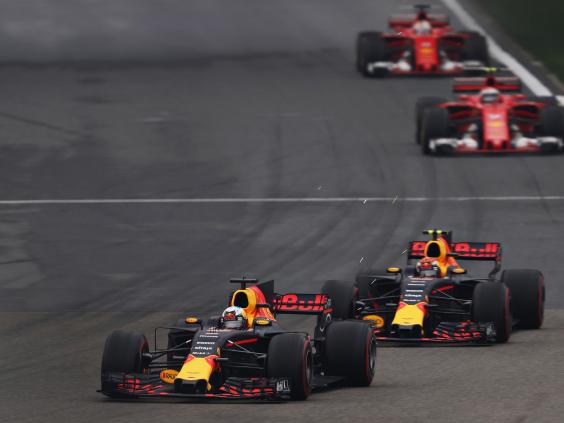 "It was incredible," Hamilton enthused. "Today was very, very tough. I started on intermediates and it was difficult to know just when to stop for slicks. It was mostly dry, but there were wet patches in a couple of corners.
"This race was exciting for me personally. I had to get back on the gas when Seb kept coming and we were matching times, and if there hadn't been that safety car early on I think it would have been much closer.
"This is going to be a real championship, and I'm really looking forward to the fight, not only with Seb but with the other guys. Over the last 20 laps or so we were really exchanging times, and I had to keep being fed them so I could try and match him. It really was great fun!"
Final Positions after Race (56 Laps):
1 Lewis Hamilton (Gbr) Mercedes GP 1hr 37mins 36.160secs
2 Sebastian Vettel (Ger) Ferrari 1:37:42.410
3 Max Verstappen (Ned) Red Bull 1:38:21.352
4 Daniel Ricciardo (Aus) Red Bull 1:38:22.195
5 Kimi Raikkonen (Fin) Ferrari 1:38:24.236
6 Valtteri Bottas (Fin) Mercedes GP 1:38:24.968
7 Carlos Sainz (Spa) Scuderia Toro Rosso 1:38:49.053
8 Kevin Magnussen (Den) Haas F1 at 1 lap
9 Sergio Perez (Mex) Force India at 1 lap
10 Esteban Ocon (Fra) Force India at 1 lap
11 Romain Grosjean (Fra) Haas F1 at 1 lap
12 Nico Hulkenberg (Ger) Renault at 1 lap
13 Jolyon Palmer (Gbr) Renault at 1 lap
14 Felipe Massa (Bra) Williams at 1 lap
15 Marcus Ericsson (Swe) Sauber-Ferrari at 1 lap
Not Classified:
16 Fernando Alonso (Spa) McLaren 33 laps completed
17 Daniil Kvyat (Rus) Scuderia Toro Rosso 18 laps completed
18 Stoffel Vandoorne (Bel) McLaren 17 laps completed
19 Antonio Giovinazzi (Ita) Sauber-Ferrari 33 laps completed
20 Lance Stroll (Can) Williams 0 Laps completed
Reuse content