Lewis Hamilton and his Mercedes partner Valtteri Bottas are preparing for a damage limitation weekend after Ferrari signalled in both of today's practice session at the Sochi Autodrom that they could be very hard to beat on Sunday.
Hamilton set the initial pace with 1m 39.558s on Pirelli's soft-compound tyre in the morning, with Bottas next on 1m 39.871s, but they reversed position as the Englishman struggled when they switched to supersofts.
Bottas lapped in 1m 36.998s compared to Hamilton's 1m 37.607s, and after the Englishman had improved to 1m 36.681s which left him third overall, the Finn slashed that with 1m 36.119s.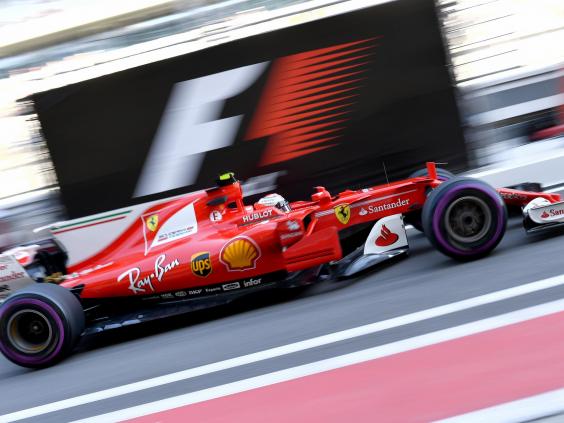 By then, however, Ferrari's Kimi Raikkonen had set the fastest time of 1m 36.074s on the same rubber.
Ferrari moved Mercedes on to full red alert in the afternoon, as Sebastian Vettel joined Raikkonen to further demonstrate their car's superiority on the softest two Pirelli tyre compounds – the supersoft and the ultrasoft.
On the former Raikkonen set the pace with 1m 35.980s, with Vettel next on 1m 36.524s, before they were temporarily split by Bottas on 1m 36.283s, and Hamilton then went fastest with 1m 35.752s. But where the Ferraris could seemingly set times at will, it was soon clear that the Mercedes were struggling.
On the ultrasofts the red cars were in a class of their own, worryingly so for the silver arrows since Sochi is a track which places the greatest load on the right front tyre, and thus ought not to exacerbate Mercedes' known problems with rear tyre wear.
The 2017 Formula 1 grid
The 2017 Formula 1 grid
1/20 Sebastian Vettel, Ferrari

Vettel finished fourth last season and will hope improvements to the team's 1.6-litre V6 will help him back onto the podium.

Getty

2/20 Kimi Raikkonen, Ferrari

The experienced Finn largely underperformed last season. At 37, could be his final season racing for a top team.

Getty

3/20 Sergio Perez, Force India

Perez retains the drive he has held since 2014. Force India again use the Mercedes-AMG engine.

Getty

4/20 Esteban Ocon, Force India

The talented 20-year-old raced in 9 Grand Prix for Manor last season and earns a call-up to a much more competitive team.

Getty

5/20 Romain Grosjean, Haas

Haas had a very good season last year, finishing 8th with their Ferrari engine. Grosjean will look to improve on his 13th place finish.

AFP/Getty

6/20 Kevin Magnussen, Haas

The Dane moves from Renault to Haas. Struggled last season.

Getty

7/20 Stoffel Vandoorne, McLaren

The talented Belgian, who scored a world championship point in the unfamiliar MP4-31 last year, replaces Jenson Button at McLaren.

Getty

8/20 Fernando Alonso, McLaren

The youngest double champion of all-time remains at McLaren for the 2017 season, despite a well publicised approach from Mercedes.

Getty

9/20 Lewis Hamilton, Mercedes

The team - and driver - to beat since the infamous V6 rule changes came into place in 2014.

Getty

10/20 Valtteri Bottas, Mercedes

Bottas replaces world champion Nico Rosberg at Mercedes, Will push Hamilton all the way this campaign.

Getty

11/20 Daniel Ricciardo, Red Bull

Adrian Newey has completely redesigned the RB13 for the 2017 season and Ricciardo will be hopeful of bettering last year's 3rd place finish.

Getty

12/20 Max Verstappen, Red Bull

There will be plenty of attention on Verstappen as he completes his first full season at Red Bull.

Getty

13/20 Nico Hulkenberg, Renault

Hulkenberg moves to the team from Force India, replacing Kevin Magnussen.

Getty

14/20 Jolyon Palmer, Renault

The Brit came under pressure last year for a disappointing 18th-place finish. Will be hopeful of improvement.

Getty

15/20 Marcus Ericsson, Sauber

Sauber were poor last season and were plagued by retirements. Ericsson nevertheless remains with the team for a third campaign.

AFP/Getty

16/20 Pascal Wehrlein, Sauber

The 22-year-old wins a drive at Sauber, moving from Manor Racing.

Getty

17/20 Daniil Kvyat, Toro Rosso

Resigned to Toro Rosso after plenty of speculation; will be desperate to show he shouldn't have been replaced by Verstappen at Red Bull.

Getty

18/20 Carlos Sainz Jr, Toro Rosso

Now in his third season with the team. Toro Rosso this year return to a Renault engine.

Getty

19/20 Lance Stroll, Williams

18-year-old rookie. Stroll's first appearance in the car didn't inspire confidence, he spun the car in testing.

Getty

20/20 Felipe Massa, Williams

Heroically returns to the team after Bottas departed for Mercedes. One of the most experienced drivers on the grid.

Getty
Vettel improved the fastest lap to 1m 34.120s – 3.463s faster than the same session last year thanks to the revised 2017 regulations. Raikkonen was second with 1m 34.383s, as Bottas again edged out a struggling Hamilton, with 1m 34.790s after two runs to the Englishman's 1m 34.829s from a single run.
He had to lock up his front wheels avoiding Pascal Wehrlein in Turn 13 on his second and didn't get another go before having to focus on race simulations.
Red Bull were also struggling, with Max Verstappen and Daniel Ricciardo on 1m 35.540s and 1m 35.910s, before the Dutchman stopped in the pit entry with loss of power.
When all the qualifying simulations were completed Ferrari had an advantage of around six- to seven-tenths over Mercedes, and 1.4 to 1.7s over Red Bull. That's the sort of gap that Mercedes have enjoyed for the past three years. And on race pace, the Ferraris had an advantage on both compounds too, with Bottas again being the quicker Mercedes driver.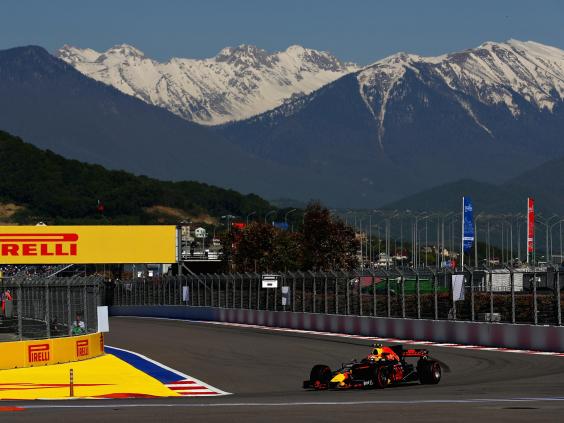 "A bit of a difficult day for us," Hamilton said. "We managed to complete everything that we needed to do on our runs, but in terms of the balance of the car, the Ferrari seemed very, very fast on the long runs so we need to work out how we can improve our race pace.
"But there's still everything to play for. The tyres feel very peaky, so it's easy to drop out of the window of performance. But when they are working they seem to be very good."
The only low point for Ferrari is that with both drivers taking their third turbochargers of the season, they risk receiving 10 grid-place penalties should they exceed the permitted allocation of four. Mercedes, meanwhile, put on a brave face as an insider said: "It's a matter of going through all the data tonight and making sure that we get the tyres in their optimal working window. We're not too worried about today's situation."
"There are a couple of parameters that we didn't get right today which are no brainers to change," team chief Toto Wolff expanded. "They should get the gap down to a couple of tenths, and we know we have that in the power unit," meaning when they habitually turn up the wick for final qualifying. It remains to be seen how that will work out for the race, however, when they have to turn it down again.
Reuse content