Sebastian Vettel and Ferrari dominated the first two practice sessions for the Bahrain Grand Prix, the first held in scorching 47 degrees track temperatures, the second in a slightly cooler 34 degrees – conditions which more accurately reflect those likely to be encountered in Sunday's race.
The Australian GP winner and joint world championship points leader was four-tenths of a second faster than Red Bull's Daniel Ricciardo in the first, and 0.041s ahead of Valtteri Bottas's Mercedes in the second.
But it was not an easy day for the Scuderia, as Kimi Raikkonen's Ferrari broke down in session one, and Vettel's rolled to a halt for a while in session two with a "complete shutdown" – thought to be heat generated – before mechanics got it going again.
The 2017 Formula 1 grid
The 2017 Formula 1 grid
1/20 Sebastian Vettel, Ferrari

Vettel finished fourth last season and will hope improvements to the team's 1.6-litre V6 will help him back onto the podium.

Getty

2/20 Kimi Raikkonen, Ferrari

The experienced Finn largely underperformed last season. At 37, could be his final season racing for a top team.

Getty

3/20 Sergio Perez, Force India

Perez retains the drive he has held since 2014. Force India again use the Mercedes-AMG engine.

Getty

4/20 Esteban Ocon, Force India

The talented 20-year-old raced in 9 Grand Prix for Manor last season and earns a call-up to a much more competitive team.

Getty

5/20 Romain Grosjean, Haas

Haas had a very good season last year, finishing 8th with their Ferrari engine. Grosjean will look to improve on his 13th place finish.

AFP/Getty

6/20 Kevin Magnussen, Haas

The Dane moves from Renault to Haas. Struggled last season.

Getty

7/20 Stoffel Vandoorne, McLaren

The talented Belgian, who scored a world championship point in the unfamiliar MP4-31 last year, replaces Jenson Button at McLaren.

Getty

8/20 Fernando Alonso, McLaren

The youngest double champion of all-time remains at McLaren for the 2017 season, despite a well publicised approach from Mercedes.

Getty

9/20 Lewis Hamilton, Mercedes

The team - and driver - to beat since the infamous V6 rule changes came into place in 2014.

Getty

10/20 Valtteri Bottas, Mercedes

Bottas replaces world champion Nico Rosberg at Mercedes, Will push Hamilton all the way this campaign.

Getty

11/20 Daniel Ricciardo, Red Bull

Adrian Newey has completely redesigned the RB13 for the 2017 season and Ricciardo will be hopeful of bettering last year's 3rd place finish.

Getty

12/20 Max Verstappen, Red Bull

There will be plenty of attention on Verstappen as he completes his first full season at Red Bull.

Getty

13/20 Nico Hulkenberg, Renault

Hulkenberg moves to the team from Force India, replacing Kevin Magnussen.

Getty

14/20 Jolyon Palmer, Renault

The Brit came under pressure last year for a disappointing 18th-place finish. Will be hopeful of improvement.

Getty

15/20 Marcus Ericsson, Sauber

Sauber were poor last season and were plagued by retirements. Ericsson nevertheless remains with the team for a third campaign.

AFP/Getty

16/20 Pascal Wehrlein, Sauber

The 22-year-old wins a drive at Sauber, moving from Manor Racing.

Getty

17/20 Daniil Kvyat, Toro Rosso

Resigned to Toro Rosso after plenty of speculation; will be desperate to show he shouldn't have been replaced by Verstappen at Red Bull.

Getty

18/20 Carlos Sainz Jr, Toro Rosso

Now in his third season with the team. Toro Rosso this year return to a Renault engine.

Getty

19/20 Lance Stroll, Williams

18-year-old rookie. Stroll's first appearance in the car didn't inspire confidence, he spun the car in testing.

Getty

20/20 Felipe Massa, Williams

Heroically returns to the team after Bottas departed for Mercedes. One of the most experienced drivers on the grid.

Getty
It wasn't a particularly satisfactory day for joint points leader Lewis Hamilton, either.
The Englishman was only 10th fastest in the first – having set the initial pace on Pirelli's medium and soft tyres – but in that session both he and Bottas, only 14th, ran in race trim and never ran with the low fuel loads favoured by their rivals.
The picture was similarly skewed in the second session. Hamilton was embarked upon a lap in which his first sector time was already two-tenths faster than Vettel's when he encountered Nico Hulkenberg's slowing Renault in Turns 9 and 10 and had to back out of the throttle and run wide. The lap was ruined, and his subsequent effort ended up 0.284s shy of Vettel's and 0.243s off his team-mate's before he focused on race-trim runs.
"Some of these drivers are dangerous, man," he told his crew over the radio, though Hulkenberg is normally seen as a highly competent racer; he won the Le Mans 24 Hours classic in 2015 and was sixth fastest in that second session. The two drivers were due to see the race stewards afterwards, to discuss the incident.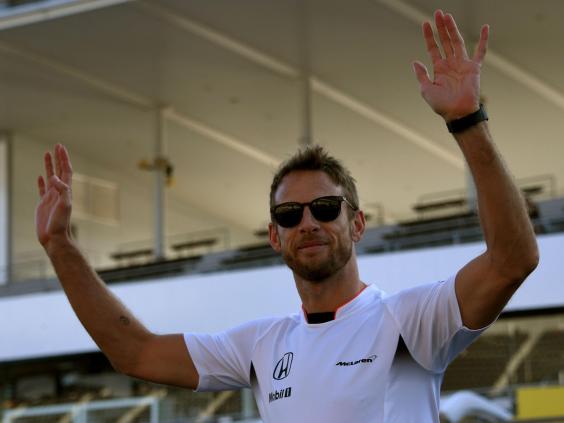 It was a better day for Red Bull, after Ricciardo's speed in both sessions, but though the fastest time comfortably eclipsed the lap record of 1m 31.447s which is held by Pedro de la Rosa dating back to 2005, it was nowhere near Hamilton's 2016 pole time of 1m 29.493s. Given the greater power and grip of the 2017 F1 cars, that is expected to be toppled tomorrow.
Off track, the main excitement centred upon Jenson Button's imminent return from retirement to fill in for McLaren team leader Fernando Alonso in the Monaco GP, as the Spaniard decamps for his Indianapolis 500 adventure. And the surprise news that, rather than test the MCL32 prior to the race – possibly here next week, at a tyre test after the upcoming Spanish GP, or in a Friday morning free practice session in either Russia or Spain, the 2009 world champion will make do with simulator tests at the McLaren factory in Woking.
"Jenson spent 17 years in racing in F1," racing director Eric Boullier said. "He drove actually the kind of level of downforce that we have today and, going through the differences of the technicalities to drive this year, we agreed the track layout here, or even running practice one in Barcelona, would not be very useful.
"He is fit, he is ready, and the simulator is very accurate now and we both believe that it is better for him to spend a couple of days there driving this car model around the streets of Monaco."
Button recently had a couple of days driving the 2017 car in the simulator during a visit to the UK from his Los Angeles house, and Boullier added: "He is very talented. A world champion. He had a long experience in F1 and I can guarantee you by lap 10 of Practice 1 in Monaco he will be okay. His first reaction when asked [to fulfill a clause his ambassadorial contract is believed to contain to stand in if either Alonso or Stoffel Vandoorne were to become unavailable], was "Great, I am so excited," but other well placed sources suggest that the happily retired 37 year-old, a former Monaco winner who stopped racing after last year's Abu Dhabi race after 305 Grand Prixes, had to be persuaded back into the cockpit.
Reuse content