Nico Rosberg has urged Lewis Hamilton to keep it clean in their Formula One world title showdown in Abu Dhabi on Sunday.
The warning came ahead of their end-of-season clash at the Yas Marina circuit being dubbed the 'Duel in the Desert'.
It was a reminder from Rosberg to Hamilton to play fair, despite the contentious issues that may have occurred between the duo over the course of the past few months.
In particular, Rosberg's manoeuvre in qualifying in Monaco when he appeared to make a mistake before reversing back on track, so ensuring himself of pole position in the process, has been deemed deliberate by many seasoned observers.
F1 Brazilian Grand Prix in pictures
F1 Brazilian Grand Prix in pictures
1/20 Brazil Grand Prix

Nico Rosberg and the rest of the Mercedes team celebrate their one-two in Brazil

Getty Images

2/20 Brazil Grand Prix

Felipe Massa waves to his home crowd after finishing third in Brazil

Getty Images

3/20 Brazil Grand Prix

Mercedes AMG Petronas German driver Nico Rosberg (R) celebrates on the podium with teammate Lewis Hamilton

GETTY IMAGES

4/20 Brazil Grand Prix

Nico Rosberg celebrates his victory on the podium in Interlagos

Getty Images

5/20 Brazil Grand Prix

Jenson Button and Sebastian Vettel vie for fourth position

Getty Images

6/20 Brazil Grand Prix

Nico Rosberg holds off his Mercedes team-mate Lewis Hamilton

Getty Images

7/20 Brazil Grand Prix

Fernando Alonso comes into the pits

Getty Images

8/20 Brazil Grand Prix

The Red Bull mechanics await their drivers with the tyres at the ready

Getty Images

9/20 Brazil Grand Prix

Jenson Button emerges from the pit lane against the backdrop of Sao Paulo

Getty Images

10/20 Brazil Grand Prix

Nico Rosberg of Germany and Mercedes GP leads Lewis Hamilton of Great Britain and the field during the Brazilian Formula One Grand Prix

GETTY IMAGES

11/20 Brazil Grand Prix

Sebastian Vettel goes through his final preparations on the grid

Getty Images

12/20 Saturday qualifying

Esteban Gutierrez runs over the kerb

Getty Images

13/20 Saturday qualifying

Lewis Hamilton looks away while Nico Rosberg and Felipe Massa answer questions during the post-qualifying press conference

Getty Images

14/20 Friday first practice

Force India reserve driver Daniel Juncadella walks away from his wrecked car after crashing in first practice

Getty Images

15/20 Friday first practice

Lewis Hamilton climbs into his Mercedes cockpit

Getty Images

16/20 Friday first practice

Nico Rosberg set the fastest time of the morning session

Getty Images

17/20 Friday first practice

Fernando Alonso locks up heavily as he turns into the first corner

Getty Images

18/20 Friday first practice

17-year-old Toro Rosso reserve driver Max Verstappen enjoyed another another run out in first practice

Getty Images

19/20 Friday first practice

Kimi Raikkonen in action during first practice

Getty Images

20/20 Friday first practice

Nico Rosberg smiles as he waits to take to the Interlagos track

Getty Images
A few months later at the Belgian Grand Prix, Rosberg deliberately opted not to pull out of a crash with Hamilton who was later forced to retire from the race with damage sustained in the incident.
With Hamilton in control of the current situation as he has a 17-point lead over Rosberg, he could easily decide to take matters into his own hands, as has occasionally been the way in F1 in the past.
Asked whether it would be a totally clean fight, Hamilton replied: "Yeah, I don't really know what else to say. That's how it's been.
"You have to go into the weekends believing that's going to be the case."
Pushed as to whether any conversations between the duo would be necessary ahead of the race, Hamilton initially issued a stern "no".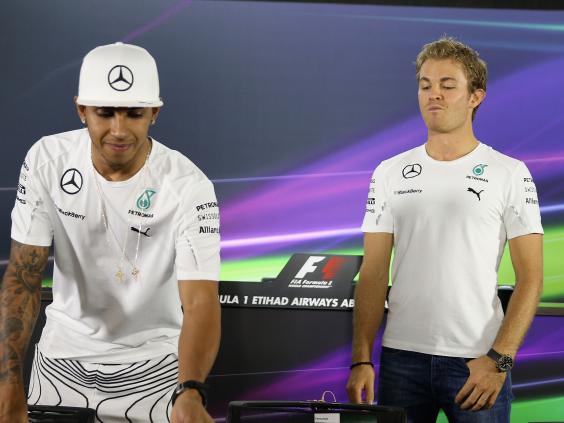 Suggested to the 29-year-old it was unnecessary or they already had an understanding, Hamilton added: "We don't need to.
"It's already been discussed at the beginning of the season and several times through the season, and particularly after Spa.
"There's no reason to revisit it. We're not children, we should know what is wrong and what is right."
Asked for his thoughts, Rosberg made clear it is down to Hamilton to stay on the straight and narrow.
Rosberg said: "Lewis can do something to keep it clean which is drive cleanly himself. It's not like he can't do anything."
Of the two, Rosberg appeared the more composed, albeit with Hamilton insisting he was not feeling the heat of the situation.
"In terms of the pressure, I don't particularly feel any," said Hamilton.
"I've had plenty of experience through my racing career - 15 odd years I would say, actually it might be 20 years of racing - to be prepared. There's no special recipe for it."
The initial skirmish begins with the two 90-minute practice sessions in which a third Briton - alongside Hamilton and Jenson Button - will be on the track in Will Stevens.
The 23-year-old from Essex has been thrust into the spotlight after his sponsors agreed to stump up £500,000 to get him into the vacant Caterham seat alongside Kamui Kobayashi.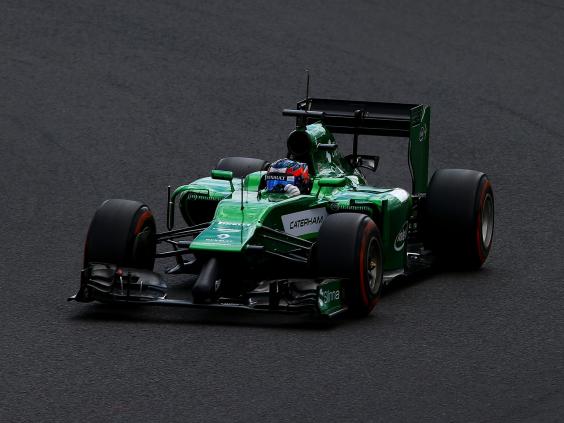 The Leafield-based marque are back on the grid after being allowed to skip the last two races after falling into administration, with their cause aided by the raising of £2million from a crowdfunding project.
Despite making his debut in unusual circumstances, Stevens said: "When you get an opportunity like this you need to take it with both hands, and I'm sure I can go out and do a good job."
PA
Reuse content