Lewis Hamilton lost out on the Formula One drivers' championship to Nico Rosberg despite winning a tense final race in Abu Dhabi.
Here, we look at how Hamilton lost the title to his Mercedes team-mate.
Slow Starts
Hamilton's championship challenge has been plagued by poor getaways. The Briton, who has largely failed to get on top of Mercedes' clutch system this season, was slow off the line in Australia, Bahrain, Canada, Italy and Japan.
Indeed in those five outings, Hamilton lost a combined total of 25 places on the opening laps. His nadir came at the Japanese Grand Prix where he dropped from second to eighth in one fell swoop in a race which Rosberg utterly dominated.
Poor Reliability
While Rosberg has enjoyed a trouble-free campaign, Hamilton has been on the receiving end of some rather bad luck. In China he was unable to post a qualifying lap following an engine problem. He started last and recovered to finish seventh.
At the next round in Russia, another engine failure in qualifying restricted him to 10th on the grid. Hamilton also suffered an engine mode problem during the European Grand Prix and finished fifth. Rosberg won all three of those races. Hamilton was set to take the lead of the championship at October's Malaysian Grand Prix only for his engine to blow up with 15 laps remaining.
Focus
Hamilton courted criticism following the Russian Grand Prix when he uploaded a number of videos to Snapchat as he partied in Miami. In one, Hamilton, was smoking what appeared to be a shisha pipe. In another, he was seen dancing while sipping from a bottle of liqueur.
Abu Dhabi Grand Prix in pictures
Abu Dhabi Grand Prix in pictures
1/15 Abu Dhabi Grand Prix

Lewis Hamilton and Nico Rosberg embark on the drivers' parade.

Getty

2/15 Abu Dhabi Grand Prix

Jenson Button and Felipe Massa prepare to wave goodbye to F1 ahead of their final races.

Getty

3/15 Abu Dhabi Grand Prix

Hamilton led into the first corner as Rosberg held on to second.

Getty

4/15 Abu Dhabi Grand Prix

Max Verstappen recovers after spinning at the first corner and dropping to last.

Getty

5/15 Abu Dhabi Grand Prix

Hamilton was immediately off the pace as he tried to back the field up to attack Rosberg.

Getty

6/15 Abu Dhabi Grand Prix

A smart strategy from Red Bull got both of their cars in front of the Ferrari of Kimi Raikkonen.

Getty

7/15 Abu Dhabi Grand Prix

Hamilton looked comfortable in the lead throughout the race.

Getty

8/15 Abu Dhabi Grand Prix

Ricciardo was running up in third before he saw teammate Max Verstappen move ahead of him.

Getty

9/15 Abu Dhabi Grand Prix

Hamilton continues to lead the way.

Getty

10/15 Abu Dhabi Grand Prix

Button's final race ends in sadness as the front-right suspension failed on his McLaren to force him to retire.

Getty

11/15 Abu Dhabi Grand Prix

Hamilton crosses the line to win the Abu Dhabi Grand Prix as Rosberg secures the first title of his career.

Getty

12/15 Abu Dhabi Grand Prix

Rosberg crowdsurfs on his Mercedes mechanics in celebration.

Getty

13/15 Abu Dhabi Grand Prix

Rosberg celebrates his title success as Hamilton applauds his Mercedes teammate.

Getty

14/15 Abu Dhabi Grand Prix

Hamilton lost his grip on the F1 world championship.

Getty

15/15 Abu Dhabi Grand Prix

Rosberg and Hamilton shake hands on the podium.

Getty
Following his engine failure in Malaysia, Hamilton arrived at the next race in Japan in a peculiar mood. He fooled around on Snapchat during a televised press conference, and then refused to take questions from the written media. Rosberg went on to win the race - and take a 33-point lead in the championship - as Hamilton finished only third.
Rosberg Raised His Game
Hamilton crushed Rosberg en route to sealing his third world title last year, but the Briton has not enjoyed the same dominance over his Mercedes team-mate this season. While the German has lucked-in at a number of races following Hamilton's reliability issues and slow starts, he has also raised his game, too.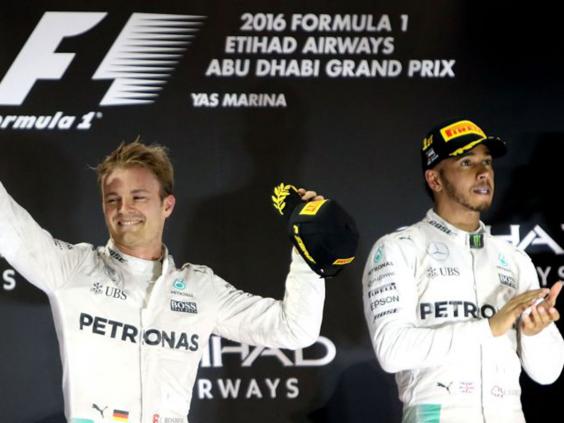 Rosberg got off to a flying start - winning the opening four rounds of the season - before delivering two crushing displays over Hamilton in Singapore and Japan. He has also toughened up this season - not giving an inch to Hamilton in their collisions in Spain, Canada and Austria - and has also refused to be drawn into the psychological warfare of previous seasons.
PA
Reuse content