Lewis Hamilton will head into his Formula One title decider against Nico Rosberg with "double the power" after paying an emotional tribute to his mentor and friend Aki Hintsa.
Hamilton formed a close bond with former McLaren team doctor Hintsa, who last week lost his battle against cancer at the age of 58, during the formative years of his grand prix career.
The British driver, who is 12 points adrift of his title rival Nico Rosberg ahead of this week's season-ending Abu Dhabi Grand Prix, flew to Switzerland after his recent triumph in Brazil to spend time with Hintsa before his death.
"Last week was definitely a difficult week, and it wasn't the best week of sleeping" said Hamilton, 31. "I'd known Aki since 2004. I was very close with him, and his family, and actually got to see him on the last day. We played music, got to see him smile, got to see the amazing man he was.
"I am proud to have known someone like that who had been hugely and incredibly helpful in my time. He was instrumental in me getting that seat at McLaren.
"To have finished his life so was early was definitely tough to see, but coming here this weekend - whilst I have that fighting spirit in my heart from the last races I've done - I come here with almost double the power in the sense that I feel I want to win this race more for him.
"Whilst it is an emotional time I am here to try and do him proud and do well for him as he had the belief in me."
Hamilton, who will be joined here this weekend by his mother Carmen, faces a tough task to prevent Rosberg winning his maiden title.
Rosberg needs only to secure a top-three finish even if Hamilton marches to what will be his fourth consecutive victory following triumphs in the United States, Mexico and at the recent rain-soaked grand prix at Interlagos.
Hamilton, who faced the media alongside Rosberg in a one-off boxing style press conference but neglected the opportunity to shake hands with his rival - has seen his title defence thwarted by reliability issues.
Indeed, Hamilton would need only to cross the line in fifth had his engine not blown up at last month's Malaysian Grand Prix to claim title number four.
"It has been a challenging season, in terms of having the ups and the downs," Hamilton added. "So I am really proud of what I have achieved.
"There have been moments in the year, where I was 43 points behind, that I thought it was impossible to come back, but somehow turned it around. This year has shown me that anything is possible."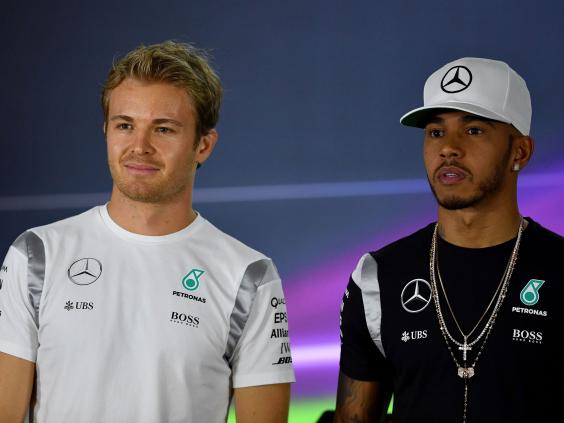 Hamilton will finish the season with more victories and pole positions than Rosberg if he triumphs in the desert on Sunday, but could yet miss out on the title.
"I am aware of how the season has gone for the both of us," said Rosberg, when asked how he would feel if he was considered a fortunate champion.
"We still have one race to go so it would be premature to get into any such discussion. It is about concentrating on myself this weekend."
PA
Reuse content