Mercedes had given their star drivers permission to race each other in the Australian Grand Prix on Sunday, but unfortunately that proved academic when an early engine failure for Lewis Hamilton in pole position left Nico Rosberg with a cakewalk to victory over Red Bull's Daniel Ricciardo.
The first race of Formula One's new era was marred by controversy five hours later when Ricciardo and his car were excluded for consistently exceeding the maximum fuel-flow allowance of 100kg per hour. The Red Bull team principal, Christian Horner, insisted they had complied with the regulations and claimed that the fuel sensors have caused problems since their introduction.
"I'm extremely disappointed, quite surprised and we will of course appeal," said Horner. "Hopefully, through the appeal process it will be clear the car has conformed at all times with the regulations and we have complied with technical regulations."
The first attempt to start the race here in Melbourne had to be aborted when Jules Bianchi's Marussia failed to get away. Then, as Hamilton's car got bogged down at the start and Rosberg grabbed the lead from Ricciardo and the McLaren rookie Kevin Magnussen, there was further drama.
Kamui Kobayashi's Caterham made a getaway but hit Kimi Raikkonen's Ferrari and then crashed heavily into the back of the Williams of Felipe Massa after its rear brakes failed. Massa and Kobayashi were instant retirements and they were soon followed by Hamilton and world champion Sebastian Vettel, whose Red Bull had been in trouble on the grid formation lap with failing turbocharger boost pressure.
"My start didn't feel great today and I had a lot less power than usual when pulling away," Hamilton said, "so it was obvious immediately that something was wrong.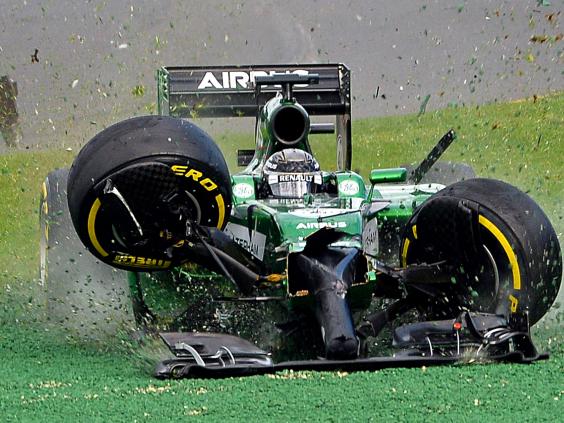 "It looks like we only had five cylinders firing and, while I wanted to keep going, we had to play safe and save the engine. It's unfortunate but that's racing. Of course I'm disappointed and, when I think about all the work that has gone on back at our factories, it's tough to have a costly hiccup."
There was plenty more action in the opening laps as Rosberg headed Ricciardo, Magnussen, Nico Hulkenberg, Fernando Alonso, Raikkonen, Valtteri Bottas and the Toro Rosso duo of Jean-Eric Vergne and Daniil Kvyat.
Bottas was the man on the move for Williams. He passed fellow Finn Raikkonen with a daring switch round the outside on the eighth lap, but hit a wall on the 10th, damaging his right rear tyre. As he pitted for a replacement, the safety car was deployed so that a chunk of his wheel rim could be removed from the track.
McLaren reacted very quickly and called Jenson Button in, enabling him to jump from ninth place to sixth.
Rosberg lost no time pulling away again from Ricciardo when the race resumed on the 16th lap, and controlled things easily from the front with few worries about fuel conservation. His one concern came in the middle of the race when the front tyres began graining and losing grip, but by staying out he was able to drive through that and rebuild his momentum. By the finish he was a supremely comfortable 24.5 seconds ahead.
"At the start I was off like a bullet – or a silver arrow," Rosberg said. "After that the car was really, really quick today. We've got a really good engine and not much of a problem with fuel consumption, so there were no worries about that. It all went perfectly."
Red Bull's astonishing turnaround, which had transformed their troubled car into a podium contender, enabled Ricciardo to maintain a comfortable second place throughout the race, but towards the end the impressive Magnussen kept him honest and finished 2.2sec behind.
"If I looked back to where we were three weeks ago I would have bet everything I had that we wouldn't be standing here," Ricciardo said through his trademark Colgate smile, which would soon be wiped from his face. "We'd never done a race distance until today, so we didn't have a lot of confidence. We've really clawed back a massive margin. It's overwhelming, an unbelievable day."
While Ricciardo celebrated his apparent status as the first Australian ever to finish on the podium in his home grand prix, Magnussen was delighted to finish third in a debut reminiscent of Hamilton's for McLaren back in 2007, and to deliver the podium that had eluded the team throughout last year.
"It's hard to believe, so surreal," he said. "The car was so much better than it's ever been, and we just kept moving up. I had exactly what I needed all race. It's not a win, but it definitely feels like it."
Button's second pit stop was as slick as his first, and enabled him to pass Hulkenberg and Alonso to take fourth. As a result McLaren lead the constructors' championship by two points from Mercedes, with Ferrari third.
"It's been a long time since we were leading a constructors' championship," Button said, referring to China in 2012. "It's a really good feeling. You always want more but this is a good starting point and we have some improvements for Malaysia."
Once Ricciardo's car had been excluded, McLaren found themselves eight points ahead of Mercedes instead of just two, as Magnussen moved up to second and Button third.
Alonso admitted Ferrari were "not happy" with their performance after coming fifth, with the Spaniard finishing 35sec behind Rosberg. "We need to improve," said the Spaniard, who has been runner-up in three of the last four World Championships.
"We learnt a lot but even if we are happy to finish and get these points, we are not happy with the gap to Rosberg and we need to improve."