Fresh flowers adorned the sculpture, white predominantly, roses and lillies. A few early arrivals had made their way to the clearing in the copse behind the Tamburello corner that would later throng with thousands paying their respects.
Photographs were taken, interrupting the early perambulations of walkers and joggers making routine yards through the bucolic woodland of the Aqua Minerale Parc adjacent to the circuit. A few hundred metres along the track an ambulance stood ready to attend errant cars hammering past the death sites of Aytron Senna and Roland Ratzenberger.
As part of the 20th anniversary pageant to commemorate Senna's passing the Circuit di Enzo e Dino Ferrari opened its gates to any who wanted to share the same asphalt where Senna and Ratzenberger breathed their last. Apart from any symbolic association that might attach to the ambulance there was nothing at the Villeneuve turn that would hint at the tragic episode during qualifying for the 1994 San Marino Grand Prix when Ratzenberger's life was extinguished against a concrete wall.
Tamburello on the other hand was awash with Senna tributes; letters, flags, photos, drawings bearing largely Italian script: Ayrton Senna sempre con me (always with me) or sempre nei nostri cuori (always in our hearts). There was a mention for Ratzenberger in the afternoon service from Gerhard Berger and Kimi Raikkonen, but more out of politeness and racing proximity. Ratzenberger was not in the minds of those joined to the sport through their passion for it rather than deed.
Senna: Photographs by Keith Sutton
Senna: Photographs by Keith Sutton
1/14 Ayrton Senna

Race winner Ayrton Senna, West Surrey Racing Ralt Toyota RT383 on the grid, British Formula Three Championship, Silverstone, England, 20 March 1983 (Senna: Photographs by Keith Sutton at Proud Chelsea runs until 5th May 2014)

Keith Sutton/Sutton Images

2/14 Ayrton Senna

Pole Sitter Ayrton Senna studies the timing screens at the Brazilian Grand Prix, 27 March 1994. (Senna: Photographs by Keith Sutton at Proud Chelsea runs until 5th May 2014)

Keith Sutton/Sutton Images

3/14 Ayrton Senna

Ayrton Senna in a Lotus 98T adjusts his wing mirror in the Formula One World Championship, 1986

Keith Sutton/Sutton Images

4/14 Ayrton Senna

Senna celebrates victory at the British Formula 3 Championship, Thruxton, England, 27 October 1983. (Senna: Photographs by Keith Sutton at Proud Chelsea runs until 5th May 2014)

Keith Sutton/Sutton Images

5/14 Ayrton Senna

Senna finds time to relax at the airport before flying from England to Denmark

Keith Sutton/Sutton Images

6/14 Ayrton Senna

Race winner Ayrton Senna sits in the Rushen Green Racing Van Diemen RF82, British Formula Ford 2000 Championship, Oulton Park, England, 27 March 1982

Keith Sutton/Sutton Images

7/14 Ayrton Senna

Race winner Ayrton Senna da Silva watches over his Van Diemen R81 as it is prepared for the Townsend Thoresen Formula Ford 1600 Championship. (Senna: Photographs by Keith Sutton at Proud Chelsea runs until 5th May 2014)

Keith Sutton/Sutton Images

8/14 Ayrton Senna

Ayrton Senna guides his Van Diemen RF82 from the transporter at the EFDA Formula Ford 2000 Championship in Denmark

Keith Sutton/Sutton Images

9/14 Ayrton Senna

Ayrton Senna, British Formula 3 Testing, Oulton Park, England, 1983

Keith Sutton/Sutton Images

10/14 Ayrton Senna

Ayrton Senna suffered an accident racing in the British Formula Three Championship at England's Cadwell Park, 19 June 1983.

Keith Sutton/Sutton Images

11/14 Ayrton Senna

Ayrton Senna prepares for action on the grid in his Van Diemen R81 before taking his first single seater victory in only his third race

Keith Sutton/Sutton Images

12/14 Ayrton Senna

Ayrton Senna tries his hand at the art of photography

Keith Sutton/Sutton Images

13/14 Ayrton Senna

Ayrton Senna at the McLaren Spanish Grand Prix, 30 September 1990

Keith Sutton/Sutton Images

14/14 Ayrton Senna

Ayrton Senna in a Lotus 97T at the Portuguese Grand Prix - he dominated the race in appalling conditions to claim his first Grand Prix victory

Keith Sutton/Sutton Images
As the clock struck 9am the first rubber went down, the whine of stressed tyres destroying the stillness enveloping the scene. This would be a day of full-on noise pollution as well as awed reflection. One Senna devotee, Sonja Becker, whose brother Jorn is an aerodynamicist with the Sauber F1 team, journeyed through the early hours from Zurich to pay her respects.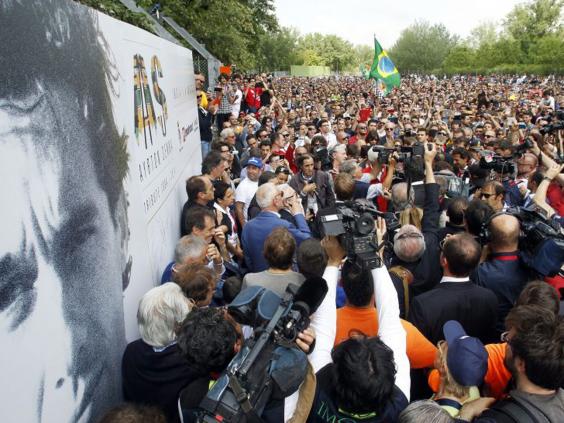 "My brother loved Senna for his driving. After races he would wait for the analyses, the times, the figures. I would wait for the philosophy. It was Senna that triggered his interest in Formula One. He now runs his own team in junior categories in Germany as well as his work for Sauber. I just loved Senna's passion, his fervour and his ideas. There will never be another like him. My brother could not come today so I came for the both of us."
Another who made the journey was Manish Pandey, the pen behind the award-winning Senna documentary. Pandey gave up a career as an orthopaedic surgeon to become a script writer. The connection to Senna was established as a teenage boy watching the 1984 Monaco Grand Prix from his sitting room in Hampshire. He felt through Senna a kind of affirmation.
Marginalised by his Indian ethnicity, Pandey saw another vaguely dark-skinned ethnic warrior doing extraordinary things, which was enormously empowering for the doctor's kid from the provinces. "This is my first visit to Imola. It kind of closes the Senna circle for me. I went to bed on April 29 1994 having no idea what was about to unfold that weekend. It basically changed my life.
"I trained as a surgeon and ended up making films all these years later. I had written professionally before Senna came out [in 2010]. I had written three romantic comedies, but this was the first movie that got made. I'm of Indian origin. Growing up in the England of the Seventies and Eighties I would not describe as a pleasant experience. It was pretty right wing UKIP, overtly racist I would say.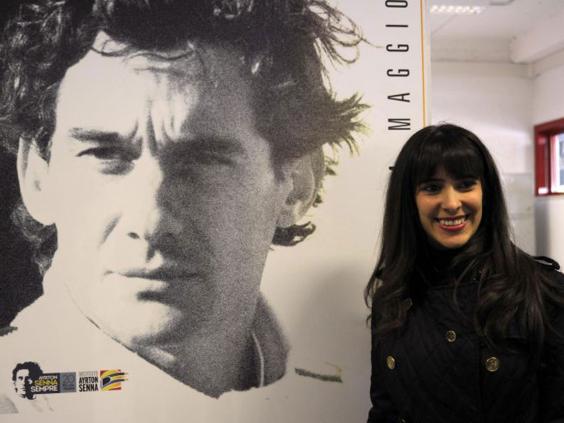 "So this guy comes along. He is brown. He is in this mega-sport, international and glamorous, the absolute antithesis of football in a lot of ways. He is from a developing country and dominates the sport. People used to think nothing good came out of Brazil except nuts, was the slogan I remember at the time. And there I am at 16 years old watching the Monaco Grand Prix on TV utterly transfixed by this guy, knowing he was going to be special.
"I always resisted coming here until now. This whole film has been made by a nerd who never experienced any of this. I remember when we made the initial presentation I ended the piece with a picture of the tribute here in the park but I had never seen it.
"Today is an ending for me, an end to my own Senna journey. You get to make a film about him, meet everyone around him, they open their hearts to you, tell you their stories, and this is the last bit of it for me. You never know how something like this project is going to go. I came to this as a complete outsider and it's amazing for me to be part of this day, here with friends."
The Imola paddock was given over to all manner of Senna-connected activity yesterday from photographic exhibitions to book concessions and sundry memorabilia stalls. There were a selection of racing cars of every vintage supplied by enthusiasts, a mini karting track, a race simulator and a peddle cart circuit staging the kind of elbows-out racing for juniors that Senna would have admired. One participant even wore a yellow helmet and carved through the field as if a clock were running.
The death of arguably the greatest driver in the history of grand prix racing had spawned a kind of racing theme day, a celebration rather than a sombre remembrance of a life cut tragically short. The kids behind the wheels of these pedal powered toys knew of the great man only through stories told by parents, and weren't minded to pay silent tribute.
The premature end of a figure already steeped in legend sets forth a process of deification. Senna is no longer a brilliant racing driver, he has acquired posthumous perfection in the manner of Plato's forms. This was reflected in the commentary of his niece, Paula, the younger sister of Bruno Senna, who raced in Formula One with HRT, Sauber and Williams.
Paula was presented to a conference on safety, which began the formal element of yesterday's proceedings. There is a practiced aspect to the speeches made by close members of the Senna clan, but the sentiment behind them is no less authentic for that.  "It is a sad day for us but also a beautiful day because of the love Ayrton received," she said.
"Somehow he reached people's hearts as a driver and as a person. He cared so much about people. He was the same person at home that you saw, he had the same values. He did not change. He connected to people in a special way and in that sense he is still with us. People have a love for Ayrton that is magical. I can't explain it but I'm so thankful for that." 
Her words were met with enthusiastic applause. The opportunity to commune in the flesh with a genuine member of the Senna gene pool was valued almost as highly as a visitation from the man himself. The same sense of unconditional affection and adoration permeated the afternoon service conducted at the Tamburello Corner at precisely the same time as the crash of 20 years ago: 2.17pm.
The track was opened to members of the public shortly before the hour. Some distinguished guests including Ferrari drivers Fernando Alonso and Raikkonen, were driven the long way round the circuit. Berger took the same journey in a safety car, while Italy's own Jarno Trulli accompanied the thousands who made the short journey on foot.
All made speeches, Alonso in fluent Italian, Raikkonen and Berger in English. Each made reference to a special talent who shaped an era and left a legacy as great as any in the sport. Berger was particularly pleased that some drivers of this generation made the effort to attend and to speak.
"He was a close friend and for me the best racer of all time. I didn't know what to expect when I came here today but I'm so pleased they made this kind of celebration, and especially pleased to see the drivers of this generation come to pay their respects. Ayrton always had respect for those who came before us. He would have been so proud.
"Ayrton was a special personality. We all admired him in many different ways but mostly for the way he kept a race car on the track. It was a great pain to lose him, but a great way to remember his life today."