Lewis Hamilton and Nico Rosberg continued Mercedes' domination of Formula One with the fastest times in both practice sessions here, as the Bahrain Grand Prix prepares to celebrate its 10th anniversary tomorrow by racing under floodlights for the first time.
A week after his success in Malaysia, Hamilton headed Rosberg, the victor in Australia, by two-tenths of a second in the first session, held in sunlight. His advantage rose to three-tenths in the second, after dusk had fallen.
Their closest challenger, Ferrari's Fernando Alonso, was a full second adrift of Hamilton on a circuit where Mercedes are again expected to enjoy an advantage. "It's been a good day and I'm encouraged  by how things went," Hamilton said.
Jenson Button also had an encouraging day with the sixth-fastest time for McLaren, as his team-mate Kevin Magnussen and fellow rookie Daniil Kvyat both continued to impress with the eighth and ninth best times.
Felipe Massa did not run for much of the session but eventually put his Williams into fifth place. The team has apologised to the Brazilian and his Finnish team-mate Valtteri Bottas for the manner in which team orders were communicated to them during last Sunday's Malaysia GP, during which Massa refused to comply with an instruction to let Bottas overtake him near the end of the race. Both drivers have said that they are happy with their situation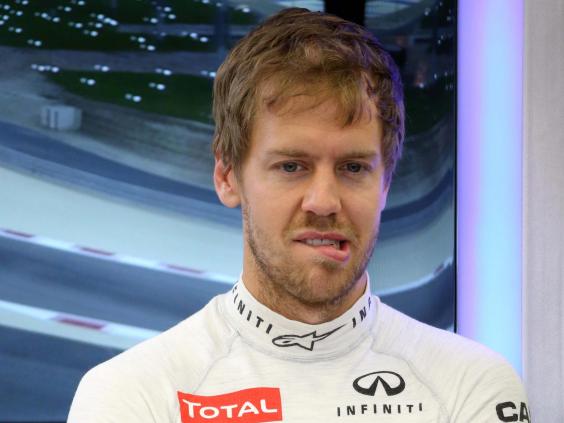 It was a less satisfactory day for Sebastian Vettel. The world champion managed only the seventh-fastest time, 1.2sec off Hamilton and slower than his team-mate Daniel Ricciardo, who was fourth.
The German also faces a meeting with Jean Todt, assuming that the FIA president survives his own encounter with the sport's chief executive, Bernie Ecclestone, and Ferrari head Luca di Montezemolo, who are scheduled to tell him why they are unhappy about Formula One racing, 2014 style.
Todt took exception to Vettel's comments after the opening race in Australia last month, when he claimed that the sound of the new 1.6-litre hybrid turbocharged engines was "shit". It is understood that Todt wrote to the four-time champion censuring his language.
"It's fairly normal to have a meeting after a couple of races," Vettel said. "Mr Todt is coming here, so it makes sense to use the opportunity to talk about many things."
Out on the desert track a banner read: "Our thoughts and prayers are with you, Michael." Yesterday there was a glimmer of hope for Michael Schumacher's fans when his manager, Sabine Kehm, issued a statement regarding his condition, following speculation on his likelihood of recovering from head injuries sustained in his skiing accident in Meribel late last December.
"Michael is making progress on his way," Kehm said. "He shows moments of consciousness and awakening. We are on his side during his long and difficult fight, together with the team of the hospital in Grenoble, and we keep remaining confident.
"We would like to thank you all for the continuous sympathies. At the same time we again ask for understanding that we do not intend to disclose details. This is necessary to protect the privacy of Michael and his family, and to enable the medical team to work in full calmness."
The British Grand Prix organisers will open the Silverstone pit lane for fans on the Thursday before the race on 6 July. Circuit managing director Richard Phillips said: "We've spoken to Bernie [Ecclestone], and he has confirmed that it is OK. We have considered doing something like this before, and we are delighted that it is going to happen this year."
Reuse content