Unusually, there was more action off track here today as Mercedes yet again dominated practice ahead of Sunday's Belgian Grand Prix.
Lewis Hamilton ruled the roost with a lap time of 1min 49.189sec in the afternoon after team-mate Nico Rosberg had been fastest in the morning, as Fernando Alonso's usual heroics kept Ferrari in play with third place in both sessions.
It was another miserable day for reigning world champion Sebastian Vettel after his Red Bull was beset by gearshift problems and then a burned exhaust. This curtailed his running in the morning and kept him in the garage in the afternoon while mechanics fitted his fifth new Renault engine of the season.
But for the second day running it was the little Marussia team that grabbed headlines, with their Formula One version of the Hokey Cokey: You put your American reserve driver in, take your English driver out, put your Englishman back in and you shake it all about.
After Thursday's installation of Californian Alexander Rossi in the race seat previously occupied by Briton Max Chilton for the weekend, things changed just prior to the first practice session when Rossi was informed that he would not after all be making his grand prix debut for the team, but would be relegated to Friday morning-only driver status, as Chilton took back his car for the rest of the weekend.
A statement by Chilton's agents had suggested that the cash-strapped team had rented out his seat to raise much-needed funding; sources within the team indicated that Chilton had made an overdue payment to the team to get it back. It was a distraction for all concerned.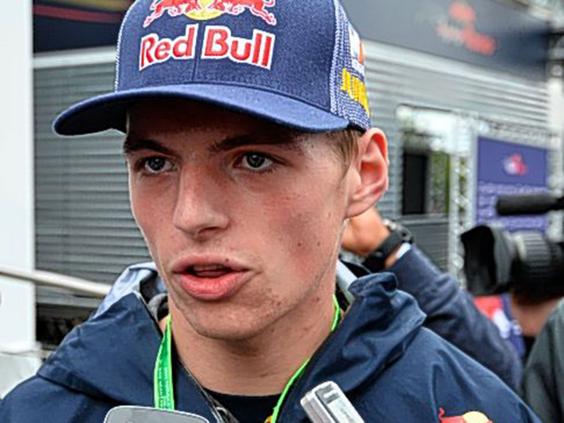 Meanwhile, Max Verstappen, the 16-year-old Dutch driver who will become the youngest ever F1 driver when he starts racing for Toro Rosso next year, had his formal introduction to the media in a packed press conference.
Former world champion Jacques Villeneuve had expressed the view that the sport's super-licence system is flawed if it allows a 17-year-old (Verstappen will be 17 at the start of the next F1 season) to race in F1. "Getting a superlicence should be meaningful, not just doing 300 kilometres," Villeneuve said. "It's like getting all the presents without deserving anything. But there is this thing of 'the younger, the better'. What next? A team who will sign someone at 15?
"Caesar and Napoleon were good from the beginning but it takes time before you become an emperor. It's the worst thing ever for F1 because it will either destroy him or, even if he is successful right away, F1 will be meaningless."
Verstappen, who competes in the European F3 championship, was unfazed. "People expect a lot of me, but I ask that you let me prove myself."
Reacting to the suggestion that the average F1 career of a Toro Rosso driver is only two years, he said: "I prefer to look at Daniel Ricciardo, who is now with Red Bull [after racing for Toro Rosso]." He had a polite message for Villeneuve, too. "I'll prove him wrong."
Reuse content