Lewis Hamilton walked away from qualifying at the British Grand Prix, holding one of the aces that he'd been looking for, and in the best position to hold the other one he so badly wants on Sunday afternoon.
"As you go through the year, your cards are shown from race to race," he'd said coming into Silverstone. "You and our team-mate are learning from one another. So it's about coming up with the next ace. How do you find it? How do you find that bit of time somebody else might not find during that weekend? And, as the car evolves, the advantages diminish until it comes down to the thousandths of a second.
"That's the name of the game, and that's cool for me. That's why I have two world championships and the success I've had through my career, because I always manage to find it somewhere. I would love to have a couple of aces this weekend. An ace for Saturday, an ace for Sunday. That's what I'm hoping for."
British Grand Prix in pictures
British Grand Prix in pictures
1/11 Friday second practice

Daniel Ricciardo prepares to go out for second practice

Getty Images

2/11 Friday second practice

Sebastian Vettel makes his way down the Silverstone pit lane

Getty Images

3/11 Friday second practice

Max Verstappen looks on as he await to go out on track

Getty Images

4/11 Friday second practice

Hamilton rounds the Chapel corner in second practice

Getty Images

5/11 Friday first practice

Kimi Raikkonen tackles the near-flat out Copse corner

Getty Images

6/11 Friday first practice

Raikkonen leads Williams' Felipe Massa through The Loop

Getty Images

7/11 Friday first practice

Will Stevens in practice for his first home Grand Prix at Silverstone

Getty Images

8/11 Friday first practice

The Mercedes team gather outside of their garage to honour the minute's silence for the victims of the Tunisia terrorist attack

Getty Images

9/11 Friday first practice

Lewis Hamilton recovers to the track after going off

Getty Images

10/11 Friday first practice

Nico Rosberg put in the fastest lap of first practice before suffering a hydraulic failure

Getty Images

11/11 Friday first practice

Silverstone hosts the 2015 British Grand Prix with glorious sunshine hitting the Northamptonshire circuit

Getty Images
Yesterday, he was beaten again by his Mercedes team-mate Nico Rosberg, in the first two sessions of qualifying. But when it really mattered, on the first run in the third and final one, he put it all together. As he banged in the fastest lap thus far in the weekend – 1min 32.248sec – Rosberg wasn't far behind on 1m 32.361s, just 0.113s shy. But that was as close as the Austrian GP winner would get, as neither was able to improve on their second runs. To the delight of the massive, partisan, crowd, Hamilton had got the job done.
"It's a special day to get pole here on your home turf," the world champion beamed. "You see all the fans out there, and so many have come today. That really motivates me. It feels really special to get the pole, because it hasn't been the smoothest of weekends.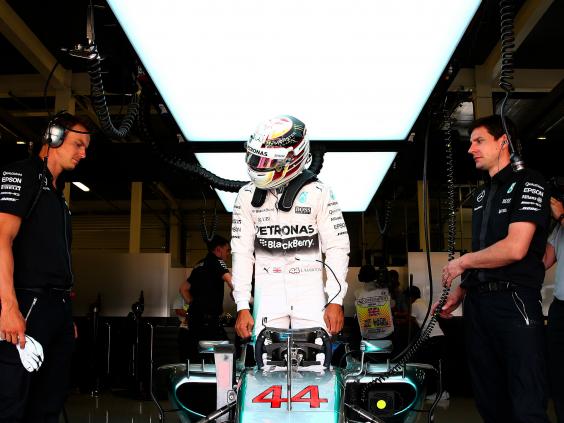 "The balance of the car has been up and down and we were making changes to it all the way through, and I was only really happy once I got to Q3 and was finally able to go all out and get that lap in. I'd had a lot of understeer and we were putting in more front wing, but the wind was also all over the place. My favourite part of this great track is Copse corner and then Maggots and Becketts, and I was really hooked up there on that lap and it felt terrific. My brother, Nic, is here with me too, so it's been great."
Psychologically, pole position is important, especially when the only man you are really racing is your team-mate. Last year Rosberg generally had the upper hand; this year Hamilton has improved in that area. "I specifically wanted to do that," he admitted.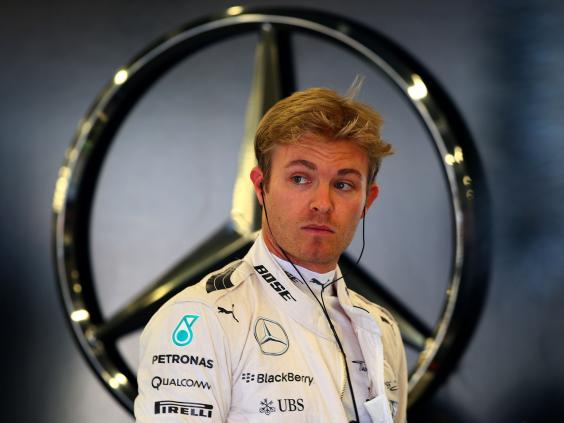 "I only had seven poles all through 2014; this year I already have eight. Last year that made races hard for me when I had to get past Nico. And I have more points at this point than I did last year, and that was clearly a mega year. Just globally, I think my performance has been stronger throughout 2015, which is good. What I want is to at least continue with that, if not grow and improve."
Rosberg, unsurprisingly, was unhappy, his second run hampered by understeer and "something very wrong with the left front wheel". The happy mood he had generated by inviting the Mercedes team –including Hamilton – to a barbecue at his motorhome on the circuit infield the previous night, had evaporated, and he sat glumly as Hamilton joshed cheerfully with the third fastest, Felipe Massa, who was enjoying his own Indian summer with Williams on their home turf. As ever, body language told its own story of frustration.
"My first lap was really good," Rosberg said. "Not much to say about that, with Lewis only one tenth quicker. It's annoying [not to be able to go faster], but that's that."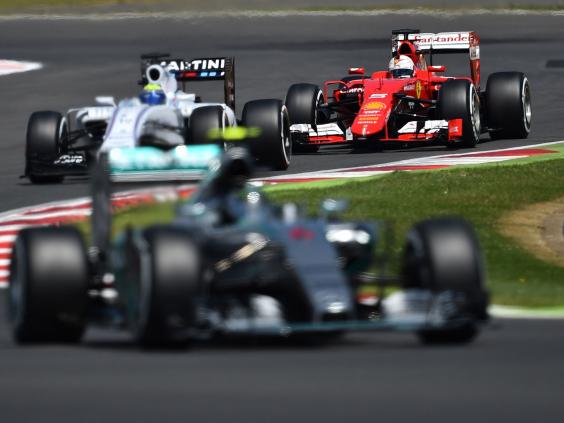 A dozen drivers had lap times deleted during qualifying after exceeding track limits in Copse corner, where the diagonal crosswind caused problems.
"It's a corner where you want to try everything you can," Massa explained. "Sometimes the wind can push you a bit and you go four wheels off the track, but I was trying to be careful there and understand what is the limit, without going off."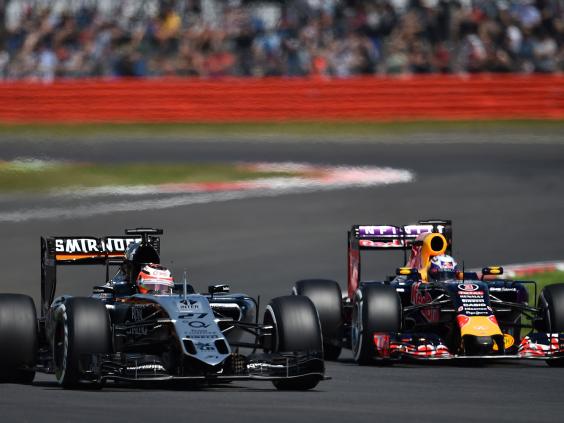 The Brazilian was delighted not just to pip his team-mate Valtteri Bottas, when he was one of the few to go quicker on his second run, but also that Williams pushed the Ferraris down to the third row.
"It's been a fantastic day and amazing to see how many people are here for the team's home race. I managed to get a fantastic lap at the end, so I'm very happy. It's important today to be in front of Ferrari, and I hope we can be again tomorrow."
But even Massa was not as happy as Hamilton. "The banners and flags out there, the team caps, the messages every day on social media – I was replying to some of them just before qualifying – they really create the atmosphere and buzz here," the polesitter said. 
"So many people save up all year to get here and they spend a fortune camping, buying team gear or booking hotels or whatever, and you want to make sure you put icing on their cake. So there's an extra bit of pressure to deliver, but it's positive pressure. I hope that wave of energy they give will carry us tomorrow."
If Hamilton can strike back at Rosberg after being defeated by him last time out in Austria, and extend his world championship points tally, then victory will place him on the same pedestal as  Jim Clark and Nigel Mansell as three-time winners. If so, more than 100,000 people will go home exceedingly happy.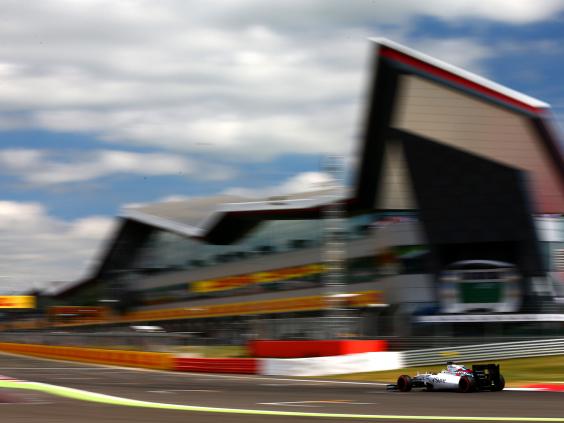 Final Positions after Qualifying:
1 Lewis Hamilton (Gbr)Mercedes GP 1min 32.248secs,
2 Nico Rosberg(Ger)Mercedes GP 1:32.361,
3 Felipe Massa(Bra)Williams 1:33.085,
4 Valtteri Bottas(Fin)Williams 1:33.149,
5 Kimi Raikkonen(Fin)Ferrari 1:33.379,
6 Sebastian Vettel(Ger)Ferrari 1:33.547,
7 Daniil Kvyat(Rus)Red Bull 1:33.636,
8 Carlos Sainz(Spa)Scuderia Toro Rosso 1:33.649,
9 Nico Hulkenberg(Ger)Force India 1:33.673,
10 Daniel Ricciardo (Aus)Red Bull 1:33.943,
11 Sergio Perez(Mex)Force India 1:34.268,
12 Romain Grosjean(Fra)Lotus F1 Team 1:34.430,
13 Max Verstappen(Ned)Scuderia Toro Rosso 1:34.502,
14 Pastor Maldonado(Ven)Lotus F1 Team 1:34.511,
15 Marcus Ericsson(Swe)Sauber-Ferrari 1:34.868,
16 Felipe Nasr(Bra)Sauber-Ferrari 1:34.888,
17 Fernando Alonso(Spa)McLaren 1:34.959,
18 Jenson Button(Gbr)McLaren 1:35.207,
19 Will Stevens(Gbr)Manor Marussia F1 1:37.364,
20 Roberto Merhi(Spa) Manor Marussia F1 1:39.377
Reuse content