Lewis Hamilton held off his Mercedes team-mate Nico Rosberg to win the Canadian Grand Prix. Heard this story before?
You'd be forgiven for watching the chequered flag come out in Montreal and questioning what the biggest talking point of Sunday evening's race was. Was it Hamilton's return to the top step of the podium? Kimi Raikkonen's spin costing Ferrari a third-place finish? Or McLaren's double retirement seeing them plunged into a crisis that shows no signs of abating any time soon.
There was one thing that Twitter users enjoyed most though, and it came in the form of a furry track invader. No, Jenson Button hasn't regrown his beard, but a groundhog found its way onto the track and was nearly collected by a trio of cars during the race.
As Felipe Massa looked to maintain his position ahead of Pastor Maldonado and a charging Sebastian Vettel, the TV cameras showed what appeared to be a groundhog sitting in the middle of the Circuit Gilles Villeneuve track.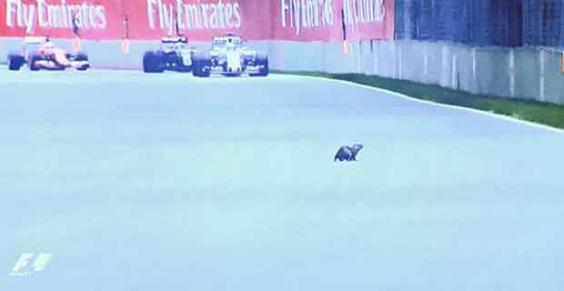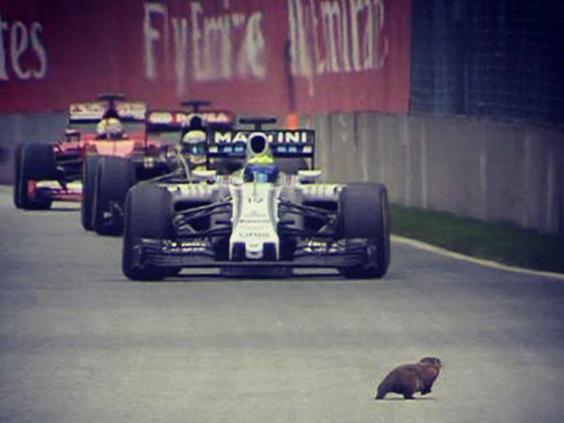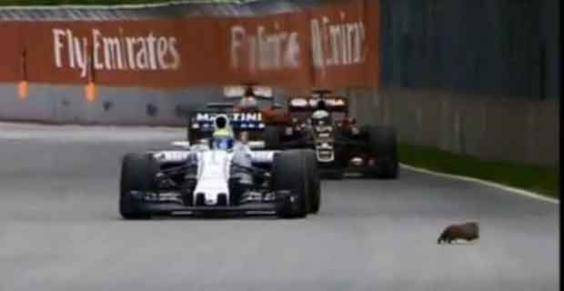 The V6 turbo engines introduced at the start of last season are a lot quieter than their V8 predecessors, but the groundhog was soon scampering for cover as the Williams, Lotus and Ferrari flashed past at around 150mph.
Even dogs have proper accreditations here. Not sure the groundhog had track access though #CanadianGP #F1 pic.twitter.com/XxBDFSXnDb

; Sauber F1 Team (@SauberF1Team) June 7, 2015
I hope they can bring that groundhog to Austria. What an entertaining little chap. All he did was run around and exist. That was enough #F1

; Frank FE (@formula_frank) June 7, 2015
That groundhog got the best seat in the house for free. #F1 #CanadianGP pic.twitter.com/BTLNfxBJk1

; oculus (@daddy_san) June 7, 2015
The groundhog is probably speedier than the Manors. #F1 #CanadianGP

; Naomi Marie F (@etherealtype) June 7, 2015
Zoinks! Groundhog with a deathwish on track a few moments ago. Lucky not to be turned into red mist there. #F1

; F1 Paddock Pass (@F1PaddockPass) June 7, 2015
Personally think that groundhog would out run the McLaren. #JustSaying #F1

; (Virtual) Safety Car (@SafetyCarF1) June 7, 2015
While it was groundhog day at the front as Hamilton took his fourth victory of the season, luckily this little critter lived to fight another day.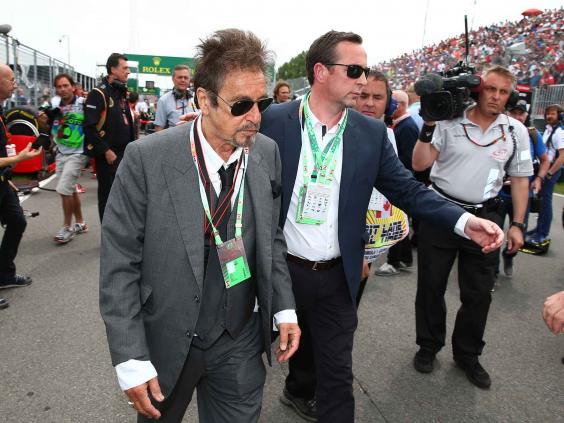 It wasn't all fun and games though. Hollywood A-lister Al Pacino made an appearance on the grid before lights out, only to quickly make an exit after growing disgruntled with the over-the-top attention he received from the world's media.
Reuse content