Lewis Hamilton got over any disappointment he might have harboured after the Monaco Grand Prix with a perfect demonstration run in Canada where he beat team-mate Nico Rosberg. In doing so he surpassed Nigel Mansell's record for the Briton with the most laps led. But though the Mercedes duo yet again made it look like a cakewalk as they headed  Williams' Valtteri Bottas home by 40 seconds, theirs was a nip-and-tuck race.
The circuit named after the legendary French-Canadian racer Gilles Villeneuve has always placed a premium on braking, and is notoriously hard on fuel economy.
While Rosberg had to nurse his brakes for a while when wear patterns began to creep into dangerous territory, Hamilton had to back off a couple of times to stay on his fuel target.
After taking car No 44 to his 44th career pole position, the world champion made a flawless start and opened up a comfortable lead over Rosberg by their sole pit stops, the German having defended second place at the start  from a challenging Kimi  Raikkonen.
That done, he settled in behind Hamilton, who pitted on lap 29. By then Rosberg had produced the fastest lap, so that by the time he pitted, on lap 30, and things had settled down again, what had been a 4.4sec gap gradually shrank to only less than two. Battle was engaged.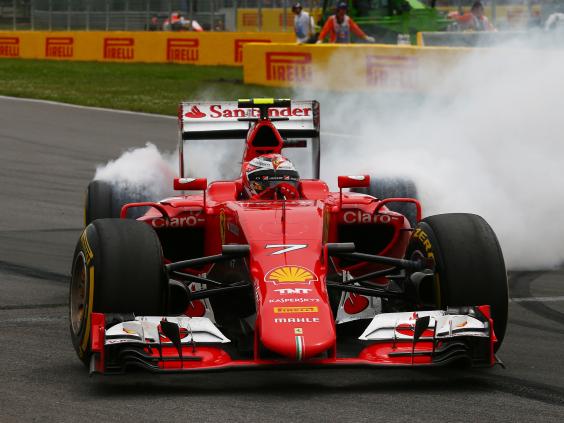 By lap 37 Rosberg was warned that he needed to ease back to stay within limits on brake wear, but still he kept closing down Hamilton and the gap between them got as small as a second by the 45th lap. Thereafter it fluctuated as they lapped slower cars, and while Hamilton locked a front wheel under-braking for the hairpin a couple of times, Rosberg ran wide there on two occasions.
Then Hamilton was advised that he needed to "lift and coast" to conserve fuel, as the high-speed stalemate continued. Over the closing laps, however, Hamilton eased away. From 2.1sec on lap 65, the gap was out to 3.5sec by the penultimate one, and he had enough in hand to ease right off and let Rosberg close to within 2.2sec as they crossed the finish line.
Hamilton's fourth victory here increased his world championship points lead over Rosberg, with 151 to 134, and left him grinning broadly, the angst of Monaco washed away. Only Michael Schumacher has more wins in Canada with his tally of seven victories still out of Hamilton's grasp.
"I love Montreal, I love this track and this city," he beamed cheerfully. "It's just been a fabulous weekend and it's great to be back on the top step. It's just been a fantastic weekend."
Momentarily sombre, he then dedicated the win to his race engineer Peter Bonnington, whose father died last week.
"I didn't feel that I had the most comfortable balance in my car, it was understeering," he continued. "Nico was quick but I never felt that I was under too much pressure. After the pit stop I think that because he was in my slipstream, he was able to save more fuel. I thought I had saved enough but had to save some more, so the fact that the gap shrank so much was down to fuel saving.
"I was just trying to manage things and bring the car back safely. Once I had saved enough, about 15 laps before the end, I was able to get on it a bit more. I had some time in my pocket so after that I was able to pull out the gap again."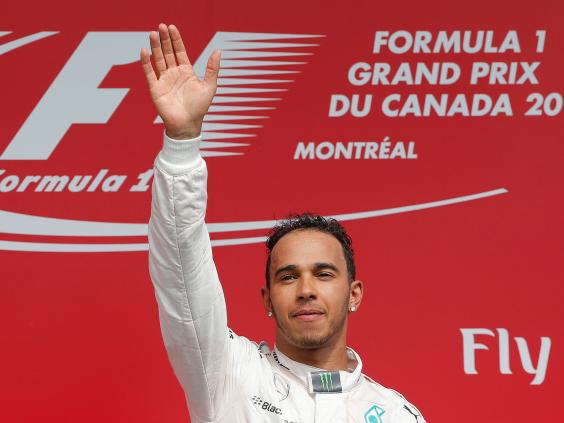 Hamilton added that victory was not so much a relief after the team's error in Monte Carlo, but more business as usual. "I really enjoyed this race," he said. "I wouldn't say it was a relief after Monaco, it's just great that the team are still able to move forward. That's really impressive.
"Did I need this? I think so," Hamilton added.
Once again Rosberg, a victor in the last two races, had to adopt a philosophical face. "The start was good but initially it was a bit tight from Kimi behind and Valtteri, but it went OK," said Rosberg. "Then it was a very challenging race with fuel saving, but that wasn't too bad. But then I had to adapt to the front brakes getting too hot and had to change the brake balance. With Lewis running in front of me, I wasn't getting enough air to cool them.
"I was pushing like mad trying to put pressure on him but he didn't make any mistakes, so fair play. It was a good race but unfortunately I couldn't quite make it happen, but second place was still OK. I think I had the race pace today, but I just lost out by that tiny bit in qualifying, and starting second made the difference."
The race lacked the drama of last year's maiden victory for Daniel Ricciardo in the Red Bull. Bottas brought his Williams home to its first podium finish of the season and signalled that they will be a threat again over the upcoming races, but he was assisted as Raikkonen threw away third for Ferrari with a spin on the 27th lap.
The elder Finn took fourth, not far ahead of team-mate Sebastian Vettel who battled up to fifth from 18th on the grid after penalties for overtaking under a red flag in practice. It was another poor race for Jenson Button and Fernando Alonso; their McLaren Hondas both failing to finish. The Englishman had to serve a drive-through penalty within the first three laps after  failing to qualify because of engine troubles, and then suffered a similar exhaust problem to the Spaniard.
Reuse content