How fitting was it that a dull Chinese Grand Prix should end in anticlimax behind the safety car and that the real sparks came in the post-race press conference on Sunday as Nico Rosberg accused  his victorious team-mate Lewis Hamilton of spoiling his race.
Yes, it's come to that again. Already the two Mercedes drivers have been ignoring one another at every opportunity, but Rosberg lost no chance in accusing Hamilton of driving slowly enough to back him up into a position where he had to mount a defence of second place against Ferrari's Sebastian Vettel rather than challenge for first.
"It's interesting to hear from Lewis that he was just thinking about himself and about his pace in front, because that was compromising my race," Rosberg said. "He was driving slower than necessary at the beginning of each stint, which meant that Sebastian closed up on me and that opened up the chance for him to try and pass me with an early pit stop.
"It was unnecessary and cost me a lot of race time as a result and meant that my tyres died at the end, so I'm unhappy about that."
Hamilton had received a radio message from his team on the 27th lap asking him to maintain a minimum lap time target of 1min 43.3sec or else the team would pit Rosberg first next time around. But for a couple more laps Hamilton lapped more slowly, and Vettel crept to within 1.7sec of Rosberg. Hamilton then lapped in 1:43.2 on the 29th lap before Rosberg pitted for the last time on the 31st.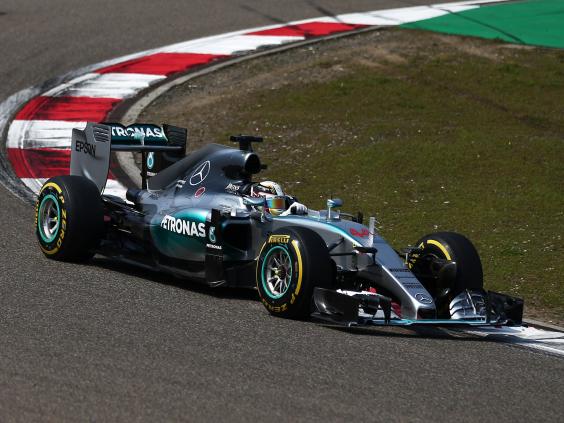 As Rosberg finally broke Vettel's fading challenge, he cut the deficit to his team-mate from 6.2sec to 4.3sec by the 46th lap, but thereafter the world champion dictated the pace and was 10sec ahead when a gearbox problem for teenager Max Verstappen – running eighth for Toro Rosso – prompted the deployment of the safety car and rendered everything academic.
"I wasn't controlling his race, I was controlling my own," Hamilton had explained before Rosberg's outburst. "I'm really happy, as going into the race we thought it would be much closer with Ferrari. My real goal was to manage the tyres and there was no real threat from Nico throughout the whole race.
"I really enjoyed it. I had a much smoother weekend than in the last race [where Vettel and Ferrari scored a surprise victory in Malaysia] and that made a real difference."
Hamilton laughed when asked to respond to Rosberg, and the depth of their mutual antipathy was evident as he said: "It's not my job to look after Nico's race, it's to look after my car and the tyres and bring it home as fast as possible. There was nothing intentional. If Nico had wanted to pass he could have tried, but he didn't.
"When I was asked to speed up, there wasn't really a time when I wasn't driving as hard as I could within the constraints of my tyres. They were asking me to pick up the pace and I was trying to manage my tyres. It's like you are given £100 and have to spend it wisely over each stint, and I was trying to make my stint go as long as possible."
Vettel sat listening to his bickering rivals before interjecting mischievously: "But you still had quite a lot left at the end, didn't you?"
Hamilton smiled as he replied: "I was still wealthy at the end of it." Rosberg looked impoverished.
Hamilton held the lead from Rosberg at the start, while Kimi Raikkonen burst up from sixth on the grid to dispose of the Williams of Felipe Massa and Valtteri Bottas to ride shotgun behind team-mate Vettel. Thereafter, each of them did what they had to do to keep their soft and then medium compound Pirelli tyres alive between stops.
Ferrari did not have the pace to challenge the Mercedes as they had in Malaysia and were on the same strategy of using two sets of soft tyres and then finishing with one set of mediums, but as Hamilton backed up Rosberg they tried to pressure the German out of second place by stopping Vettel early each time. It nearly worked but could have backfired at the end as Vettel's tyres were finished sooner and Raikkonen launched a charge which brought him to within 1.3sec of his team-mate.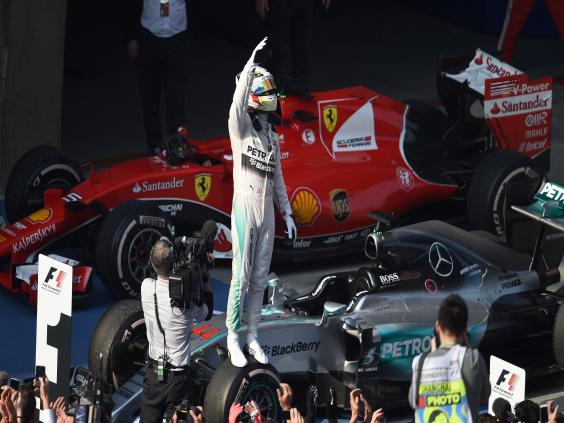 The Finn was well stoked up, making radio demands of his team to, "get that McLaren out of the way" as he came up to lap Fernando Alonso's tardy car and later to have Pastor Maldonado's Lotus and Jenson Button in the second McLaren move over. Sadly, the safety car put an end to that little battle.
"I'd like to have kept racing but I still had a decent gap," Vettel said. "I tried to be very aggressive, but with 27 laps to drive on the medium tyre I wasn't sure we should try it. But I wanted to put pressure on Nico. Kimi was able to stay out longer than me, so he was quicker at the end.
"We tried everything today and it was very close with Nico by the first pit stop. All in all, it was a very good race for us to be able to put pressure on the Mercedes at the beginning, but at the end they were too quick and Nico had a sequence of quick laps. But we need to keep doing that and getting closer, until we reach the point where we can really offer some challenge for these guys."
Hamilton's 35th career victory puts him on 68 points in the drivers' standings to Vettel's 55 and Rosberg's 51.
Reuse content