Don't let the famous brighter-than-white smile fool you: Daniel Ricciardo might be a cool dude out of the cockpit, but once he is strapped into his Red Bull he lives up to his self-confessed persona of a honey badger. In case you are not familiar with the South African mammal, it's a fighter that doesn't know fear or when to quit, and which will take on – and usually beat – anything that crosses its path.
In 2014 the personable Australian had the season to end all seasons, the best you could have without ending up crowned world champion. Like a honey badger devouring a cobra, he destroyed team-mate Sebastian Vettel, the man who had dominated Formula One  for the previous four seasons. While the German wunderkind struggled with his car's wayward rear end and never looked like winning a race, Ricciardo – he pronounces it Rickardo –  triumphed in three.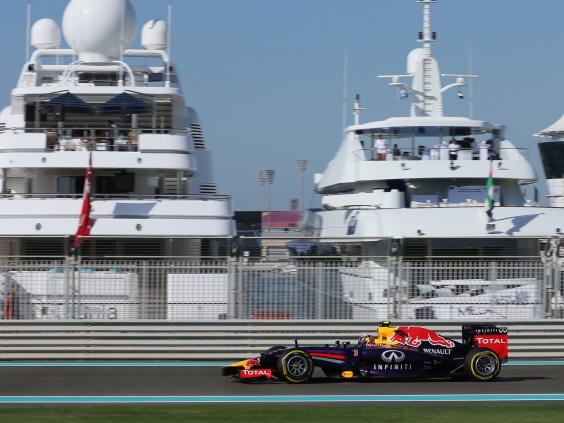 Nobody saw that coming at the start of the season as he graduated from the satellite Toro Rosso team to replace fellow countryman Mark Webber. Even Ricciardo did not envisage causing that much of a surprise, let alone that before season's end Vettel would be scuttling off to Ferrari, leaving him as team leader for 2015.
"I hoped I would get on the podium and give Seb a bit of a run for his money," he says, still sounding surprised. "But I didn't really expect to have the team's only three wins and nine podiums or whatever it's been. Yes, it's been cool."
His first podium came first time out, in Australia, when he showed his hand by outpacing Vettel as both struggled with an under-developed car whose Renault engine was well down on power compared with the Mercedes of pole-sitter Lewis Hamilton and winner Nico Rosberg.
Ricciardo was subsequently disqualified for fuel-flow irregularities, but as the  season progressed he continued to confound the sceptics who expected Vettel to gather pace and put the upstart in his place. Along the way, he demonstrated phenomenal overtaking skills and an ability to race cleanly wheel to wheel.
Fernando Alonso, perhaps the hardest racer of them all and not one to bandy compliments about, is a big fan,  having raced Ricciardo closely in the German, Hungarian and the US grands prix in particular and lost out on two of the three occasions.
The Spaniard does not appear to respect Vettel too much, but clearly does Ricciardo. "He's leading the champion team. That says it all. He's doing a fantastic job this year and we had a few battles," Alonso said in Hungary.
"In Hockenheim I had very fresh tyres, which probably allowed me to pass with some advantage, but even with that it was not easy. Today, definitely, congratulations to him, and for the whole championship. It's going to be an interesting fight in the next couple of years."
World champion Lewis Hamilton also had good words to say about the parvenu, who cut his teeth at the now defunct HRT team before paying his dues with Toro Rosso. "He's been driving fantastically well from the beginning of the year, he said. "Through the whole season he's shown his capability and is going from strength to strength. Not only one of the nicest guys in the paddock but also one of the best drivers here, for sure."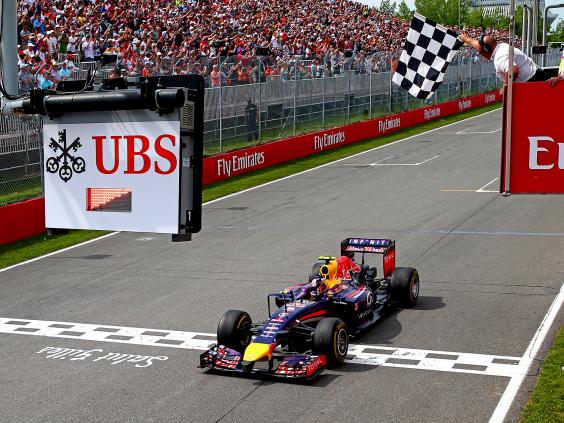 Ricciardo admits that such praise matters a lot. "Another thing, results aside, that I wanted to take out of this year was that I wanted the top drivers to look at me as a top driver," he said. "I wanted to earn their respect and I feel I've done that this year. It's nice when you get that from people who are leaders in the sport."
It says everything about the season Ricciardo enjoyed that up until Brazil he had those three wins when Mercedes' Rosberg, in an infinitely better car, only had four (though the German subsequently took a fifth at Interlagos).
"That statistic was pretty cool; I was proud of that. But if we could replay this whole season and have Mercedes as dominant as they've been, I would have accepted one win. I would have been like, 'Wow, if we can beat these guys once that will just be awesome.' So to do it three times…
"I was very, very happy with the way we maximised every opportunity. There weren't four wins there, you know, only three were ever possible, and we got all three. That's what I'm really proud of."
His inner steel surfaces when you ask if he feels guilty that Vettel might be leaving because of the upset he caused in 2014.
"I don't feel guilty," he says immediately. "I think it probably just put everything into perspective for Seb. You know, he's won four titles at Red Bull. To win a fifth, is that going to be as satisfying as maybe winning one with another team?
"And he's pretty passionate about Ferrari and their road cars. So I think it probably wasn't a hard decision in the end, from his point of view."
Interestingly, the team gave Ricciardo equality from the start, and resisted any temptation to change the car to suit Vettel the way they did with Webber when he had the upper hand at the start of 2012. "I can't speak for Mark," Ricciardo says. "I don't really know how much was maybe the media blowing it out of proportion, or how much was sometimes maybe his frustration. I don't really know what the situation was. But I know that when I signed for Red Bull Racing, they told me that it would be equal treatment.
"If anything, there was more pressure on Seb than on me, because no one was expecting me to win. Maybe I'd get a podium or a top five. So with that it was easy for me to just come in and do my thing, and I think that was the best approach. It all worked out really well."
Again, there's that smile, and for sure it's genuine, his natural facial default. The edges of his mouth want to turn up, not down.
Looking back, since his debut in 2011, it is hard to recall a time when Ricciardo was unhappy. In a sport that showcases the whole gamut of human emotions, that is unusual. Some drivers simply choose not to show their emotions, like they're in a poker game. With Ricciardo, there is never much doubt what he's thinking, as if he's found the key to living in the moment.
"Yeah, definitely," he nods. "I tend not to look too far ahead and to just appreciate and be grateful for the things I've got now or got going for me now.
"I do get upset. In Monaco I was a little bit grumpy after qualifying. I thought I'd left something on the table. If I don't perform to what I feel I'm capable of, then I'm upset. But generally speaking, you know, I have a great job, and I live a pretty good life."
Fast, tough, happy and commendably grounded – what's not to like about Daniel Ricciardo? But when he's behind the wheel there's always the reminder that a honey badger is as hard as they come.
Reuse content