Circumstance might have smiled on the Martini-hued Williams cars as Lewis Hamilton ruined his own qualifying and compromised Nico Rosberg's, but if you ever doubted the well of goodwill for the team that Frank Williams and Patrick Head founded you should have heard the cheers when Felipe Massa and Valtteri Bottas upstaged Mercedes yesterday to annex the front row of the grid.
The Austrian Grand Prix has a history of throwing up unusual results: Lorenzo Bandini for Ferrari in 1964; Jo Siffert for BRM in 1971; Vittorio Brambilla for March in 1975; John Watson for Penske in 1976; Alan Jones for Shadow in 1977. And while few would begrudge Massa a 12th win, after all he's been through since his near-fatal accident in Hungary in 2009, it would also be a cause for celebration if Bottas were to follow the great Finnish footsteps of champions Keke Rosberg, Mika Hakkinen and Kimi Raikkonen and win his first.
We have watched the Silver Arrows dominate the opening six races and falter after running away in the seventh. Now we'll get to see them having to fight back. So the prospects for another gripping race seem excellent.
"I'm so happy," Massa grinned. "For sure we need to concentrate on the race, but it's a long time since my last pole, in Brazil in 2008, so it is such an incredible moment. I am emotional, and so are Williams."
Before the session, his four and a half year-old son Felipinho (who always wanted to be Alonso when they 'raced' each other while Massa was at Ferrari) gave him a small toy of Brazilian football star Neymar, which he took with him in the cockpit. "He never saw me in first place before," Massa explained, "so it makes a father feel nice, seeing your son looking at you in first place. It's a great feeling, and he is part of my motivation. There's a lot going on in Brazil with the World Cup, so I hope we can have a great show for everybody tomorrow."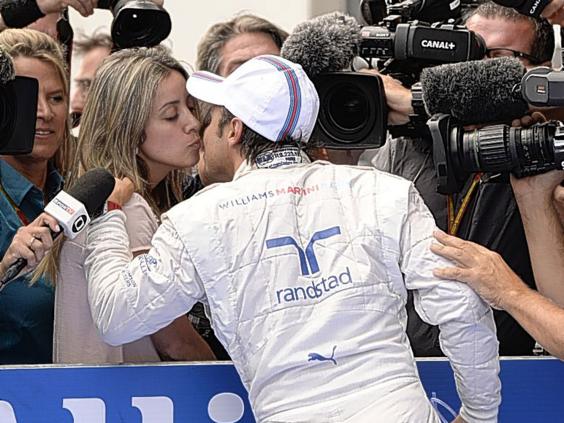 Rosberg, meanwhile, squarely blamed Hamilton's mistake for ruining his chance of improving. "I definitely didn't expect Williams to be ahead but they did good job. Lewis spun in front of me, so that definitely cost me. But it's possible to overtake here and we have a good race car, for sure. Points-wise Lewis starting ninth isn't good for the team, but it's good for me."
Hamilton knows he must redeem himself after getting it all wrong in qualifying. He exceeded track limits and had his first time disallowed, then later spun in Turn 2. "I can't explain it," he admitted. "I hit the brakes and locked the rears. I'm not sure why." But he remained optimistic: "There aren't that many corners here but there are long straights and we have the best engine. So hopefully  I'll be able to work my way up."
Qualifying results:
1 Felipe Massa (Bra) Williams 1:08.759
2 Valeri Bottas (Fin) Williams 1:08.846
3 Nico Rosberg (Ger) Mercedes 1:08.944
4 Fernando Alonso (Esp) Ferrari 1:09.285
5 Daniel Ricciardo (Aus) Red Bull 1:09.466
6 Kevin Magnussen (Den) Mclaren 1:09.515
7 Danny Kvyat (Rus) Scuderia Torro Rosso 1:09.619
8 Kimi Raikkonen (Fin) Ferrari 1:10.795
9 Lewis Hamilton (Gbr) Mercedes No time
10 Nico Hulkenberg  (Ger) Force India No time
11 Sergio Perez (Mex) Force India 1:09.754
12 Jenson Button (Gbr) McLaren 1:09.780
13 Sebastian Vettel (Ger) Red Bull 1:09.801
14 Pastor Maldonado (Col) Lotus 1:09.939
15 Jean-Eric Vergne (Fra) Scuderia Torro Rosso 1:10.073
16 Romain Grosjean (Fra) Lotus 1:10.642
17 Adrian Sutil (Ger) Sauber-Ferrari 1:10.825
18 Esteban Gutierrez (Mex) Sauber-Ferrari 1:11.349
19 Jules Bianchi (Ita) Marussia F1 1:11.412
20 Kamui Kobayashi (Jpn) Caterham 1:11.673
21 Max Chilton (Gbr) Marussia F1 1:11.775
22 Marcus Ericsson (Swe) Caterham 1:12.673
*Perez and Chilton will start in 16th and 22nd respectively after grid penalties from the previous race.
Reuse content