It's only Saturday, said Toto Wolff, the Mercedes chief, seeking to apply psychological balm to the unravelling challenge of Lewis Hamilton. Once again, albeit in maddeningly changeable conditions, Hamilton came apart when pole was his for the taking.
This is a race, his home grand prix in front of 100,000 people desperately hoping for a British success, that he identified as a must-win. Perhaps the intensity he brings to race weekends under the cosh from a team-mate who seems to operate in an entirely calmer mental realm is the intangible straw that is breaking his back.
It was the same story in Austria a fortnight ago and in Canada two weeks before that where self-inflicted wounds in qualifying handed the initiative to a team-mate with the priceless knack of picking up the ball and running with it all the way to 25 points. The harder Hamilton tries the further he falls behind.
Of course it is easy to appear relaxed when you are starting from P1, five places ahead of the only man who might beat you in a championship you are leading by 29 points. And it is true that Rosberg has had all the luck dispensed by providence. Nevertheless the collected front he presents is a feature that defined Rosberg when Hamilton was knocking out those four consecutive victories leading up to Monaco. And it is precisely the quality Hamilton needs now.
Rosberg could barely believe his luck when Hamilton, misjudging the conditions on a rapidly drying track, aborted the final flying lap in defence of the provisional pole he held. It was in qualifying at Monaco where the Hamilton chain began to come off. There, as here, he was on course to set the quickest time when Rosberg had that critical Mirabeau moment, the exaggerated steering wheel action and spin from nowhere, to preserve his own place on pole.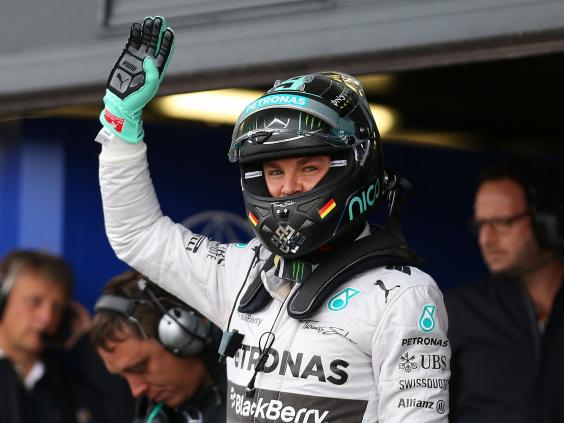 Hamilton saw the devil in Rosberg's work that day and though he has subsequently made the necessary diplomatic moves, there is a sense in which Hamilton's approach is still being shaped by that negative emotional dynamic. Of course, he might still fashion the victory today that his title push needs, but the matter is no longer in his hands. He requires the variables that lent such drama to qualifying to recur in his favour.
Hamilton's demeanour when he stepped from his car told of devastation. There is nothing wrong with desire, but at this juncture at least, it appears that his emotions are controlling him and not the reverse. As the time sheets demonstrated yet again Rosberg does not have the outright pace that Hamilton can produce, yet his is the car on top. Beating Rosberg is proving hard enough without butchering his chances with unforced errors.
Wolff denied that Hamilton was undermined by a delicate state of mind and felt that the chaotic circumstances surrounding a wet qualifying session accounted for his "bad day at the office". This was not, however, the view of Sir Jackie Stewart, who went straight to the core of the issue. "He is a hugely-talented driver. His natural talent is very high, but his head certainly seems to have gone a bit," he said.
"The single most important thing after God has given you the talent of being a racing driver is mind management. It doesn't matter how good you are in the car, how much natural talent you have, it has to be managed. If I had any success at all as a racing driver it was based on that," he added tapping his head. "You could say the same for Niki Lauda, Alain Prost and Juan Manuel Fangio.
"But to even get to the point of falling out with your team-mate, as happened in Monaco, at that level is just not on. You don't do it. I don't want to be overly critical here, but he is 29 years of age, so he should be his own man, he should be able to make those decisions and make them happen."
The atmosphere an hour after the conclusion of qualifying was at best awkward in the Mercedes motorhome when Hamilton gave his version of events. Attempts to appear sanguine were betrayed by a haunted look and terse, often one word answers that at one point were moderated by the team's head of communications.
For a more considered commentary we had to rely on the answer given in the published Mercedes report. "I made a mistake and pulled out of the lap when I should have kept going. It was my decision, a bad call, and that decided my qualifying. I'm so sorry to have disappointed the fans here today as their support has been fantastic and I'll do what I can to have a great race for them tomorrow."
As he always does, Hamilton pledged to give it both barrels to recover the situation. And so the cycle repeats, Hamilton deploying the same emotional register that, far from augmenting his chances, is undermining them.
Reuse content