McLaren's season took another early step towards disaster before it has even started as they were again plagued with reliability issues during the second day of troubled testing.
Fernando Alonso and Stoffel Vandoorne were together restricted to only 40 laps and were forced to watch on as first Lewis Hamilton and then Valtteri Bottas paraded the exemplary reliability of the Mercedes at the Circuit de Catalunya.
McLaren may have won a combined 20 drivers' and constructors' championships in the sport, but they have fallen dramatically down the grid in recent years and their renewed relationship with Japanese engine supplier Honda has been thoroughly disappointing.
The 2017 Formula 1 grid
The 2017 Formula 1 grid
1/20 Sebastian Vettel, Ferrari

Vettel finished fourth last season and will hope improvements to the team's 1.6-litre V6 will help him back onto the podium.

Getty

2/20 Kimi Raikkonen, Ferrari

The experienced Finn largely underperformed last season. At 37, could be his final season racing for a top team.

Getty

3/20 Sergio Perez, Force India

Perez retains the drive he has held since 2014. Force India again use the Mercedes-AMG engine.

Getty

4/20 Esteban Ocon, Force India

The talented 20-year-old raced in 9 Grand Prix for Manor last season and earns a call-up to a much more competitive team.

Getty

5/20 Romain Grosjean, Haas

Haas had a very good season last year, finishing 8th with their Ferrari engine. Grosjean will look to improve on his 13th place finish.

AFP/Getty

6/20 Kevin Magnussen, Haas

The Dane moves from Renault to Haas. Struggled last season.

Getty

7/20 Stoffel Vandoorne, McLaren

The talented Belgian, who scored a world championship point in the unfamiliar MP4-31 last year, replaces Jenson Button at McLaren.

Getty

8/20 Fernando Alonso, McLaren

The youngest double champion of all-time remains at McLaren for the 2017 season, despite a well publicised approach from Mercedes.

Getty

9/20 Lewis Hamilton, Mercedes

The team - and driver - to beat since the infamous V6 rule changes came into place in 2014.

Getty

10/20 Valtteri Bottas, Mercedes

Bottas replaces world champion Nico Rosberg at Mercedes, Will push Hamilton all the way this campaign.

Getty

11/20 Daniel Ricciardo, Red Bull

Adrian Newey has completely redesigned the RB13 for the 2017 season and Ricciardo will be hopeful of bettering last year's 3rd place finish.

Getty

12/20 Max Verstappen, Red Bull

There will be plenty of attention on Verstappen as he completes his first full season at Red Bull.

Getty

13/20 Nico Hulkenberg, Renault

Hulkenberg moves to the team from Force India, replacing Kevin Magnussen.

Getty

14/20 Jolyon Palmer, Renault

The Brit came under pressure last year for a disappointing 18th-place finish. Will be hopeful of improvement.

Getty

15/20 Marcus Ericsson, Sauber

Sauber were poor last season and were plagued by retirements. Ericsson nevertheless remains with the team for a third campaign.

AFP/Getty

16/20 Pascal Wehrlein, Sauber

The 22-year-old wins a drive at Sauber, moving from Manor Racing.

Getty

17/20 Daniil Kvyat, Toro Rosso

Resigned to Toro Rosso after plenty of speculation; will be desperate to show he shouldn't have been replaced by Verstappen at Red Bull.

Getty

18/20 Carlos Sainz Jr, Toro Rosso

Now in his third season with the team. Toro Rosso this year return to a Renault engine.

Getty

19/20 Lance Stroll, Williams

18-year-old rookie. Stroll's first appearance in the car didn't inspire confidence, he spun the car in testing.

Getty

20/20 Felipe Massa, Williams

Heroically returns to the team after Bottas departed for Mercedes. One of the most experienced drivers on the grid.

Getty
And after Fernando Alonso missed the majority of the opening day in his Spanish homeland with an oil leak, Stoffel Vandoorne, the Belgian driver who has replaced Jenson Button this year, also fell foul to further woes from the team's unreliable engine.
There were early signs of trouble for the British team here when Vandoorne stopped at the entry to the pit lane after completing only a handful of laps. He then had to be pushed back to his garage by the McLaren mechanics.
Shortly before lunch, Vandoorne then lost power from his engine which had to be replaced. He lost more crucial time and while he re-emerged in the latter stages of the day, added just 11 further laps to his morning tally.
Vandoorne finished ahead of only Lance Stroll - the Canadian teenager whose Williams team were forced to abort their schedule on Tuesday following damage he sustained in a spin - in both the time he set and total mileage.
And with a quarter of testing, before the new season gets under way in Melbourne next month, now completed, McLaren have managed only 69 laps, the equivalent of a little more than one race distance of this Barcelona track. Mercedes, in contrast, have a mammoth 320 laps under their belt.
For once, however, it was not Hamilton's name at the top of the order, but that of Kimi Raikkonen as Ferrari continued their strong start to winter testing.
The Finnish veteran's best lap of one minute and 20.960 seconds was marginally faster than Hamilton, with Red Bull's Max Verstappen 1.2 seconds off the pace in third.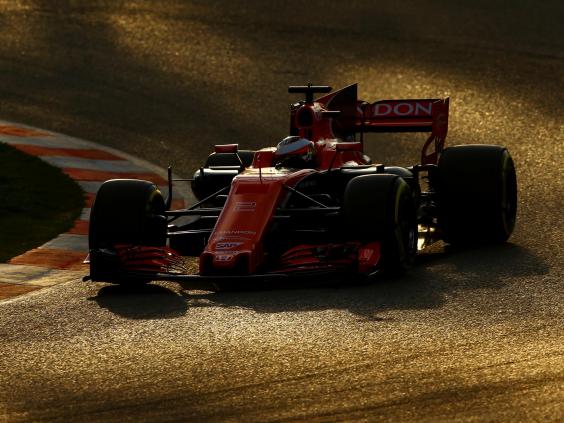 Jolyon Palmer, the only other Briton on the Formula One grid this season following Button's retirement, missed the entirety of the morning session as Renault fitted new parts to his car which had arrived overnight.
But the 26-year-old took to the track after lunch and ran for 53 laps, finishing 3.1 seconds adrift of Raikkonen.
Hamilton and Bottas will continue to share testing duties for Mercedes on Wednesday with Alonso, the double world champion, scheduled to return for McLaren. The test concludes on Thursday.
Reuse content