On the 27th lap of a spectacular Hungarian Grand Prix Daniel Ricciardo was only sixth, but radioed to his Red Bull crew: "We can win this!"
If he ever decides to call time on his burgeoning Formula One career, the Australian would make a pretty good fortune-teller. It took him until the final three laps to make his move, but he replayed his Canadian GP success with a stunning win in a  gripping race that began on a wet track, went through two safety-car periods, created  different strategies that left him to hunt down and pass the long-time leader Fernando Alonso and challenger Lewis Hamilton, and reignited the acrimony between the Englishman and his team-mate Nico Rosberg.
Rosberg had set off from pole position and was waltzing away on a surface dampened by rain 45 minutes before the start. Hamilton, meanwhile, had survived a spin in turn two on the opener after being forced to start from the pit lane, following the car fire that ruined his qualifying session – he had not had enough time to warm up his car's brakes.
The Hungaroring, however, has a reputation for throwing up odd results and the big shake-up came on the eighth lap when Marcus Ericsson crashed his Caterham.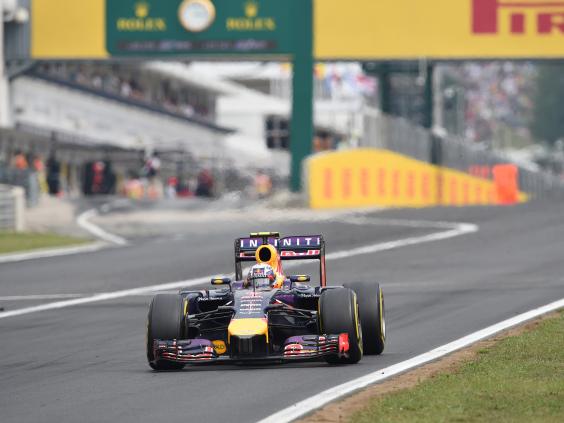 The four leaders – Rosberg, Valtteri Bottas, Sebastian  Vettel and Alonso – were in the final corner and were thus unable to pit, but virtually  everyone else did. By the time those four stopped a lap later Ricciardo had emerged in the lead for Red Bull, only to be overtaken by Jenson Button.
But McLaren had gambled on more rain, which never came, and soon Button's intermediate tyres were no match for everyone else's slicks. Ricciardo went back into the lead ahead of Williams' Felipe Massa and Alonso, who had  survived a spin in turn one on the second lap.
At this stage Jean-Eric Vergne was a strong fifth for Toro Rosso, holding off  Rosberg, Vettel and Hamilton, who had quickly made up places.
A second safety-car period on the 11th lap was caused when Romain Grosjean crashed his Lotus. And just as the debris had been cleared away, Sergio Perez smashed his Force India into the pit wall on the 23rd. The safety car was just coming in but instead stayed out until the end of the 26th lap.
Alonso took the lead when Ricciardo pitted again and Vergne continued to  hold off Rosberg, Vettel and Hamilton.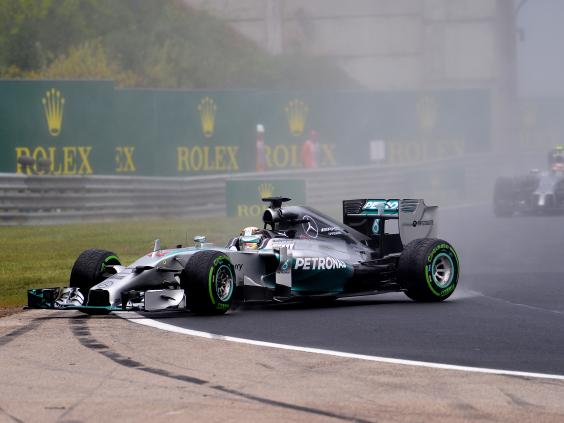 On the 38th lap Ferrari gambled on getting the Spaniard to the finish – 32 laps away – on a set of Pirelli's soft-compound tyres, and in a stunning drive he very nearly made it. His stop put Hamilton into the lead for a lap before he stopped for a set of medium tyres, intent on going through to the end.
Ricciardo went back ahead until his final stop on the 54th lap to change to a fresher set of soft tyres. That set the scene for Alonso to fight off  Hamilton, who was worried his tyres might not get to the finish. He, in turn, was keeping Rosberg at bay. The German was on softs and needed to make a final stop. But when Mercedes asked Hamilton to let Rosberg by on the 50th lap, he refused. Six laps later an angry Rosberg stopped and then began shredding the leaders' advantage.
Hamilton pushed hard but could not pass Alonso, and soon Ricciardo was right on his tail. The Australian had two attempts before finally making a third stick with a great move round the outside of Hamilton at turn two on the 67th lap. A lap later he slipped by Alonso going into the first corner and from then on it was plain sailing.
"The first safety car was to our advantage, but the second didn't really help us and I was scared mid-race by a power loss that needed some juggling to reset," he revealed." But we pulled it off. It was an  amazing last few laps and I knew I only had one chance and the job had to be done, so I took it. This win feels as good as the first, it really does."
Hamilton had his hands full fending off the fired-up  Rosberg right at the end, pushing him very wide  exiting turn two on the last lap after being short-braked by Alonso going into turn one and losing vital momentum.
The three finished 1.1sec apart, but Hamilton's podium finish came at the expense of further aggravation in his relationship with Rosberg and Mercedes chiefs.
The German now has 202 points to Hamilton's 191 after the latter's fine damage  limitation job. Beforehand the Brit glumly forecast the gap would be closer to 40, so perhaps he was the real winner amid the entertainment.
Reuse content