Lewis Hamilton saw his qualifying attempts prematurely halted for the second time in a week after his Mercedes burst into flames on his very first timed lap during qualifying for the Hungarian Grand Prix.
Hamilton endured a brake failure at last week's German Grand Prix that saw him spin out of first qualifying and into the tyre-barrier in a heavy impact that left him bruised. Despite the Saturday accident, the championship contender managed to salvage a third place finish in the race with a sterling drive, but he will need to produce an even better drive tomorrow if he is to stop his title hopes going up in smoke.
Having been on his very first timed lap of the session, Hamilton suddenly slowed with smoke bellowing from the rear of his Mercedes, and as he pulled into the pit lane it was clear that his car was on fire. Despite attempting to make it back to his garage, Hamilton was forced to stop the car and leave it quickly, given that the flames had engulfed the entire rear of the Mercedes.
It was later suggested that the fire had been caused by a fuel leak which had also stopped the brakes from working, as Hamilton rolled around the final turn despite knowing the car was already on fire.
F1 Hungarian Grand Prix - In pictures
F1 Hungarian Grand Prix - In pictures
1/15 Race

Daniel Ricciardo celebrates after the race

AFP/Getty

2/15 Race

Red Bull Racing's Australian driver Daniel Ricciardo (C) celebrates with Scuderia Ferrari's Spanish driver Fernando Alonso (L) and Mercedes' British driver Lewis Hamilton

GETTY IMAGES

3/15 Race

Daniel Ricciardo on his way to victory in the Hungarian Grand Prix

GETTY IMAGES

4/15 Race

Daniel Ricciardo on his way to victory in Hungary

Getty

5/15 Race

Lewis Hamilton pictured ahead of Nico Rosberg

GETTY IMAGES

6/15 Race

Lewis Hamilton spins at the second corner of the opening lap

GETTY IMAGES

7/15

The Mercedes mechanics wheel Lewis Hamilton's burnt out Mercedes back to the pits

Getty Images

8/15 Qualifying

Kevin Magnussen hit the tyre barrier in a heavy accident at turn one during the third qualifying session after it started raining

Twitter/@SkySportsF1

9/15 Qualifying

Lewis Hamilton walks back to the pit lane with his Mercedes burning in the background

Getty Images

10/15 Qualifying

Lewis Hamilton's Mercedes catches fire

Twitter/@SkySportsF1

11/15 Practice 3

Marcus Ericcson spins out during practice as Sauber's Esteban Gutierrez flashes past

Getty Images

12/15 Practice 2

Lewis Hamilton finished the day top of the time-sheets for both practice sessions

Getty Images

13/15 Practice 2

Nico Rosberg shows of his footballing skills in the paddock in-between Friday's practice sessions

Getty Images

14/15 Practice 1

Daniel Ricciardo watches on from the cockpit of his Red Bull

Getty Images

15/15 Practice 1

Lewis Hamilton of Great Britain and Mercedes GP drives during practice ahead of the Hungarian Formula One Grand Prix at Hungaroring

GETTY IMAGES
It means that the 29-year-old will have to start from the rear of the field – likely to be 21st after Pastor Maldonado also stopped during the first phase of qualifying – but with the Hungaroring notoriously difficult to pass on due to its tight corners and narrow width, Hamilton will be up against it in his efforts to prevent team-mate Nico Rosberg extending his championship lead.
Rosberg currently leads the drivers' championship by 14 points following his victory at Hockenheim last week, and his stiffest opposition for pole in Budapest will not likely come from the Williams pair of Felipe Massa and Valterri Bottas following Hamilton's retirement.
The British driver will need his car rebuilt overnight in order to start tomorrow's race.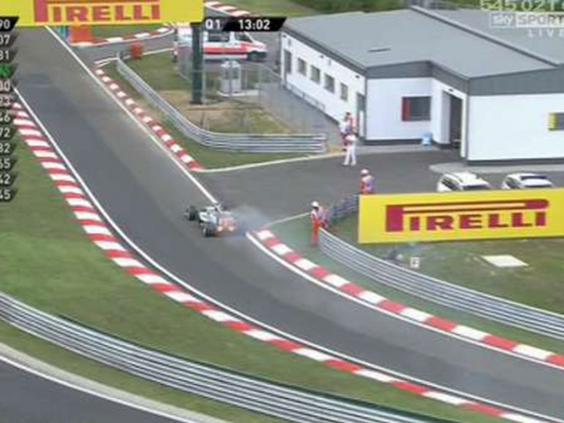 Speaking after he retired, Hamilton admitted that his chances of cutting Rosberg's lead tomorrow were bleak at best.
"I will struggle to get into the top ten tomorrow," said a disillusioned Hamilton.
Hamilton will be joined towards the rear of the field by Ferrari's Kimi Raikkonen, after he was knocked out of first qualifying by the Marussia of Jules Bianchi, who took advantage of Hamilton and Maldonado's retirements and Raikkonen's decision to remain in the pits when he was on the cusp of the 17th cut-off point.
He joined the other Marussia of Max Chilton and the two Caterham's of Kamui Kobayashi and Marcus Ericsson in being eliminated.
Qualifying would later be red flagged after rain at turn one caused McLaren's Kevin Magnussen to go off heavily in the final part of the session.
Rosberg was the first to reach the rain as he came down the start/finish straight, and despite locking up his front tyres and going off, he was able to keep his Mercedes out of the barrier.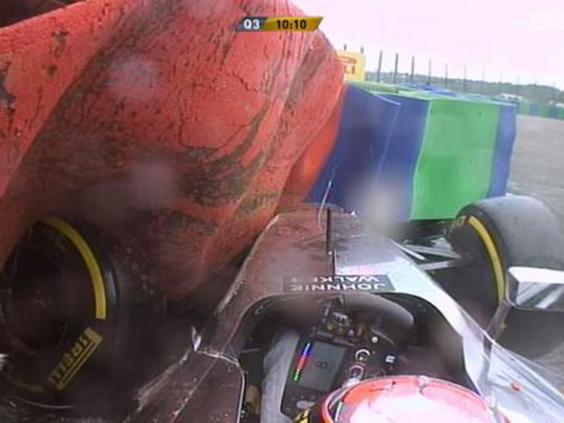 However, Magnussen - the next man along - was not so lucky, as he careered straight on into the barriers, bringing out the red flag and ending his participation in the session with 10 minutes still to go.