Above all, Lewis Hamilton craved a clean weekend in Hungary, the chance to fight team-mate Nico Rosberg for pole position without some technical problem intervening.
Instead, after he had confidently dominated all three practice sessions, a fuel leak caused his Mercedes to catch fire at the start of the first qualifying session and gave him arguably his greatest setback of a season in which it has only once been Rosberg's car which has suffered from unreliability.
Hot on the heels of last weekend's drama in Germany where a front brake disc failure left him to climb from 20th place on the grid to third, as Rosberg won again, he starts 21st here. That is a Herculean task, as it is as hard to overtake at the Hungaroring as it is in Monaco. And Rosberg is starting from pole yet again.
"I would prefer to have been out there battling with Lewis, that would have given me the maximum adrenalin rush," the German said. "In a way, I'm glad it wasn't a gloves-off battle with him, but that took a little of the ecstatic feeling away."
F1 Hungarian Grand Prix - In pictures
F1 Hungarian Grand Prix - In pictures
1/15 Race

Daniel Ricciardo celebrates after the race

AFP/Getty

2/15 Race

Red Bull Racing's Australian driver Daniel Ricciardo (C) celebrates with Scuderia Ferrari's Spanish driver Fernando Alonso (L) and Mercedes' British driver Lewis Hamilton

GETTY IMAGES

3/15 Race

Daniel Ricciardo on his way to victory in the Hungarian Grand Prix

GETTY IMAGES

4/15 Race

Daniel Ricciardo on his way to victory in Hungary

Getty

5/15 Race

Lewis Hamilton pictured ahead of Nico Rosberg

GETTY IMAGES

6/15 Race

Lewis Hamilton spins at the second corner of the opening lap

GETTY IMAGES

7/15

The Mercedes mechanics wheel Lewis Hamilton's burnt out Mercedes back to the pits

Getty Images

8/15 Qualifying

Kevin Magnussen hit the tyre barrier in a heavy accident at turn one during the third qualifying session after it started raining

Twitter/@SkySportsF1

9/15 Qualifying

Lewis Hamilton walks back to the pit lane with his Mercedes burning in the background

Getty Images

10/15 Qualifying

Lewis Hamilton's Mercedes catches fire

Twitter/@SkySportsF1

11/15 Practice 3

Marcus Ericcson spins out during practice as Sauber's Esteban Gutierrez flashes past

Getty Images

12/15 Practice 2

Lewis Hamilton finished the day top of the time-sheets for both practice sessions

Getty Images

13/15 Practice 2

Nico Rosberg shows of his footballing skills in the paddock in-between Friday's practice sessions

Getty Images

14/15 Practice 1

Daniel Ricciardo watches on from the cockpit of his Red Bull

Getty Images

15/15 Practice 1

Lewis Hamilton of Great Britain and Mercedes GP drives during practice ahead of the Hungarian Formula One Grand Prix at Hungaroring

GETTY IMAGES
Hamilton's body language spoke volumes as he abandoned his burning car and trudged slowly back along the pit lane entry. If a question had been visible over his head, it would have been: "What do I have to do to catch a break?"
"I think it's getting to the point where it's beyond bad luck," Hamilton said later. "We need to do better. I bailed out of the timed lap that I was doing and was going to do a second one, and then something happened to my brakes. Something in the brake system failed. I had to engage some systems, and then the engine just died.
"I was right next to the pit lane entry so I thought I could roll back to the garage but then I looked in the mirror and realised I was on fire. But I was still trying to get to the garage. I thought maybe we could still do something. Then they said 'Stop, stop, stop!' It's all pretty bad." Hamilton's ill luck was part of the story, however, for a revitalised Sebastian Vettel made Rosberg work hard for his 10th career pole.
Rain fell just before the start of the final session and caught out Rosberg and Kevin Magnussen as they negotiated Turn 1 on their slick tyres. Rosberg merely ran wide, but the McLaren driver crashed lightly and brought out the red flag.
When the session resumed, Rosberg set the initial pace but was soon supplanted by Red Bull's Daniel Ricciardo, then Williams's Valtteri Bottas and Ricciardo's team-mate Vettel. Rosberg took back control before Vettel's final effort deposed him again. But then Rosberg really got it together to establish Mercedes' usual margin of superiority. All things being equal, he should dominate today's race as Red Bull and Williams fight over what's left. Hamilton's chances remain to be seen.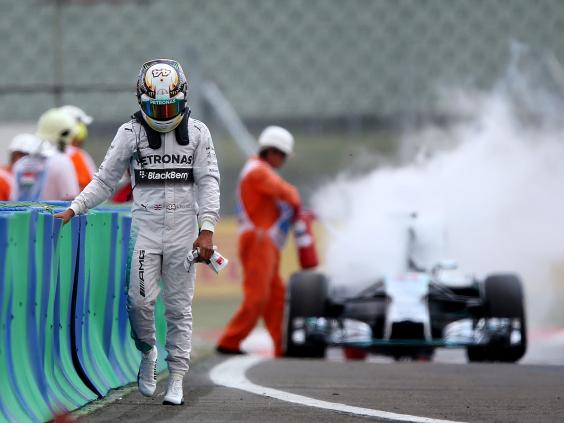 Formula One team principals are bold when it comes to racing, but often risk averse when it comes to criticising the way the sport is run.
Monisha Kaltenborn (Sauber), Eric Boullier (McLaren), Claire Williams (Williams), Marco Mattiacci (Ferrari) and Christian Horner (Red Bull) said nothing about the plan of F1's major stakeholder, CVC Capital Partners, to saddle the sport with another billion dollars' worth of debt. Only Force India's controversial Vijay Mallya made a stab at a decent reply.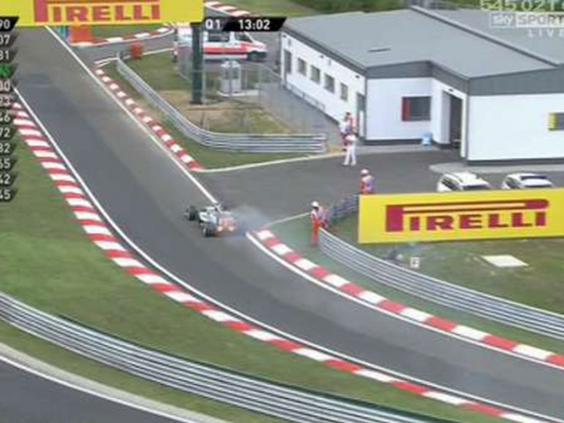 Then things progressed to the ethics of staging the Russian Grand Prix in October, following the Malaysian Airline disaster in Ukraine, and the new date for Azerbaijan in 2016.  "It's up to the FIA," said Mallya. "I don't think that the teams should be holding their individual positions to determine social political issues. The FIA is perfectly competent to determine where Formula One should be staged."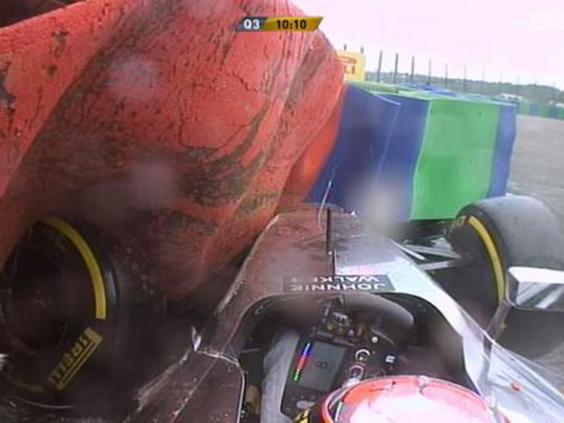 When somebody raised Azerbaijan's record on human rights, Horner said: "This is becoming a very depressing press conference as we're only focusing on the negativities. I think it's wrong to make Formula One a political statement." Inevitably it will be taken as one, however.
Final Positions after Qualifying:
1 Nico Rosberg (Ger) Mercedes GP 1min 22.715secs,
2 Sebastian Vettel(Ger)Red Bull 1:23.201,
3 Valtteri Bottas(Fin)Williams 1:23.354,
4 Daniel Ricciardo(Aus)Red Bull 1:23.391,
5 Fernando Alonso(Spa)Ferrari 1:23.909,
6 Felipe Massa(Bra)Williams 1:24.223,
7 Jenson Button(Gbr)McLaren 1:24.294,
8 Jean-Eric Vergne(Fra)Scuderia Toro Rosso 1:24.720,
9 Nico Hulkenberg(Ger)Force India 1:24.775,
10 Kevin Magnussen(Den)McLaren No Time,
11 Daniil Kvyat(Rus)Scuderia Toro Rosso 1:24.706,
12 Adrian Sutil(Ger)Sauber-Ferrari 1:25.136,
13 Sergio Perez(Mex)Force India 1:25.211,
14 Esteban Gutierrez(Mex)Sauber-Ferrari 1:25.260,
15 Romain Grosjean(Fra)Lotus F1 Team 1:25.337,
16 Jules Bianchi(Fra)Marussia 1:27.419,
17 Kimi Raikkonen(Fin)Ferrari 1:26.792,
18 Kamui Kobayashi(Jpn)Caterham 1:27.139,
19 Max Chilton(Gbr)Marussia 1:27.819,
20 Marcus Ericsson(Swe)Caterham 1:28.643,
21 Lewis Hamilton(Gbr)Mercedes GP No Time,
22 Pastor Maldonado(Ven) Lotus F1 Team No Time