If Lewis Hamilton really was remotely concerned or destabilised by feeble rumours being put around here on Thursday to the effect that his Mercedes team was offering lucrative blandishments to Sebastian Vettel to drive for them from 2016, he showed no sign of it yesterday.
Hungaroring is one of his talisman tracks – he has won here four times since his rookie season in 2007 – and somehow it just clicks with his driving style.
He was fastest in yesterday's two practice sessions for tomorrow's Hungarian Grand Prix – albeit only by a couple of tenths of a second from rival and team-mate Nico Rosberg, who recently secured his own future with the team at least until 2016, possibly longer.
Hamilton received pithy and unflinching support from his biggest fan in the paddock, Niki Lauda, the triple world champion who, as non-executive chairman of Mercedes AMG Petronas F1 Team, lured him there in the first place at a time when everyone thought he was insane to leave McLaren.
F1 German Grand Prix - In pictures
F1 German Grand Prix - In pictures
1/17 Grand Prix

Nico Rosberg celebrates his home win

2/17 Grand Prix

Rosberg drives to victory

3/17 Grand Prix

Fernando Alonso takes powers forward

4/17 Grand Prix

Felipe Massa crashes out early on

GETTY IMAGES

5/17 Grand Prix

People in historic dresses perform prior to the race in Hockenheim

6/17 Qualifying

Lewis Hamilton's Mercedes is taken away on the back of a lorry after crashing out of Q1

Getty Images

7/17 Qualifying

Lewis Hamilton's Mercedes is dragged out of the barrier at the Sachs hairpin

Getty images

8/17 Qualifying

Lewis Hamilton crashes out of Q1 for the Germand Grand Prix

Twitter/@SkySportsF1

9/17 Qualifying

Lewis Hamilton hits the barrier at the Sachs hairpin in Hockenheim

Twitter/@SkySportsF1

10/17 Third practice

A Red Bull mechanic awaits Daniel Ricciardo to come to pit lane

Getty Images

11/17 Third practice

Sebastian Vettel has his car wheeled into the garage by his Red Bull mechanics

Getty Images

12/17 Second practice

Nico Rosberg topped the timesheets once again at the end of second practice

Getty Images

13/17 Second practice

Williams test driver Susie Wolff was in action on Friday for the second Grand Prix weekend running

Getty Images

14/17 Second practice

Actor and Le Mans driver Patrick Dempsey is a guest driver in the supporting Porsche Supercup race at Hockenheim this weekend

Getty Images

15/17 First practice

Daniel Ricciardo against the Hockenheim forest backdrop

Getty Images

16/17 First practice

Fernando Alonso sweeps through turns two and three at Hockenheim

Getty Images

17/17 First practice

Nico Rosberg topped the timesheets after first practice

Getty Images
"Absolute bullshit," said Lauda succinctly when asked about the Vettel rumours. "I can tell you that nobody from this team had spoken with him. Why would we want to? We already have the two best drivers. Why would we want to change that?"
Earlier in the week, however, the Austrian's legendary candour had got him into trouble. The man who won world championships with Ferrari in 1975 and 1977, alongside sporting chief Luca di Montezemolo (now the Scuderia's president), was obliged to apologise to him via La Gazetta dello Sport for derogatory remarks he had made in the wake of Sunday's German Grand Prix when he described Ferrari's current car as "shit".
"I was wrong and I do not make any excuses," Lauda said. Yesterday morning he also apologised to team principal Marco Mattiacci in the Ferrari pit here.
"Everybody is free to make comments," Mattiacci said. "I have the utmost respect for Niki Lauda. For me, he is an iconic figure from my childhood, and in particular for Ferrari.
He came to our pit to apologise. I honestly felt very uncomfortable that I should receive an excuse from such a champion who has been put in the middle of something.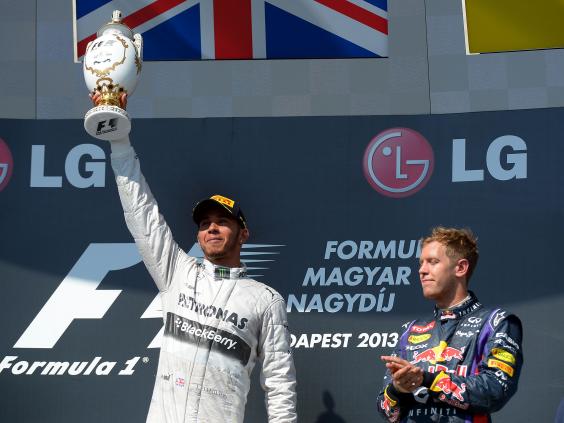 "It's clear he is a friend of Ferrari, and again I have the utmost respect for Niki, so chapter closed."
Lauda had the last laugh, however, for once again, Mercedes' performance on the track was uncompromising. Ferrari, together with Red Bull, McLaren and Williams, battled hard in their wake on another short track where further work was needed initially to hone the cars to behave themselves without their now-banned front and rear interconnected (FRIC) suspension systems.
There was not a lot of grip either, as the track had yet to receive a rubber coating from the passage of racing cars.
But yet again nobody else was really in Mercedes' league.
Hamilton, sounding relaxed, admitted: "We struggled with poor grip on track today. I don't know if that's down to the tyres or the track itself but it was quite bad throughout both sessions.
"It's going to be important to get a good grid position on Saturday as it will be difficult to follow cars on this track and it's always tough to overtake here.
"We have some work to do overnight to ensure we get the best set-up for the weekend as we're not fully comfortable with the car just yet, but our race pace looked OK."
Reuse content