Lewis Hamilton finally put one over his Mercedes nemesis Nico Rosberg on Saturday, claiming his first pole for seven races and four months of persistent frustration. With the German second on the grid, you will be able to cut the tension in the Mercedes pit with a blunt knife come the start of today's Italian Grand Prix, when the pair head off the grid down to the silly first-corner chicane wheel-to-wheel at 200 mph – trying not to collide. Both insist they know the score after the acrimonious crunch between them on the second lap last time out in the Belgian GP at Spa-Francorchamps.
Hamilton had electronics problems starting his engine on Friday afternoon; yesterday morning Rosberg's gearbox kept him in the pits. Each coped well, but when it mattered most in qualifying Hamilton put in the stronger lap – 1min 24.109sec – though Rosberg subsequently saved face by paring the deficit to two-tenths of a second.
Astonishingly, it was the first time that Hamilton has taken pole position since the Spanish GP in May, such has been his run of fluctuating fortune since.
"It won't be ringing in my ears," Hamilton insists of his bosses' season-long instruction not to collide. "We are free to race. That was the decision last week, so it continues as usual."
F1 Monza Grand Prix: in pictures
F1 Monza Grand Prix: in pictures
1/20 Italian Grand Prix

Lewis Hamilton celebrates his victory

GETTY IMAGES

2/20 Italian Grand Prix

A combo of photos show (From up L) Mercedes' British driver Lewis Hamilton taking the lead as Mercedes' German driver Nico Rosberg takes the escape road for the second time during the Italian Formula One Grand Prix

GETTY IMAGES

3/20 Italian Grand Prix

Nico Rosberg straight lines the first chicane to hand Lewis Hamilton the lead and subsequent victory

Getty Images

4/20 Italian Grand Prix

Kimi Raikkonen of Finaland Ferrari drives on in Monza

GETTY IMAGES

5/20 Italian Grand Prix

Lewis Hamilton of Great Britain and Mercedes GP makes a pit stop

GETTY IMAGES

6/20 Qualifying

The usual packed grandstands at Monza have looked lees populated this year

Getty Images

7/20 Qualifying

Lewis Hamilton and Nico Rosberg stand alongside each other after locking out the front-row

Getty Images

8/20 Qualifying

Lewis Hamilton secured pole position for the Italian Grand Prix

Getty Images

9/20 Qualifying

Sebatian Vettel sits and waits in his garage during qualifying

Getty Images

10/20 Qualifying

Fernando Alonso attempted to lift the gloom around Ferrari but could only muster seventh in qualifying

Getty Images

11/20 Qualifying

Nico Rosberg turns into the second chicane ahead of a locked-up Jenson Button

Getty Images

12/20 Saturday practice

Hamilton running along the back straight among the shadows of the trees at Monza

Getty IMages

13/20 Second practice

Jenson Button could not replicate his first session, where he came second, and ended up sixth fastest

Getty Images

14/20 Second practice

Nico Rosberg was fastest in the second session but still down on Hamilton's time

Getty Images

15/20 Second practice

Lewis Hamilton continued his impressive form finishing just behind his Mercedes team-mate

Getty Images

16/20 First practice

A young Ferrari fan attempts to gain a better view of the historic Monza track

Getty Images

17/20 First practice

Red Bull driver Daniel Ricciardo waits in the pits as he watches the screens

Getty Images

18/20 First practice

Ferrari's Fernando Alonso waves his hand in the air as he talks with his engineers

Getty Images

19/20 First practice

Lewis Hamilton climbs into his Mercedes

Getty Images

20/20 First practice

Hamilton emerges from his garage to begin first practice

Getty Images
Rosberg dutifully insisted that it has always been clear that collisions are to be avoided – though the fact that he forgot that at Spa is said to have cost him half a million dollars' payment to a charity.
As the Mercs just got faster and faster through practice and qualifying, only the Williams duo could keep place as both McLaren and Ferrari's inability to maintain their apparent pace from practice saw them drop back. Kimi Raikkonen had been only a tenth of a second off Rosberg on Friday afternoon; on Saturday Alonso was a deeply embarrassing 1.3sec off Hamilton in qualifying as the scale of the famed Scuderia's technical problems was harshly exposed.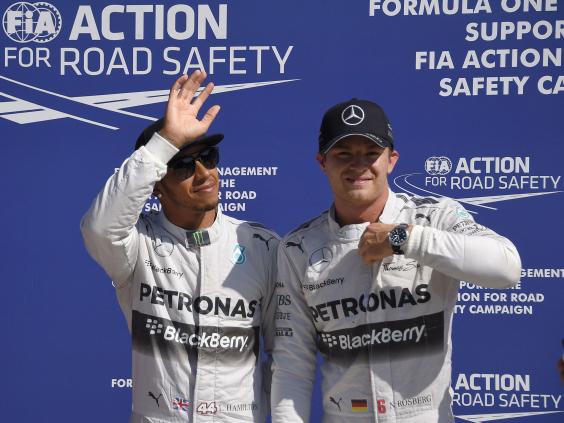 Yet again, Williams' Finn Valtteri Bottas took the fight to the Silver Arrows. "I really hope we can challenge them tomorrow," he said. "They seem to have bit more pace and we hoped be little closer today, but we have solid race pace and it will depend on whether they have more left compared to what they had on Friday." And if the Mercedes stay reliable.
"I've had it quite a few times on my side of the garage," Hamilton acknowledged as reliability was mentioned. "But I feel optimistic, the guys have rectified any problems we've had this weekend. And worrying about things like that isn't a mindset to go into a race with."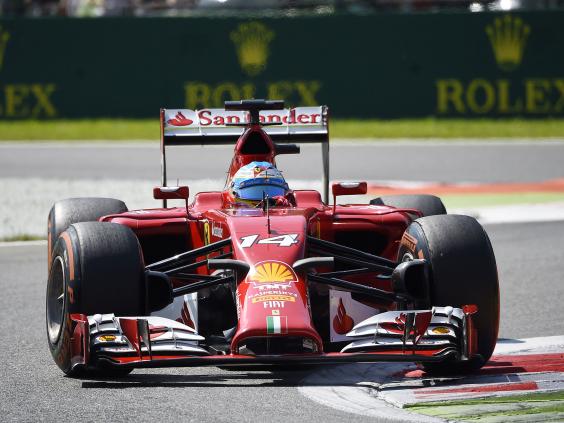 Ferrari hero Alonso's lame horse was again good enough only for seventh on the grid with Sebastian Vettel's Red Bull for company on the fourth row, and there's no love lost between them. They've clashed here in the past, each criticising the other's tactics while resisting being overtaken, and the Spaniard made some biting comments in La Stampa last week.
Referring to the once dominant German's struggle this season against team-mate Daniel Ricciardo, who has won three races to Vettel's none, he said with the air of one who doesn't care why: "I don't know what problems Vettel has been having this year, but I have not changed my mind about him. He is not the best. It is others who have to change their opinion." So who is the best? "In my opinion, Lewis."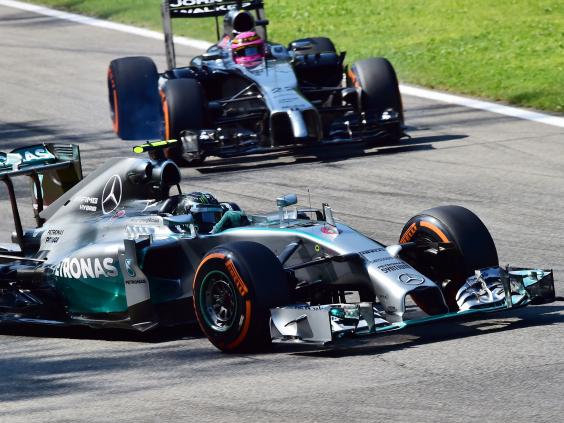 On Sunday afternoon the Briton just wants a clean opportunity to remind people of that, and get himself back into title contention without further controversy. Preferably with a  Williams or two separating Rosberg from him.
Final Positions after Qualifying:
1 Lewis Hamilton (Gbr) Mercedes GP 1min 24.109secs,
2 Nico Rosberg(Ger)Mercedes GP 1:24.383,
3 Valtteri Bottas(Fin)Williams 1:24.697,
4 Felipe Massa(Bra)Williams 1:24.865,
5 Kevin Magnussen(Den)McLaren 1:25.314,
6 Jenson Button(Gbr)McLaren 1:25.379,
7 Fernando Alonso(Spa)Ferrari 1:25.430,
8 Sebastian Vettel(Ger)Red Bull 1:25.436,
9 Daniel Ricciardo(Aus)Red Bull 1:25.709,
10 Sergio Perez(Mex)Force India 1:25.944,
11 Daniil Kvyat(Rus)Scuderia Toro Rosso 1:26.070,
12 Kimi Raikkonen(Fin)Ferrari 1:26.110,
13 Jean-Eric Vergne(Fra)Scuderia Toro Rosso 1:26.157,
14 Nico Hulkenberg(Ger) Force India 1:26.279,
15 Adrian Sutil(Ger) Sauber-Ferrari 1:26.588,
16 Esteban Gutierrez(Mex) Sauber-Ferrari 1:26.692,
17 Pastor Maldonado(Ven) Lotus F1 Team 1:27.520,
18 Romain Grosjean(Fra) Lotus F1 Team 1:27.632,
19 Kamui Kobayashi(Jpn) Caterham 1:27.671,
20 Jules Bianchi(Fra) Marussia 1:27.738,
21 Max Chilton(Gbr) Marussia 1:28.247,
22 Marcus Ericsson(Swe) Caterham 1:28.562
Note: Due to having used his sixth engine of the season Daniil Kvyat has received a 10-place grid penalty and so will start 21st.
Reuse content