Sir Jackie Stewart has had his say on the growing belief that Nico Rosberg deliberately went off to allow Mercedes team-mate Lewis Hamilton to win the Italian Grand Prix and make up for his costly error in Spa that forced the Briton to retire from the race.
The feud between Hamilton and Rosberg has grown to fever pitch over the past few months, with Hamilton appearing to ignore team orders to let Rosberg through in Hungary, and the championship leader attempting an ambitious move on the outside of Hamilton a fortnight ago that ended up giving the 2008 world champion a left-rear puncture and forcing him out of the race through floor damage.
Rosberg admitted full responsibility for the accident, but the pair appeared to be on a collision course once again as Mercedes locked out the front-row in Monza, only for Hamilton to suffer a launch failure and drop back into the pack. After battling through the field, Hamilton was less than a second behind race leader Rosberg, and the German appeared to crack under the pressure as he went straight on at the first chicane to allow Hamilton into a lead he would not relinquish.
Rosberg was quizzed after the race on whether it was a team order agreed to let Hamilton win the race, but he quickly rubbished the claims and said it was not in his interests to do such a thing.
F1 Monza Grand Prix: in pictures
F1 Monza Grand Prix: in pictures
1/20 Italian Grand Prix

Lewis Hamilton celebrates his victory

GETTY IMAGES

2/20 Italian Grand Prix

A combo of photos show (From up L) Mercedes' British driver Lewis Hamilton taking the lead as Mercedes' German driver Nico Rosberg takes the escape road for the second time during the Italian Formula One Grand Prix

GETTY IMAGES

3/20 Italian Grand Prix

Nico Rosberg straight lines the first chicane to hand Lewis Hamilton the lead and subsequent victory

Getty Images

4/20 Italian Grand Prix

Kimi Raikkonen of Finaland Ferrari drives on in Monza

GETTY IMAGES

5/20 Italian Grand Prix

Lewis Hamilton of Great Britain and Mercedes GP makes a pit stop

GETTY IMAGES

6/20 Qualifying

The usual packed grandstands at Monza have looked lees populated this year

Getty Images

7/20 Qualifying

Lewis Hamilton and Nico Rosberg stand alongside each other after locking out the front-row

Getty Images

8/20 Qualifying

Lewis Hamilton secured pole position for the Italian Grand Prix

Getty Images

9/20 Qualifying

Sebatian Vettel sits and waits in his garage during qualifying

Getty Images

10/20 Qualifying

Fernando Alonso attempted to lift the gloom around Ferrari but could only muster seventh in qualifying

Getty Images

11/20 Qualifying

Nico Rosberg turns into the second chicane ahead of a locked-up Jenson Button

Getty Images

12/20 Saturday practice

Hamilton running along the back straight among the shadows of the trees at Monza

Getty IMages

13/20 Second practice

Jenson Button could not replicate his first session, where he came second, and ended up sixth fastest

Getty Images

14/20 Second practice

Nico Rosberg was fastest in the second session but still down on Hamilton's time

Getty Images

15/20 Second practice

Lewis Hamilton continued his impressive form finishing just behind his Mercedes team-mate

Getty Images

16/20 First practice

A young Ferrari fan attempts to gain a better view of the historic Monza track

Getty Images

17/20 First practice

Red Bull driver Daniel Ricciardo waits in the pits as he watches the screens

Getty Images

18/20 First practice

Ferrari's Fernando Alonso waves his hand in the air as he talks with his engineers

Getty Images

19/20 First practice

Lewis Hamilton climbs into his Mercedes

Getty Images

20/20 First practice

Hamilton emerges from his garage to begin first practice

Getty Images
Yet three-time world champion Stewart believes that something is not quite right about the manner of which Rosberg left the track after appearing to out-brake himself for the second time in the race.
"I thought, 'hello, what's going on here?' He could have at least made an effort to get round the corner but he didn't.
"It was a part of the track where there was no real penalty for making that mistake so I am a little confused.  I thought it was a bit too easy."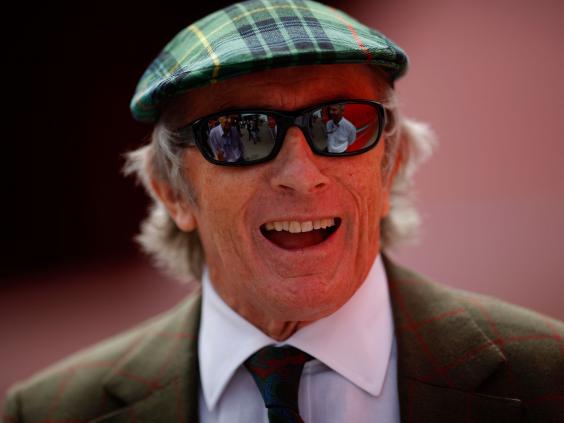 When asked whether he felt that Mercedes had rigged the race, Stewart replied: "It has been suggested."
Rosberg had answered his critics following the race by claiming he simply "messed up", and the case for Rosberg is that he is battling for a maiden world championship and would be highly unwilling to jeopardise a possible race win and the 25 points haul that comes with it.
"If you're ordered by the team to do it then you would do it, but there is no reason why the team would ask me to change position, or something like that," said Rosberg.
"The only thing in people's minds could be Spa, but Spa was a mistake I've apologised for. It's not like we are now starting to shuffle our cars."
Hamilton looked ecstatic with the victory as he was interviewed on the Monza podium by former Ferrari driver Jean Alesi, and he admitted that despite being told to sit back behind Rosberg in order to save his tyres and attack late on, he decided to go for broke and pressure his championship rival with the mistake coming just two laps later.
"It was the best time to put pressure on him," revealed Hamilton. "I did it a couple of races ago and he doesn't seem to like it, so I'll try it a bit more.
"We've got a long way to go, but one step at a time. The support I've had from the fans and family has been incredible. I'm going to take that energy and try and move forwards. I'm just going to take it as it comes."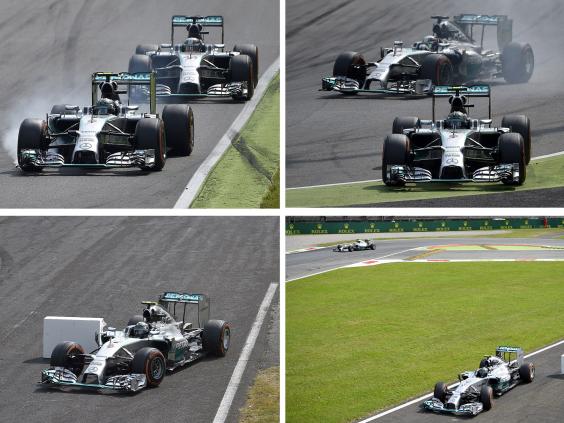 Hamilton did defend his rival though, as Rosberg had to face up to further boos from the crowd when he took to the podium. Alesi asked the crowd to stop while Rosberg spoke on the podium, and Hamilton admitted that the jeers made him feel uncomfortable despite the on-going rivalry.
"I felt a bit awkward when they were booing Nico," said Hamilton. "I don't like that in sport. After the race and when we get out of the car everyone should be nice to each other."
Mercedes chief Toto Wolff rejected the claims, and the Mercedes Twitter account made light of the claims on Monday morning by comparing the accusation to pigs flying over their Brackley base.
BREAKING NEWS: Dramatic scenes in the skies over Brackley as #NR6 hands #ItalianGP victory to #F1 WDC rival #LH44... pic.twitter.com/gVAP6E99nl

; MERCEDES AMG F1 (@MercedesAMGF1) September 8, 2014
It echoes the similar scenes that faced Sebastian Vettel last year after his altercation with Mark Webber in Malaysia. Ex-F1 driver Martin Brundle, now a regular in the commentary box for Sky Sports, had to ask the crowd to stop booing the four-time world champion, adding "that's not on" while conducting the controversial podium interviews.
The battle for the drivers' championship resumes in two weeks on the streets of Singapore as Hamilton looks to reduce the 22 point gap between himself and his team-mate. As things stand, Hamilton would need to win four of the remaining six races – including the final race in Abu Dhabi where double points are on offer – to win the championship no matter what Rosberg can do.
Reuse content