Lewis Hamilton has claimed he felt "disrespected" after criticism from within his Mercedes team of the way he drove in the season-ending Abu Dhabi Grand Prix.
In a last-ditch bid to wrest the title from the clutches of team-mate Nico Rosberg, race leader Hamilton slowed down the race pace and drew Rosberg into a battle for second place with Sebastian Vettel and Max Verstappen.
Hamilton needed to win the November 27 grand prix and hope that Rosberg finished outside the top three, but the German clung to second position and landed his first drivers' title.
The tactics from Hamilton went against team orders, as Mercedes technical director Paddy Lowe told him to step up his speed over the closing laps.
Following the race, Mercedes head of motorsport Toto Wolff referred to the incident by stating: "Anarchy does not work in any team or in any company."
Speaking to Channel 4, Hamilton said: "That was one of many uncomfortable moments of the year. Ultimately seeing what had been said afterwards, I felt quite disrespected by the individuals who had spoken.
"You don't expect that from those who are in charge of so many people."
When asked if the situation had been resolved, Hamilton added: "No, it hasn't."
In the programme 'Lewis v Nico: F1 2016', Rosberg also expressed surprise at the way Hamilton drove, the Sunday Telegraph reported.
Abu Dhabi Grand Prix in pictures
Abu Dhabi Grand Prix in pictures
1/15 Abu Dhabi Grand Prix

Lewis Hamilton and Nico Rosberg embark on the drivers' parade.

Getty

2/15 Abu Dhabi Grand Prix

Jenson Button and Felipe Massa prepare to wave goodbye to F1 ahead of their final races.

Getty

3/15 Abu Dhabi Grand Prix

Hamilton led into the first corner as Rosberg held on to second.

Getty

4/15 Abu Dhabi Grand Prix

Max Verstappen recovers after spinning at the first corner and dropping to last.

Getty

5/15 Abu Dhabi Grand Prix

Hamilton was immediately off the pace as he tried to back the field up to attack Rosberg.

Getty

6/15 Abu Dhabi Grand Prix

A smart strategy from Red Bull got both of their cars in front of the Ferrari of Kimi Raikkonen.

Getty

7/15 Abu Dhabi Grand Prix

Hamilton looked comfortable in the lead throughout the race.

Getty

8/15 Abu Dhabi Grand Prix

Ricciardo was running up in third before he saw teammate Max Verstappen move ahead of him.

Getty

9/15 Abu Dhabi Grand Prix

Hamilton continues to lead the way.

Getty

10/15 Abu Dhabi Grand Prix

Button's final race ends in sadness as the front-right suspension failed on his McLaren to force him to retire.

Getty

11/15 Abu Dhabi Grand Prix

Hamilton crosses the line to win the Abu Dhabi Grand Prix as Rosberg secures the first title of his career.

Getty

12/15 Abu Dhabi Grand Prix

Rosberg crowdsurfs on his Mercedes mechanics in celebration.

Getty

13/15 Abu Dhabi Grand Prix

Rosberg celebrates his title success as Hamilton applauds his Mercedes teammate.

Getty

14/15 Abu Dhabi Grand Prix

Hamilton lost his grip on the F1 world championship.

Getty

15/15 Abu Dhabi Grand Prix

Rosberg and Hamilton shake hands on the podium.

Getty
Rosberg retired in the week after landing the world title, a move which has forced Mercedes to launch an unforeseen hunt for a new team-mate to partner Hamilton.
The new champion's shock at the way the championship finale played out at the Yas Marina circuit was outlined as he suggested Hamilton abandoned pre-race plans.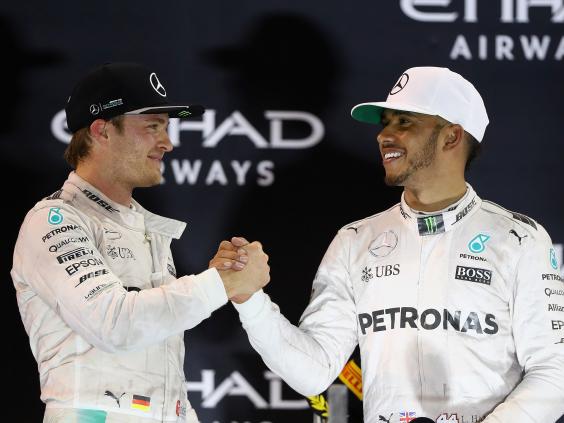 Rosberg said: "It was probably naive, but I didn't think Lewis would do it that way.
"The way we had been speaking internally, it was very clear. He always said that he wanted to go as fast as possible and win by the biggest margin, to put out a statement. Little did I know."
PA