Formula One drivers run the risk of exhaustion by dehydrating themselves prior to qualifying in Malaysia on Saturday, in order to minimise their weight and thus maximise the performance of their cars, Lewis Hamilton and Jenson Button warned on Friday.
They and their 20 colleagues face the most gruelling race of the season, in which they could lose as much as 4kg (9lb) of body weight in high humidity and temperatures in excess of 40C.
Neither of the leading British drivers is heavy. Button weighs in around 71kg (11st 2lb), but before the season began said he thought he needed to lose a kilo. Hamilton, roughly the same weight, admits that in his full driving kit of overalls, fireproof underwear, socks, boots, balaclava, helmet and Hans neck support system, "I'm not 69 kilos, that's for sure!"
But though the minimum weight of the new breed of cars rose from 642kg to 690kg for 2014, little allowance has been made for the drivers themselves. More weight means less speed in a sport where advantage was yesterday measured as finely as 0.035sec between fastest man Nico Rosberg and closest challenger Kimi Raikkonen and where the top 11 drivers were bracketed by a second. On the 5.543km Sepang International Circuit every extra 10kg can add three- or four-tenths of a second to the lap time.
By Formula One standards a heavier driver is somebody like Nico Hulkenberg, said to weigh 78kg fully dressed, or Adrian Sutil at 80kg. At the other end of the scale Felipe Massa is a flyweight 63kg. The lighter the driver, the better chance a team have of keeping their car to the minimum weight, or even placing ballast where it can help optimise handling.
"At the moment I'm pretty sure it's hardcore what some people are doing," Hamilton said of the practice of not keeping up fluid intake hours before the session that decides the grid. "You can go into qualifying a little bit dehydrated. I heard someone was doing that, exhausting themselves. And then the next day they can drink some more because the race is different. For sure, it's like jockeys.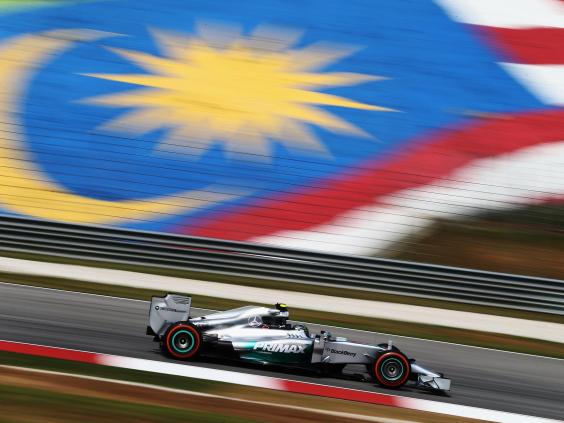 "In some ways it's cool, another challenge through the winter. But you don't want to become anorexic. It's OK, as long as you don't get to an unsafe area. If someone said I had to get down to Massa's weight for example, then it would be silly. But at the moment we're OK, the car is a decent weight, and we're able to stay reasonably well within the weight limit. But I can't imagine how it is for the really heavy drivers. There's a minimum they can get to without cutting an arm off."
Button, who spent five days doing humidity training at a camp in Phuket, Thailand, run by the former world triathlon champion Chris McCormack, said with evident relief that he no longer has the problem with weight that he thought he would have before the season began.
"I was training with four pro athletes and it has been bloody hard but really good," he said. "Four hours a day, cycling for three hours, swim for an hour and sometimes a run. Really good, a good atmosphere, proper diet, and the menu gives you all the nutritional information – carbs, fat, protein. It's a proper training camp and I don't have a problem with weight at all. I thought I would be tight on it in Melbourne but I was fine so I can really eat now. I can actually eat carbohydrates and I feel better for it.
"But some guys are struggling. Adrian Sutil is, and I'm sure that the heavier drivers are dehydrating themselves because that's what I was going to do – go in the sauna, have a steam, and not drink or eat until after qualifying. You would have breakfast but no carbohydrates and only stuff that goes right through you quickly. I was going to do it and did it all year until now, but it's a shame for the guys who have to do it."
Friday's two practice sessions were led by the Mercedes of Hamilton and Rosberg. In the second the Australian GP winner was only three and a half hundredths of a second clear of Raikkonen as Sebastian Vettel lurked six hundredths adrift with Hamilton a tenth away. "The car feels good and our focus was on trying to understand the tyres and make sure the balance is right," Hamilton said.
Reuse content