Christian Horner has called for Formula One to consider appointing an independent adviser to help turn around the sport's flailing fortunes.
Sunday's Austrian Grand Prix saw a 40 per cent drop in attendances from last season and it has been a similar story at most weekends this year, with criticism over dull races, a lack of overtaking and an over-complicated rule book.
Red Bull's team principal, who has been vocal critic of the strategy group which is in place to change the rules and regulations to create a more exciting experience for fans, said that a figure like the former Benetton and Ferrari technical director Ross Brawn could help to revive the  sport's fortunes.
"I think the strategy group is fairly inept," said Horner. "Maybe you need an independent observer, someone not involved... someone like Ross Brawn who understands the challenges and knows the business to write a specification for what a car or technical regulations should be."
Away from the controversy, Nico Rosberg's domination of Sunday's race has set up an intriguing encounter at Silverstone a week on  Sunday, for the last thing Lewis  Hamilton wants is to lose his home grand prix.
After making a better start than Hamilton, who was on pole, Mercedes team-mate Rosberg had clear command of the race and after their mid-race tyre stops, he was never seriously challenged.
"To get a day where it's one of the easier wins and not having pressure from Lewis behind was great to see," Rosberg said after drawing within 10 points of the world championship lead. "I had the pace advantage over him so all in all it was an important day. It's coming in my direction. Everything worked out.
"The start was really the most important part of it. It's the biggest opportunity so I had to try everything and go for it and nail the start.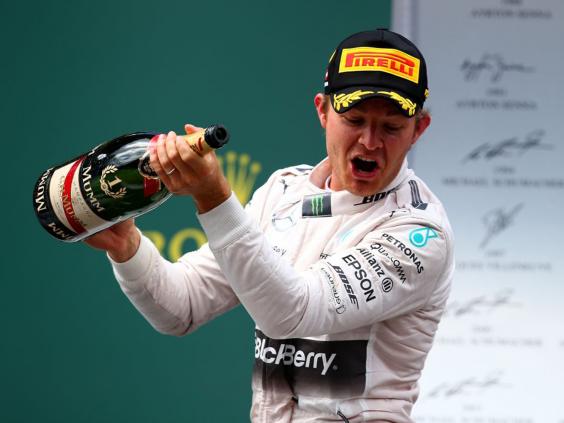 "It's the guy who goes into Turn Three first that then has the best chance of winning of course because it's so difficult to overtake in the same car. I was happy to see the gap open up at times and then in the second stint, because racecraft was the area I needed to work on from last year and that's really coming good now."
Hamilton said that he had not been mentally disregarding his team-mate's challenge after winning three of the opening four races.
"I think the points where he has been quicker than me were Barcelona and here. Otherwise I've been happy with my pace. Of course, you never want to go backwards, so it's not great to finish second when you start from pole.
"In the first part of Sunday's race I was thinking, 'Wow, what a great race.' We were both pushing flat-out the whole way, on the limit, and I was really enjoying it. That's how racing should be."
Hamilton still believes he is stronger than he was in last year's title season and expects to be strong in the second half of the season.
"I'm more consistent this season and hopefully that will sit well for the rest of the year if I drive at least as well as I did last year," he said.
"This coming race I'm not worried about not having the momentum behind me from a winning weekend. I've never ever felt that thing about bringing momentum through with you when you've been successful. You just start again at the next race."
Reuse content