Sergio Perez has called on the FIA to introduce the safety car on all occasions when a recovery vehicle is in operation during a grand prix.
The Force India driver's remarks come in the wake of Jules Bianchi's accident during Sunday's race in Japan which has left the Frenchman fighting for his life after brain surgery.
With Adrian Sutil's stricken Sauber being removed in the wake of the German's crash into a barrier minutes earlier and with heavy rain falling, Bianchi's Marussia careered off the Suzuka circuit into the recovery vehicle.
Bianchi suffered a diffuse axonal injury, where damage has occurred to the brain over a widespread area, and the prognosis is grave.
The FIA, motor sport's governing body, is reviewing its safety procedures following the accident and Perez called on it to thoroughly investigate the crash and said what happened to Bianchi was "unacceptable". He said: "We have to look for answers from the FIA on what happened in this tragic accident. We have to make sure they hear us.
"In future, when there is a tractor picking up a car, we need a safety car, no matter the conditions, because there is always a risk.
"You expose the marshals, a lot of people. You could have people run out of brakes, so many factors you never expect, and if the tractor is there it's a big problem. You don't want to expose anyone like that. We have to take care of marshals."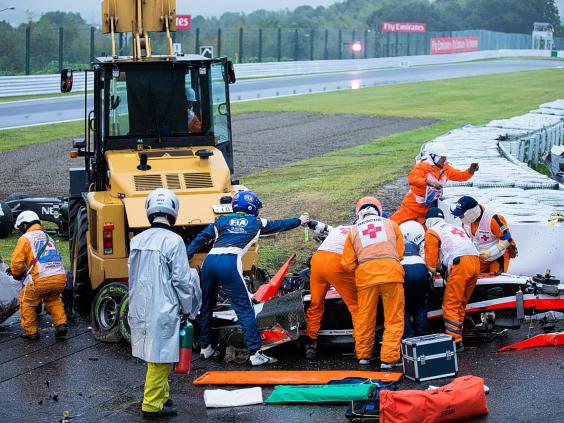 Perez said it will be "very difficult" to get through this weekend's inaugural race in Russia so soon after Bianchi's crash. "All the time your subconscious is thinking about our friend Jules," he said. "What happened on Sunday was a big shock for all of us, for everyone involved in the F1 paddock. You always realise the risk is there, but you always think it cannot happen to you. But when you see that it happened to a guy who was next to you last Sunday and now he's not with you, that makes you think a lot."
The events of Suzuka have shaken drivers to their core. Ferrari's Fernando Alonso said: "Obviously all of our thoughts are with Jules. There are no words to describe – but you can feel. Right now we are here, a difficult weekend again. Emotionally very difficult. Ready to race, to race for him, being as professional as we can, but definitely our minds, or my mind, is with him in this moment, praying for him."
Felipe Massa, who shares the same manager as Bianchi, Jean Todt's son Nicolas, said the Japanese GP had been the worst race of his life. "Worse than the race of my accident, because I didn't remember," he said, referring to Hungary in 2009 when he was struck on the head by a spring/damper unit that had become detached from Rubens Barrichello's Brawn.
"Maybe tomorrow it will get a bit better because you are working, at least you have something to think about."
It is thought likely that Marussia will not replace the injured Bianchi this weekend. They have entered reserve driver Alexander Rossi in Sunday's race but it is expected they will only run one car, driven by Max Chilton.
Reuse content