Sir Tom Jones might have been belting out his old hit 'It's not unusual' in Singapore, but by Sunday night it had become Sebastian Vettel and Red Bull's theme song. The German's third victory on the trot and his seventh of the year was anything but unusual by Red Bull standards, and the reigning champion was again utterly untouchable as he moved ever closer to a fourth title.
He got outdragged to the first corner by Nico Rosberg's Mercedes, but the latter went in a fraction too deep and as he ran wide, Vettel pounced and never looked back. Not even a safety car intervention on the 24 lap, when Daniel Ricciardo crashed his Toro Rosso, upset his majestic rhythm.
"The start was quite hairy," he admitted. "I had to leave the inside clear to Nico, but then he ran wide so I got him back and after that had pretty good pace. I was able to control the gap, and it's a very good feeling when you cross the line a winner."
Rosberg lost ground through tyre rubber clogging his Mercedes' front wing, which enabled Fernando Alonso to move into second place after he'd made a stunning start that took him round the outside of his rivals going into the first corner and up from seventh on the grid to third. But even he couldn't make the Ferrari a Red Bull challenger, and he trailed Vettel home by an embarrassing 32.6s after two hours of flat-out racing.
Kimi Raikkonen's drive was as meritorious, as the monosyllabic Finn nearly didn't drive on Saturday after aggravating an old back injury. He was one of several drivers - Alonso, McLaren's Jenson Button and Sergio Perez, and Sauber's Nico Hulkenberg and Esteban Gutierrez – to pit the moment the safety car was deployed on lap 25. That meant doing the remaining 36 laps on the medium tyres, but the gamble paid off handsomely for the Spaniard and the Finn.
Vettel, second placed Rosberg, fourth placed Mark Webber and sixth placed Lewis Hamilton all stuck to their original strategies. Alonso and Raikkonen were able to nurse their rubber, but as the race neared its climax the McLarens and the Saubers were in trouble.
Raikkonen's path to the final podium position was cleared when he went round the outside of the struggling Button in a dramatic move in Turn 14 on lap 54. Thankfully adding belated excitement to what had been a deadly dull race, Webber, Rosberg and Hamilton all pushed aggressively on their fresher rubber, leading to some fabulous wheel-to-wheel racing as they overtook Gutierrez, Hulkenberg, Perez and Button. Webber, however, retired on the last lap when his gearbox failed, and hitched a ride home with Alonso.
Both were reprimanded for the act, and in turn Webber was handed a 10-place grid penalty for the next race in Korea after he reached the limit of three in one season. His previous discrepancies came when he clashed with Rosberg back in Bahrain, and when he failed to sufficiently acknowledge yellow flags in Canada.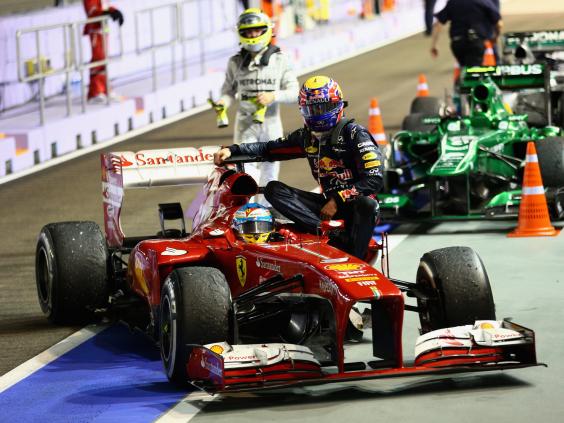 As Rosberg sprinted up to fourth Hamilton followed him home chased by Felipe Massa, and Button, Perez and Hulkenberg were each separated by just 0.4s in their blanket finish sprint to the line.
"That was a really tough race, probably the most physically demanding of the year," Hamilton said. "The car felt good but unfortunately we paid the price for not qualifying better. I didn't have the best start and had to go wide to avoid Mark in Turn One. And the timing of the safety car definitely didn't help us. We need to go back through our strategy and see what we could possibly have done differently, but I'm not sure we could have done what Fernando and Kimi did."
"We thought we might have a chance of a podium, but in the end we didn't have the pace to keep us ahead of the closing cars," Button said. "It was a good try though, and a P7 finish isn't too bad. We couldn't have done any better with a different strategy."
Singapore grand prix: Results and standings
1 S Vettel (Ger) Red Bull 1hr 59min 13.132sec
2 F Alonso (Sp) Ferrari 1:59:45.759
3 K Raikkonen (Fin) Lotus F1 Team 1:59:57.052
4 N Rosberg (Ger) Mercedes GP 2:00:04.287
5 L Hamilton (GB) Mercedes GP 2:00:06.291
6 F Massa (Br) Ferrari 2:00:17.009
7 J Button (GB) McLaren 2:00:36.486
8 S Perez (Mex) McLaren 2:00:36.952
9 N Hulkenberg (Ger) Sauber-Ferrari 2:00:37.393
10 A Sutil (Ger) Force India 2:00:37.800
11 P Maldonado (Ven) Williams 2:00:41.611
12 E Gutierrez (Mex) Sauber-Ferrari 2:00:51.026
13 V Bottas (Fin) Williams 2:00:58.293
14 J-E Vergne (Fr) Scuderia Toro Rosso 2:01:06.644
15 M Webber (Aus) Red Bull at 1 Lap
16 G van der Garde (Neth) Caterhamat 1 Lap
17 M Chilton (GB) Marussiaat 1 Lap
18 J Bianchi (Fr) Marussiaat 1 Lap
19 C Pic (Fr) Caterhamat 1 Lap
Remainder Not Classified
Leading World Championship Standings, Drivers
1 S Vettel (Ger) Red Bull247pts
2 F Alonso (Sp) Ferrari187
3 L Hamilton (GB) Mercedes GP151
4 K Raikkonen (Fin) Lotus F1 Team149
5 M Webber (Aus) Red Bull130
6 N Rosberg (Ger) Mercedes GP116
7 F Massa (Br) FerrarI87
8 R Grosjean (Fr) Lotus F1 Team57
9 J Button (GB) McLaren54
10 P di Resta (GB) Force India36
Manufacturers: 1 Red Bull 377pts,
2 Ferrari 274,
3 Mercedes GP 267,
4 Lotus F1 Team 206,
5 McLaren 76,
6 Force India 62,
7 Scuderia Toro Rosso 31,
8 Sauber-Ferrari 19,
9 Williams 1,
10 Marussia 0,
11 Caterham 0.
Reuse content