If you thought Lewis Hamilton and Nico Rosberg's intra-Mercedes duel in Bahrain was tense, that was a Sunday tootle in the countryside compared to the final laps here in the Spanish Grand Prix in Barcelona yesterday.
The tension was enormous as Hamilton snapped at his engineer over the radio while demanding more information as he struggled with graining tyres and intense pressure from Rosberg, who was once again on faster rubber in their final sprint to the flag.
In the end Hamilton won for the fourth time in a row, for the first time in Spain, and finally took a three-point lead over his team-mate, but it was another slow-burning  humdinger that left viewers on the edge of their seats.
"It's very difficult to put into words the feeling after a result like this," Hamilton said, relief writ all over his beaming face. "Getting my first win here is wonderful – I've been trying for eight years. But I never had a car like this or a gap to our opposition like this before. But for all that I was really struggling to keep Nico behind and I'm so grateful that I was able to."
Spanish Grand Prix - In pictures
Spanish Grand Prix - In pictures
1/10 Sunday race

Lewis Hamilton celebrates with his trophy after winning the Spanish Grand Prix

Getty Images

2/10

Nico Rosberg attempts to hunt down his Mercedes team-mate in the battle for Spanish Grand Prix glory

Getty Images

3/10 Saturday final practice

Spanish hero Fernando Alonso prepares to head out where he will receive the usual ferocious support he has grown used to in Barcelona

Getty Images

4/10 Saturday final practice

Nico Rosberg finished fastest in final practice for the Spanish Grand Prix ahead of Lewis Hamilton

Getty Images

5/10 Saturday final practice

Williams' Felipe Massa walks through the pit-lane ahead of qualifying

Getty Images

6/10 Friday second practice

Esteban Gutierrez negotiates the sweeping turns 1 and 2 in his Sauber

Getty Images

7/10 Friday second practice

Daniel Ricciardo enjoyed a far more successful practice session as he ran behind the Mercedes pair in third position

Getty Images

8/10 Friday first practice

A concerned Sebastian Vettel keeps guard over his broken down Red Bull as he looks on with a fire extinguisher at the ready

Getty Images

9/10 Friday first practice

Sebastian Vettel pushes his Red Bull after it grinds to a halt on the Catalunya track

Getty Images

10/10 Friday first practice

Lewis Hamilton leads the first practice at the Spanish Grand Prix

Getty Images
Unashamedly religious, he had gone into his final circuit asking aloud over his radio, "Just one more lap, please." And he was granted his prayer. "It's such a huge blessing, not only for me but for all the guys on my team as we start to see the fruits of their labour," he continued, "and we are enjoying that every step of the way.
"It's so good for the main bosses of Mercedes to be here, so good for them to see it. Every time that Dr Dieter Zetsche [the head of  Mercedes] came last year it turned out to be a bad race for us, so it feels really good to give him a good result today."
Just as it had in the Middle East, the Mercedes team-mates' fight developed into one of differing strategies. After Hamilton kept the lead in the first stints, Rosberg changed to the hard Pirelli tyres, with Hamilton taking another set of the softer-compound mediums. In a great drive Rosberg really made the hard tyres work for him, setting up the thrilling climax to the 66-lap race.
Called in earlier than he wanted on the 43rd lap, after staying out one more than the team had requested, Hamilton had to fight to the finish on a set of hards as Rosberg, who stopped on the 44th lap, went back to the faster mediums.
Almost straightaway Hamilton found himself struggling on the harder compound, and its unexpected tendency to grain more than the medium.
"I had the same problems as [Saturday]," Hamilton revealed. "It was strange because in second practice on Friday the car was excellent and the tyre degradation was good, and I was  fast. I stopped after 18 laps then but with just slightly less pace I could have eked that race-run out longer. But yesterday and today I was unable to attack the corners because of snap oversteer, and Nico was catching me on the entry to them."
From 4.8 seconds on the 46th lap, Hamilton saw his lead cut steadily: it fell to 4.6 seconds, 3.6, 3.7, 3.1, 2.3 and 2.0 over the six ensuing laps before he found a better way to preserve his tyres and opened it to 2.7 by the 54th lap.
"How much time did I lose in the pit stop?" he demanded of his race engineer over the radio, only to be advised to forget about that and just to knuckle down. Earlier they had discussed what Hamilton saw as a lack of detailed information that he was receiving, then argued about how much change to dial into the front wing during his final stop.
"I need updates every lap!" he snapped at one point.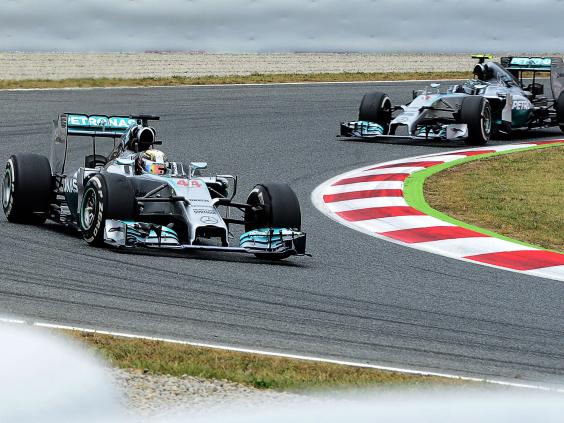 Still, as he processed the increased flow of feedback, Rosberg kept coming at him relentlessly. By the 56th lap the gap was back down to 2.1 seconds, then 1.8, 1.4 and 0.9, before he opened it a little to 1.3 by the 60th. But still Rosberg was not giving up, and down the gap came all over again. With three laps to go it was 0.9 seconds, then 0.7. They went into the final lap nose to tail, only 0.6 seconds apart, with Kimi Raikkonen's Ferrari to lap as they headed towards Turn One. Hamilton got by the red car before the corner, but so did Rosberg.
Throughout that crucial lap Hamilton kept it together, and, gradually, Rosberg's hopes faded. He needed, he admitted, just one more lap to launch an attack.
"Then I could have given it a good go," he said, "but as it was I wasn't close enough. I considered a kamikaze move, but what good would that have done?
"I'm gutted to be beaten again by Lewis, but I still got second place and I'm a close second in the championship."
Daniel Ricciardo figured third was the best position possible for Red Bull and duly took the final podium place that had been taken away from him in Australia, but he was 49 s behind Hamilton by the finish. But there was another fillip for Red Bull as Sebastian Vettel made excellent use of clever deployment of a three-stop strategy to fight past Valtteri Bottas' Williams for fourth place with three laps to run. A three-stopper also worked for Fernando Alonso, but his sixth place was 87.7s adrift of the winner.
And we thought Red Bull were dominant last year...
Final Positions after Race (66 Laps):
1 Lewis Hamilton (Gbr) Mercedes GP 1hr 41mins 05.155secs,
2 Nico Rosberg(Ger) Mercedes GP 1:41:05.755,
3 Daniel Ricciardo(Aus) Red Bull 1:41:54.155,
4 Sebastian Vettel(Ger) Red Bull 1:42:21.855,
5 Valtteri Bottas(Fin) Williams 1:42:24.355,
6 Fernando Alonso(Spa) Ferrari 1:42:32.855,
7 Kimi Raikkonen(Fin) Ferrari at 1 Lap,
8 Romain Grosjean(Fra) Lotus F1 Team at 1 Lap,
9 Sergio Perez(Mex) Force India at 1 Lap,
10 Nico Hulkenberg(Ger) Force India at 1 Lap,
11 Jenson Button(Gbr) McLaren at 1 Lap,
12 Kevin Magnussen(Den) McLaren at 1 Lap,
13 Felipe Massa(Bra) Williams at 1 Lap,
14 Daniil Kvyat(Rus) Scuderia Toro Rosso at 1 Lap,
15 Pastor Maldonado(Ven) Lotus F1 Team at 1 Lap,
16 Esteban Gutierrez(Mex) Sauber-Ferrari at 1 Lap,
17 Adrian Sutil(Ger) Sauber-Ferrari at 1 Lap,
18 Jules Bianchi(Fra) Marussia at 2 Laps,
19 Max Chilton(Gbr) Marussia at 2 Laps,
20 Marcus Ericsson(Swe)Caterham at 2 Laps
Not Classified:
21 Kamui Kobayashi(Jpn) Caterham 34 Laps completed,
22 Jean-Eric Vergne(Fra)Scuderia Toro Rosso 24 Laps completed
Reuse content