The force was with Lewis Hamilton as Formula One's 'Jedi Knight' took another giant stride towards this year's world title following a record-breaking win in the United States.
Hamilton clinched a fifth successive victory to take his tally to 32 for his career, making him the most successful Briton in F1 in terms of race wins, edging him ahead of 1992 champion Nigel Mansell.
Hamilton's 10th victory of the campaign was also the most by a non-German driver. Sebastian Vettel and Michael Schumacher have won 11 and 13 apiece in past years.
On the back of such achievements, it was put to Hamilton that he had become as focused as a Jedi Knight, a line that caught his attention.
"I like the Jedi Knight reference, that's cool," said Hamilton with a beaming smile, understandable in the process after his latest success.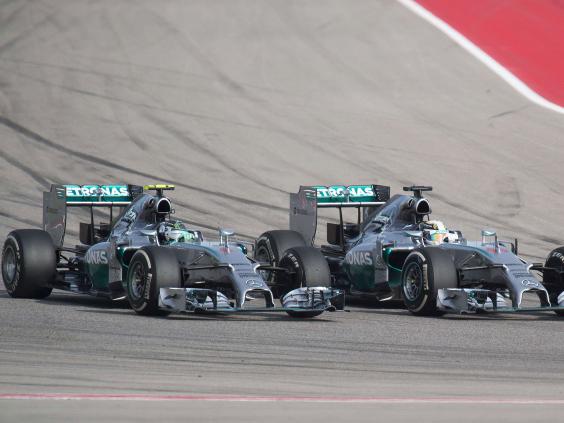 "I've just really been doing my homework. Before a race there's a lot you can do to really understand what opportunities could come up and, in different scenarios, how you approach it.
"I felt very much on top of that, as I have done for quite some time, and I just went into the race with the belief I could win it."
That belief came to the fore on lap 24, the defining moment of the race seeing Hamilton dive down the inside of Mercedes team-mate Nico Rosberg at the sharp left-hander at turn 12 to claim the lead.
From there it was plain sailing to the line, allowing Hamilton to extend his lead over Rosberg to 24 points with two races remaining.
There are, however, the contentious double points on offer at the last race in Abu Dhabi in three weeks' time that could yet throw a spanner in the works.
For now, Hamilton could not hide his delight.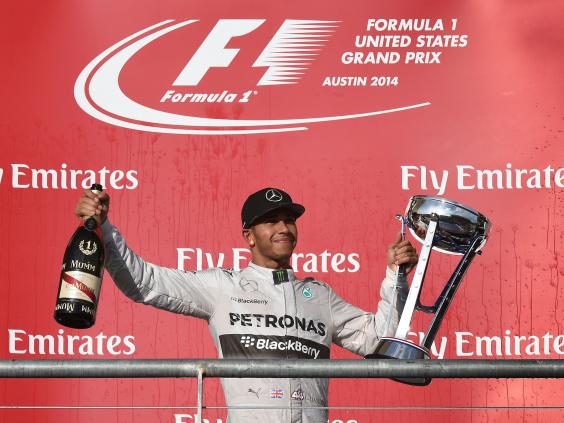 He said: "I'm very, very proud to now hold the record for the most Formula One wins for a British driver.
"I have to say, though, it's all thanks to the team and the car we have this year that I've been able to reach that landmark so quickly.
"And 10 wins in a season is just... well, wow!"
Via Twitter, Mansell was quick to praise Hamilton for taking his record, saying: "Brilliant for Lewis and Merc.
"Nico put up a strong fight, but Lewis did a fantastic job. Many congratulations 5 wins on trot 32 wins altogether."
Despite starting from his ninth pole position of the season, Rosberg was unable to convert that into a win for the seventh time, settling for the runner-up spot for the 10th time.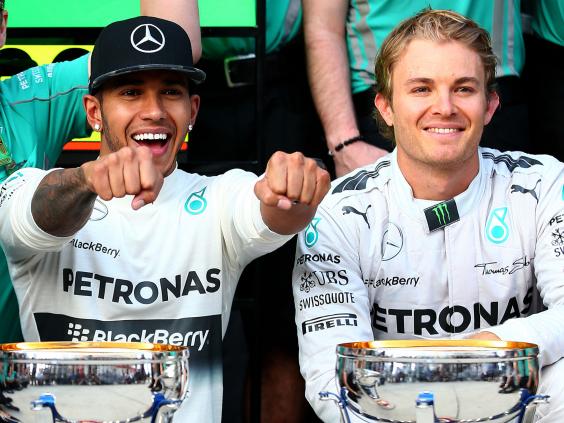 Rosberg knows double points may yet save him and he said: "It's great because there's a definite shot at the championship this year, even with the points I'm now behind.
"There's still Brazil to come and even there it's possible to turn it around. You never know what will happen there, so I'm sure it will be an exciting end to the season."
Although Red Bull's Daniel Ricciardo was third, he is now officially out of the title race, leaving it to a not-unexpected straight fight between Hamilton and Rosberg.
Williams' duo Felipe Massa and Valtteri Bottas finished fourth and fifth ahead of Fernando Alonso in his Ferrari and Sebastian Vettel in his Red Bull, with Jenson Button 12th for McLaren.
PA
Reuse content