There was a poignant irony to Jenson Button's occupation of first place for much of Friday morning's opening practice session for the United States Grand Prix at the Circuit of the Americas.
In a McLaren already showing the benefits of poaching former Red Bull aerodynamics guru Peter Prodromou, the Englishman is facing the end of his Formula One career as an alliance between Fernando Alonso and McLaren looks increasingly likely for 2015.
Already, parties in the World Endurance Championship are suggesting Button  will shortly follow former F1 driver Mark Webber into the Porsche camp and compete in that series.
As sources in Spain suggest Movistar will be the title sponsor of a McLaren team revitalised not just by Prodromou and the imminent partnership with Honda, but also by Alonso and his long-time backer Santander Bank, McLaren chief executive Ron Dennis stonewalled questions about the Spaniard's future on Friday.
It is thought that he does not see their acrimonious relationship from 2007 as a barrier to agreeing a fresh deal with Alonso. That year Dennis and Alonso fell out after the Spaniard helped the FIA uncover the spygate saga that led to McLaren paying at least $100m in fines from the governing body, for being in possession of some of Ferrari's technical data.
Things move on fast in F1, and needs must when financial imperatives are the spur. We are told the chances of Alonso joining have become considerably better than just 50/50 in the past week.
It remains to be seen whether Button or his rookie McLaren team-mate, Kevin Magnussen, might be dropped if Alonso joins, but the odds on who stays favour the latter, who is 12 years younger than Button and seen by the team to be slightly faster over a flat-out lap, if nowhere near as canny in races.
Button has shielded himself from the potential hurt he might feel by saying that he is focused on enjoying the thrill of driving an F1 car, and Friday's performance was a demonstration that he can still get the job done when he is given adequate tools.
In the end, Mercedes team-mates and title contenders Lewis Hamilton and Nico Rosberg moved ahead of Button on the practice time-sheets, bettering his lap of 1min 40.319 sec with 1:39.941  and 1:40.223 respectively. But Magnussen, fifth behind Toro Rosso's Daniil Kvyat, was more than half a second slower than his team-mate.
Admitting that he had adopted a more positive mindset in the last week or so,  Button said: "I haven't heard anything different [about his McLaren future] so I'm just enjoying myself and looking forward to giving it my all this weekend and getting the best out of myself.
"I'm not changing anything in the way I work, I'm just making sure I'm enjoying it and not feeling like I was a few weeks ago – before Japan – where I felt under massive pressure. It's not a nice way to feel. I feel in a much better place now, as I did in Russia, to get my head down and enjoy my racing. What happens next year happens."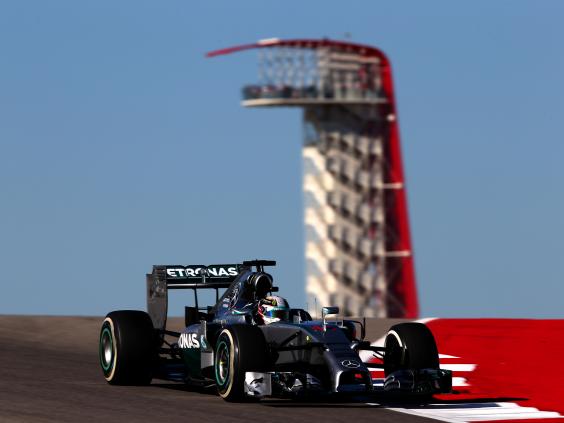 Red Bull have decided that Sebastian Vettel will at least run in the first qualifying session on Saturday.
Initially, when the team planned to use a sixth Renault engine and thus faced a 10-place grid penalty for exceeding their allocation of five in a season, they said that the world champion would probably miss qualifying altogether and would start with an all-new powertrain from the pit lane. The race stewards were not happy with that idea, since it would prevent spectators from seeing him out on the track during qualifying and a compromise was reached.
He is now likely to make an effort in the first qualifying session and sit out the remaining two sessions.
Circuit of the Americas chairman Bobby Epstein has hailed the United States GP as "a great success", although he believes a touch of Hollywood glamour would serve F1 well.
Now in its third year on the calendar, F1 is beginning to make inroads in the US, a market it has long failed to crack despite numerous previous attempts at a variety of venues across the United States.
Whilst far from wanting to tell F1 chief executive Bernie Ecclestone how to conduct his business, Epstein recognises there remain areas where the sport could improve given it can come across as elitist and aloof. "Here's what I would do. I would go to guys who know how to build," said Epstein. "We've got Hollywood, and they know how to build personalities and they know how to market better than I do.
"They do something right, so I'd go to those guys and I'd say 'we want to build a brand'."
Reuse content