Six years to the day since he won the world championship in Brazil, Lewis Hamilton took another giant step towards a second in Austin on Sunday with a narrow but dominant 10th victory of the season over Mercedes team-mate and title contender Nico Rosberg. It was his 32nd career win, which made him the most successful British driver of all time after he had equalled Nigel Mansell's record last time out in Russia.
"Well done you guys, you all did a fantastic job and this is thanks to you," a delighted Hamilton told his crew over the radio as he pumped his arms in the air and savoured his second success on American soil.
It was not all plain sailing, though, as Hamilton went to the line still concerned about both his brakes and his left front tyre, having suffered wheel locking and a resultant flat-spot in qualifying. And as expected, Rosberg blasted into the lead from the cleaner side of the grid at the start. Hamilton was able to fend off the Williams of Valtteri Bottas which started third, also on the cleaner side, but almost immediately the race was neutralised by the safety car after Sergio Perez's Force India crashed into Adrian Sutil's Sauber.
The Mexican was able to limp back to the pits, but the German's car was stranded on the track. During the four-lap intervention debris was also cleared up, but not before Sebastian Vettel, who had started from the pits, ran over some and suffered a puncture. Jenson Button also ran over it and suspected for the rest of the race that he'd damaged his McLaren's floor.
When the race resumed, Rosberg began easing away and was in control of the race up until the first pit stops. His came on the 15th lap, Hamilton's on the 16th, and when they were back up to speed the German was still 2.5sec ahead of the Englishman.
Hamilton began pushing hard thereafter, steadily trimming his team-mate's advantage. It was 1.6sec on lap 19, then 1.4, 1.0, then seven-tenths on the 22nd lap before Rosberg eked out a bit more on the 23rd. But going into the turn 12 hairpin on the 24th lap, Hamilton caught Rosberg by surprise. Coming from a long way back, he dived inside the other Mercedes just as Rosberg was preparing to turn into the left-hander. Rosberg was forced to open up his steering line and concede the place, but just to make sure Hamilton ran him wide on the exit before pulling away with ease.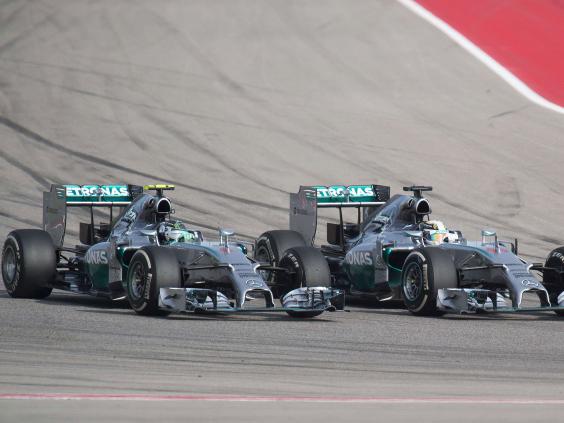 By their second pit stops on the 33rd and 34th laps respectively, Hamilton had opened a lead of 2.7sec and maintained the advantage to the flag to increase his points advantage to 24 over Rosberg as they head to the penultimate round in Brazil next weekend. With the ticking timebomb of a double points finale in Abu Dhabi on 23 November, however, the battle is still far from over.
Felipe Massa seemed on target for a podium finish which would have pleased Sir Frank Williams, who was unable to attend the race after a hospital stay with a pressure sore, but a relatively slow second pit stop dropped the Brazilian behind the hard-charging Daniel Ricciardo, who took his Red Bull to the final top three position.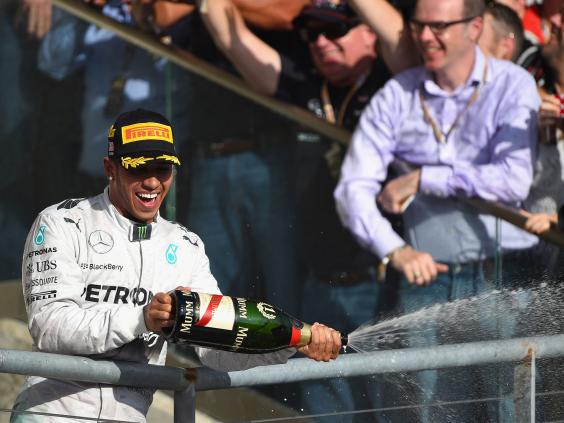 Bottas took an unusually subdued fifth place in the second Williams as Fernando Alonso battled to sixth in an uncompetitive Ferrari after a fierce scrap with Vettel. The Spaniard pushed ahead of Button, whom he is expected to supplant at McLaren next season, on the 21st lap. Button fought back as Alonso ran wide, but the Ferrari driver made a move stick on the 24th lap going into the uphill turn one. Button finished a frustrated 12th after being shouldered out of eighth place amid a lot of unruly midfield driving with five laps to run.
The weekend in Austin was overshadowed by the absence of the Caterham and Marussia teams, and the argument between Bernie Ecclestone, major shareholder CVC Capital Partners and the Force India team. Deputy team principal Bob Fernley had threatened a boycott in support of better remuneration. Sauber and Lotus face uncertain financial futures too.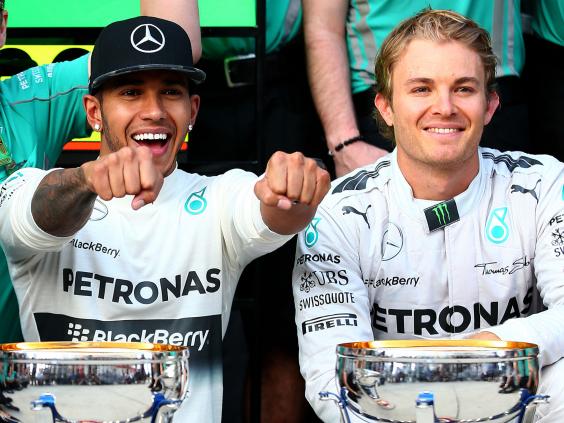 The rebel teams now anticipate a conciliatory offer from Ecclestone tomorrow. Extraordinarily, the F1 ringmaster had admitted here on Saturday that he had got the distribution of prize money wrong before adding: "If the company belonged to me, I would have done things in a different way because it would have been my money. But I work for people who are in the business to make money."
US Grand Prix result:
1 L Hamilton (GB) Mercedes GP 1hr 40min 04.785sec
2 N Rosberg (Ger) Mercedes GP 1:40:09.099
3 D Ricciardo (Aus) Red Bull 1:40:30.345
4 F Massa (Br) Williams 1:40:31.709
5 V Bottas (Fin) Williams 1:40:35.777 6 F Alonso (Sp) Ferrari 1:41:40.016
7 S Vettel (Ger) Red Bull 1:41:40.519 8 K Magnussen (Den) McLaren 1:41:45.467
9 J Vergne (Fr) Toro Rosso 1:41:48.648
10 P Maldonado (Ven) Lotus F1 Team 1:41:52.655,
11 R Grosjean (Fr) Lotus F1 Team at 1 Lap, 12 J Button (GB)McLaren at 1 Lap, 13 K Raikkonen (Fin)Ferrari at 1 Lap, 14 E Gutierrez (Mex)Sauber-Ferrari at 1 Lap, 15 D Kvyat (Rus)Scuderia Toro Rosso at 1 Lap   Not Classified: 16 N Hulkenberg (Ger) Force India 16 Laps completed, 17 S Perez (Mex) Force India 1 Laps completed, 18 A Sutil (Ger) Sauber-Ferrari 0 Laps completed.
Drivers' standings:
1 L Hamilton 316pts
2 N Rosberg 292
3 D Ricciardo 214
4 V Bottas 155
5 S Vettel 149
6 F Alonso 149
7 J Button 94
8 F Massa 83,
9 N Hulkenberg 76,
10 K Magnussen 53
Reuse content