Force India have vowed to break into Formula One's elite after unveiling their 2017 car at Silverstone on Wednesday.
The British-based team punched well above their weight last season and finished behind only Mercedes, Red Bull and Ferrari in the constructors' championship.
And despite operating on a vastly inferior budget to their main competitors, Vijay Mallya, the Indian businessman and co-owner of Force India, has set his sights high following their best-ever finish last year.
"I said from the beginning that as much as people may say that there is this huge barrier of breaking into the top three, I see no reason why we can't," Mallya said.
"We will dream big. We will set our sights high and we are going to go for it. I can't remember being more excited ahead of a new season. The car looks aggressive and purposeful, and is the result of a huge effort behind the scenes over the last 12 months."
Mexican driver Sergio Perez and Frenchman Esteban Ocon, who joins the team following Nico Hulkenberg's move to Renault, took the wraps off their new Force India at Silverstone.
The colour scheme is predominantly silver - rather than black - with a striking nose design. The car is also lower, wider and heavier to reflect the radical overhaul of the sport's technical rulebook over the winter.

"The new rules represent a massive change for everyone in the team and for me as a driver," said Perez, who is set for his fourth successive campaign with the team.
"After the long winter and preparation at the factory, you simply want to get out on track and experience your new car. We've had an incredible amount of success in the last three years and I want this fourth year to be even better.
"Knowing everybody makes a massive difference because you feel as though you are part of the family, which is especially important when you start working with a new set of regulations."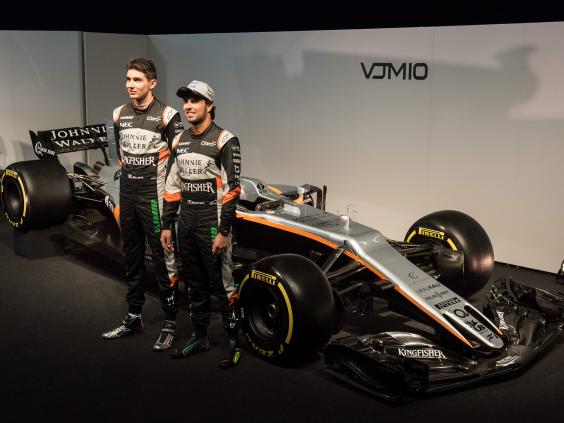 Ocon, the 20-year-old highly-rated member of the Mercedes junior programme, has moved to Force India after nine races with the now-defunct Manor team.
"I've got to aim to score points at every race," he said. "That's the level of this team and I will be disappointed if we don't start the season with some good results.
"I know it's not going to be easy and all the teams around us are going to be strong, but we've got to aim high. The first goal is to make the most of testing and develop the car in the best direction."
PA