With Lewis Hamilton out of action because of a mechanical issue, Ferrari set the fastest lap for the second time in four days as the first Formula 1 pre-season test came to an end yesterday.
Kimi Raikkonen put Ferrari back on top, driving on an artificially wet track at the Circuit Barcelona-Catalunya. Tire supplier Pirelli soaked the track's surface overnight with the help of eight water tanks, allowing teams to test this season's wider tires on the wet.
Raikkonen impressed on slicks and recorded a lap of 1 minute, 22.305 seconds, which was 0.897 seconds quicker than Red Bull's Max Verstappen.
But Hamilton was not able to run because of an electrical problem with his Mercedes, with his new team-mate Valtteri Bottas only able to finish the day as the eighth-fastest.
"Electrical fault kept us in the garage this morning, so I've decided with the team not to drive today as I wouldn't have learned much," Hamilton explained on Twitter.
"Shame not to drive but it's been a great few days. The guys have done an awesome job. Can't wait to be back in the car next week!"
Bottas did eventually make it out onto the track after Mercedes fixed the problem, but recorded just nine laps of the Barcelona circuit before the conclusion of the morning session as Ferrari – the only team running close to Mercedes this week as teams – impressed again.
Englishman Jolyon Palmer had an impressive day, finishing in the third quickest time in his Renault. Palmer overtook Nico Hulkenberg during the afternoon session and eventually finished a place ahead of Romain Grosjean, who completed an impressive 118 laps in his Haas.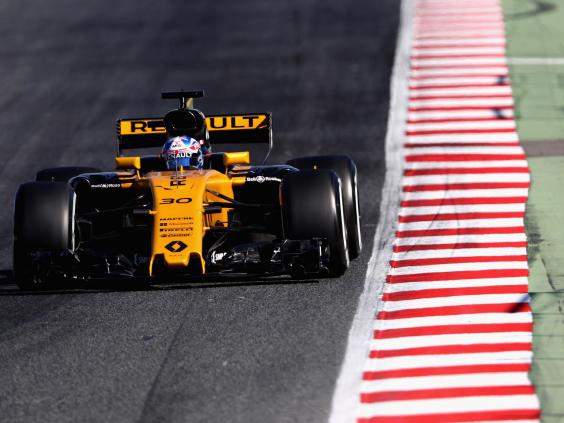 Williams were however unable to test because of chassis damage discovered after 18-year-old rookie Lance Stroll crashed into a barrier on Wednesday. The team said a second chassis would be prepared for next week's four-day session.
It was also a disappointing day for Toro Rosso, who have switched to a Renault engine from a Ferrari unit in time for the new season. Daniil Kvyat completed just a solitary lap before a problem was detected in his engine.
The 2017 Formula 1 grid
The 2017 Formula 1 grid
1/20 Sebastian Vettel, Ferrari

Vettel finished fourth last season and will hope improvements to the team's 1.6-litre V6 will help him back onto the podium.

Getty

2/20 Kimi Raikkonen, Ferrari

The experienced Finn largely underperformed last season. At 37, could be his final season racing for a top team.

Getty

3/20 Sergio Perez, Force India

Perez retains the drive he has held since 2014. Force India again use the Mercedes-AMG engine.

Getty

4/20 Esteban Ocon, Force India

The talented 20-year-old raced in 9 Grand Prix for Manor last season and earns a call-up to a much more competitive team.

Getty

5/20 Romain Grosjean, Haas

Haas had a very good season last year, finishing 8th with their Ferrari engine. Grosjean will look to improve on his 13th place finish.

AFP/Getty

6/20 Kevin Magnussen, Haas

The Dane moves from Renault to Haas. Struggled last season.

Getty

7/20 Stoffel Vandoorne, McLaren

The talented Belgian, who scored a world championship point in the unfamiliar MP4-31 last year, replaces Jenson Button at McLaren.

Getty

8/20 Fernando Alonso, McLaren

The youngest double champion of all-time remains at McLaren for the 2017 season, despite a well publicised approach from Mercedes.

Getty

9/20 Lewis Hamilton, Mercedes

The team - and driver - to beat since the infamous V6 rule changes came into place in 2014.

Getty

10/20 Valtteri Bottas, Mercedes

Bottas replaces world champion Nico Rosberg at Mercedes, Will push Hamilton all the way this campaign.

Getty

11/20 Daniel Ricciardo, Red Bull

Adrian Newey has completely redesigned the RB13 for the 2017 season and Ricciardo will be hopeful of bettering last year's 3rd place finish.

Getty

12/20 Max Verstappen, Red Bull

There will be plenty of attention on Verstappen as he completes his first full season at Red Bull.

Getty

13/20 Nico Hulkenberg, Renault

Hulkenberg moves to the team from Force India, replacing Kevin Magnussen.

Getty

14/20 Jolyon Palmer, Renault

The Brit came under pressure last year for a disappointing 18th-place finish. Will be hopeful of improvement.

Getty

15/20 Marcus Ericsson, Sauber

Sauber were poor last season and were plagued by retirements. Ericsson nevertheless remains with the team for a third campaign.

AFP/Getty

16/20 Pascal Wehrlein, Sauber

The 22-year-old wins a drive at Sauber, moving from Manor Racing.

Getty

17/20 Daniil Kvyat, Toro Rosso

Resigned to Toro Rosso after plenty of speculation; will be desperate to show he shouldn't have been replaced by Verstappen at Red Bull.

Getty

18/20 Carlos Sainz Jr, Toro Rosso

Now in his third season with the team. Toro Rosso this year return to a Renault engine.

Getty

19/20 Lance Stroll, Williams

18-year-old rookie. Stroll's first appearance in the car didn't inspire confidence, he spun the car in testing.

Getty

20/20 Felipe Massa, Williams

Heroically returns to the team after Bottas departed for Mercedes. One of the most experienced drivers on the grid.

Getty
There has been extra interest in this year's pre-season testing because new rules introduced in 2017 to bring more excitement to the series have given the cars more grip and downforce, making them significantly faster than in previous years.
But as the likes of Stroll and Kvyat can attest, the new cars have also made for some dramatic incidents in testing.
The season-opening race is in Australia on March 26.
Reuse content