It seemed like a good idea at the time, a great opportunity really. After all, it had been quite a week for Nico Rosberg. First he got married to his long-time girlfriend Vivian Sibold last Friday. Then he signed a contract extension with Mercedes and his beloved Germany won the World Cup. As he said on Twitter ahead of this weekend's German Grand Prix: "Just need to win my home GP now."
But wait. If there was ever an organisation ready to clamp down on anyone else's fun, it is football's world governing body, Fifa. To mark the occasion at Hockenheim, drivers' championship leader Rosberg and his Mercedes team designed a special helmet emblazoned with the colours of the German flag, an image of the trophy and four stars for each of his country's World Cup wins. But Fifa stepped in to ban him from using an image of the cup because it infringed their intellectual property rights.
So it's a time for hard hats and hard hearts. Rosberg tweeted a picture of the new helmet on Tuesday, asking his 712,000 followers after Germany's 1-0 triumph over Argentina on Sunday: "This will be my Hockenheim World Cup special edition helmet with the Fifa trophy. How do you like it?" Fifa were soon in touch with Rosberg's manager Georg Nolte to insist that the cup image be removed.
A spokesperson said: "We appreciate Nico Rosberg's desire to congratulate the German team and have therefore been in discussions with the Rosberg team to attempt to find a solution, whereby he is still able to show his support for Germany without using Fifa intellectual property in a commercial context."
The revised helmet, which Rosberg displayed on Twitter today, now figures one of the four stars more prominently in place of the trophy. Rosberg tweeted: "A shame, I would have loved to carry the trophy as a tribute to the guys. But of course I respect the legal situation." Was there a certain dryness in his tone, or is it just the German way?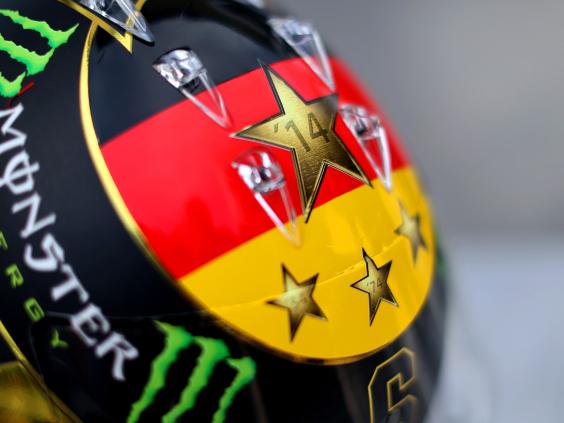 Mercedes are unbowed and will adorn their motorhome in the paddock with the words "Das Beste" (the best) in giant letters, followed by "We congratulate our national team on winning the title". They will also feature the four stars, but replacing one of them with the three-pointed Mercedes emblem.
The company sponsor the German Football Association, so Fifa should be wary of picking a fight with them.