After a wild and unpredictable race packed with drama and penalties, Sebastian Vettel's first thought was to dedicate his surprise success in the Hungarian Grand Prix yesterday to the memory of Ferrari's late protégé Jules Bianchi.
Over the radio, he said: "Merci, Jules. Cette victoire est pour toi," to his crew during the slow-down lap. Thank you Jules. This victory is for you.
"We know it has been an incredibly tough week, and for all of us very difficult, so this is for him," Vettel said later. "We knew sooner or later he would have been part of our team, part of this family."
Mercedes' hopes of setting a record for double podium finishes evaporated from the outset when Lewis Hamilton and Nico Rosberg made slow starts for the second race in succession and, as the Ferraris snatched the lead, Rosberg fell to third and Hamilton to 10th after sliding into the gravel in turn five.
By the midpoint, Vettel had an eight-second lead over his team-mate Kimi Raikkonen and a less-than-stellar Rosberg was a further 11.8sec back. Hamilton had climbed to fourth, but was another 14sec behind.
The 42nd lap brought the biggest threat Vettel would face all afternoon, when the front wing of Nico Hulkenberg's car sheared off and sent the Force India driver head-on into the tyre wall in the first corner. It was a scary accident in which Hulkenberg only narrowly avoided tail-ending Valtteri Bottas's Williams.
Hulkenberg was unharmed but, after the virtual safety car had been deployed, the real one was sent out while the debris was cleared up. Vettel's advantage had gone and Mercedes, it seemed, had been thrown a lifeline, especially as Raikkonen's Ferrari was fading fast with an energy recovery system problem.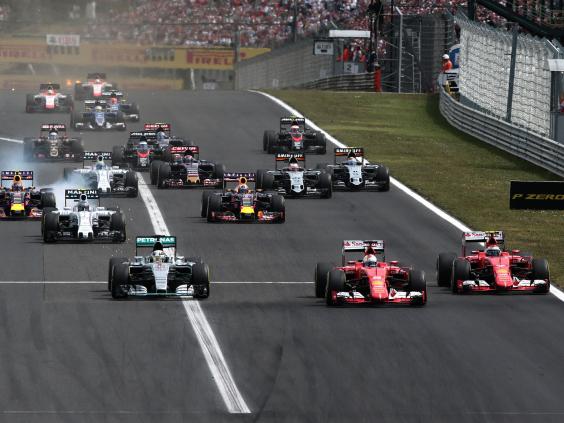 When it came to it, however, Rosberg was unable to muster the pace to unseat Vettel, and instead came under threat from Red Bull's Daniel Ricciardo, who was on the faster soft-compound tyre. The Australian overtook Rosberg going into turn one on the 64th lap, but they touched. Rosberg sustained a punctured right rear tyre and Ricciardo a broken front wing. They both dived into the pits, and Vettel was safe.
"The car was difficult but great to drive, and it has been a great race, we showed great pace," the German said. "Today it just came together and, despite the safety car, we still managed to win, so this one is for the team as well."
Ricciardo's team-mate Daniil Kvyat found himself in second place, which he held to the finish despite a five-second time penalty for exceeding track limits, and while Ricciardo recovered to come third ahead of star rookie Max Verstappen and Fernando Alonso's McLaren, Rosberg could only manage eighth by the finish.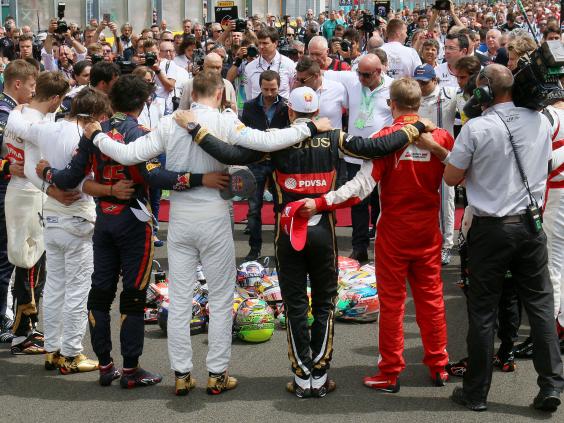 Hamilton, meanwhile, blew his chance of the win by colliding with Ricciardo in the first corner on the 49th lap, damaging his nose and also incurring a drive-through penalty, which meant two further pit stops. He recovered from 12th to sixth, on a day when he did not look anything like the man who had dominated practice and qualifying.
"Today was incredibly bizarre," said a bemused Hamilton. "Did I deserve any points? By the grace of God. I need to take a breather and come back stronger in the next race. Today was one of the worst performances I've put in for a long, long time. I was all over the place.
"I don't know if it was a lack of concentration or what. I'm going to take it on the chin. I definitely had a very bad day in the office, but the team did a great job with their strategy calls so I could at least get a couple of points."
Of their collision, Ricciardo said: "After the contact with Lewis I thought my race was over. Then I was catching Seb, and I had contact with Rosberg. The laps were ticking down so I had to try something. I decided I was going for it that lap, whatever."
The race stewards rightly declared Rosberg's collision with Ricciardo a racing incident, but the German said: "I assumed it was my corner because I took the ideal line, and Ricciardo went straight on because he braked too late, but he still had his front wing there and he didn't back out of it."
Of the race as a whole, he added: "It was going very well. I was very pleased until lap 64, and after that I was nowhere. It was a pity, the sport is real tough sometimes, to lose all those points. But that's the way it is."
Rosberg and Hamilton will be hoping for an easier ride in Belgium in a month's time.
Reuse content